Bushnell Elite Tactical Hunter Long Range Hunting Scope
Russ Chastain 04.30.14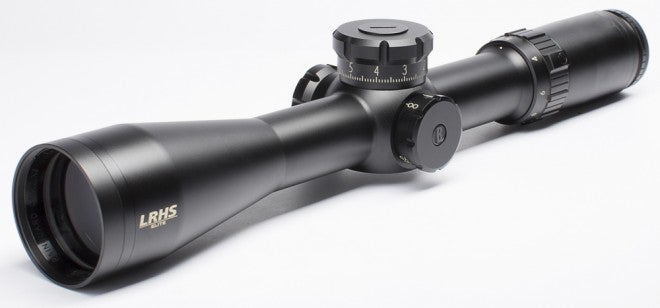 Long-range hunting seems to be growing in popularity, if scope makers' latest offerings are any indication. We recently published an announcement of Nikon's New-for-2014 MONARCH 7 Custom XR Turret rifle scopes, and here's another hat thrown into the ring of long-range hunting.
Bushnell is introducing a new Elite Tactical Hunter product line, and the first scope in that line is the Elite Long Range Hunting Scope (LRHS) in a 3x-12x magnification range with 44mm objective lens. They say this scope "…showcases the integration of technology and functionality from the acclaimed Bushnell Elite Tactical series in a scope designed specifically for the long range hunter."
The reticle is an important part of this new scope, and this is the first Bushnell hunting scope to have its reticle in the first focal plane. What this means for a hunter is that the reticle allows range estimation at any magnification setting, which is good, but the reticle size will change when the magnification is changed, which some may consider a bad thing. It will probably take some getting used to, anyhow.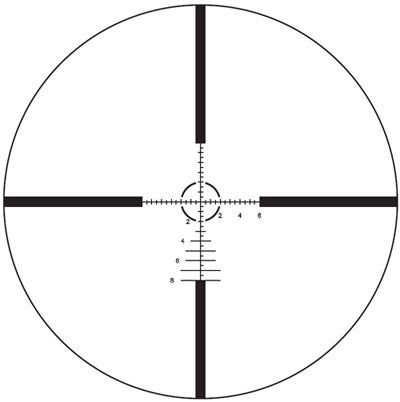 Here's what Bushnell says about this scope's new reticle:
"The new G2H milliradian-based reticle is designed to give hunters the ability to range targets at any magnification setting. The G2H reticle has .5 mil hash marks with eight mils of holdover and six mils of windage adjustment. In addition, the center of the reticle features a Vital Bracket that has a diameter of two Mils at any range, equivalent to 7.2″ at 100 yards."
The LHRS has a one-piece 30mm aluminum tube, is 13 inches long, and weighs 26 ounces. That's 1.625 pounds of scope! Turrets are described as low profile and tactical, are graduated in .1 mil clicks, and have 10 mils of adjustment per revolution. The elevation turret has a nifty thing called the RevLimiter™ zero stop mechanism, which allows a hunter to adjust the elevation upward for long range and then quickly and reliably return to zero. It's basically a stop that won't let you go past zero when you dial back down.
A side parallax adjustment and "fast focus" eyepiece are also parts of the LHRS's design. Advertised as "100 percent waterproof and fog proof," it also features RainGuard® HD water-resistant coating on the lenses.
This first-ever Bushnell Elite Tactical Hunter scope is offered at a minimum advertised price (MAP) of $1,499.99.
Elite series scopes have a limited lifetime warranty as well as a "one-year, no-risk Bushnell Bulletproof Guarantee," which begins on the original date of purchase.