Fallkniven Northern Lights 5 "Thor" Review
Jon Stokes 07.15.14

One of the great things about reviewing outdoor gear is that I'm often pleasantly surprised by the items that come my way. I've been camping, hiking, and hunting since I was child, and I was even a Life Scout in the BSA, but I'm still in that phase of discovering what works for me in outdoors settings. One of my recent surprise discoveries is that I'm a bona fide fan of really large knifes, and I find them genuinely useful. I have Falkniven's 10-inch bladed Thor to thank for that.
Until spending some quality time with the Thor, I've never owned or really wanted a big chopper, but I've always understood such a knife's intrinsic appeal. There's something about holding at +9-inch blade that makes you feel prepared for anything. It's a different vibe than holding a firearm; there's always an undercurrent of danger to holding a gun (or, at least, there should be) that, for good or ill, just isn't there with a large knife. A knife doesn't make a loud bang or spit fire, and when you hold it it's easier to imagine that you can manage and control it. Yeah, big knives are dangerous, but they don't feel dangerous, which is a blessing and a curse.
At any rate, despite my theoretical appreciation for big knives, I've never really been a buyer. My thinking has historically been that a really large knife has only one practical use-case: as a weapon. And I just don't reckon I'll ever be called upon to knife anyone or anything to death.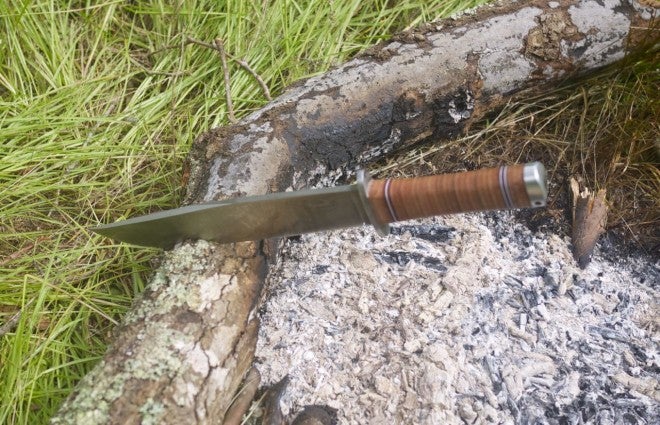 My wife and I recently took the family on a camping trip to some property up in central Louisiana, and when I got there I found it overgrown with thicket. So, I decided to strap Falkniven's massive Northern Lights 1 "Thor" knife to my hip, just to see what it would be like to use such a monstrosity for brush clearing and ordinary camping chores like wood chopping and fire building. I spent the day in the Louisiana heat and humidity with the NL1, and I discovered to my delight that it is not too large, or too heavy, or too bulky on the hip, and that it's quite capable of comfortably handling a range of tasks, from hacking down small, unwanted trees to cutting sticks for roasting sausages and marshmallows.
Fit, finish, form factor
Like the rest of the Northern Lights line, the NL1 is compact for its size — you get a lot of blade in a relatively small package. I also own some Busse Combat knives, and the the Busse's handles are larger and longer, and they often feature a choil. This isn't to say that the Northern Lights' handles are small — they're just a little more compact.
Total length: 385 mm (15.15″)
Blade length: 254 mm (10″)
Blade width: 42 mm (1.65″)
Blade thickness: 7 mm (0.28″)
Weight (knife): 520 g (1.15 lbs)
Steel: Lam.VG10
Blade hardness: 59 HRC
Butt cap: Alumina
Guard: Stainless, specially anchored
Handle in brown leather: 132 mm (5.2″)
Sheath: Black leather
In all Thor's weight is low and its length is minimal, but it never feels cramped. It just feels right. It's not like a monster zombie-killing blade in the hand; it feels like what it is, a beautiful piece of functional artwork.
As with the NL5 "Idun", the NL1 boasts custom-level fit and finish. It's a custom knife price with custom knife fit and finish. It lists for $700, but you can find them for around $500. I actually think it's a steal at $500. It's just a breathtaking blade, and you're definitely going to feel like you got your money's worth when you hold it.
Use and durability
The NL1's Laminated VG10 steel has held up extremely well so far. I've not really subjected the blade to the kinds of abuse that other reviewers have put Fallkniven's steel through, but I have done a lot of hacking with it on a variety of wood types. I've yet to touch up the edge, but it's still shaving sharp.
The one possible downside to the blade is the guard. I really love the guard, but if you're doing some light cutting where you need to choke up on the handle (e.g. stripping a branch for use as a fire stick), then it can be a problem. Fortunately for me, my hands are large, and my thumb can easily and comfortably reach over the guard to press against the back of the blade. However, anyone with small hands might want to have that back guard ground down if they planned to do any small-knife chores with it.
I've also done a lot of chopping in the yard with it over the past few months. I work from home, and my breaks often involve stepping out onto the front porch of my detached office building and abusing some gear. I've chopped a lot of different kinds of hardwood with it, and I've yet to have any complaints about performance, edge retention, or toughness. I also did some tip strength tests in hardwood, and the tip held up fine.
Note: I mentioned above that I used the knife to clear some small trees of a few inches in diameter. I mostly just did a few these for testing purposes. The real brush clearing that I did on our family camping land was all done with a Silky Gomboy folding saw, an item that I can wholeheartedly recommend.