Review: Laser Ammo's Laser PET Electronic Target
Rob Reed 10.23.14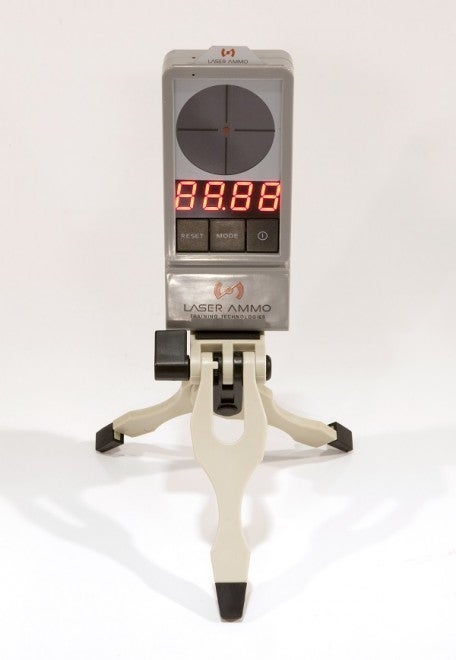 The Laser Ammo LaserPET Electronic Target is a laser sensitive target designed to improve your dry-fire training sessions by adding feedback when practicing with your laser equipped firearms.
The LaserPET works with firearms equipped with products such as Laser Ammo's SureStrike Ultimate LE Edition Laser or their .38 Special/.357 Magnum Laser Cartridges, which we reviewed earlier. Those laser cartridges inserted into your pistol or revolver and produced a visible red laser pulse when activated by the firing pin.
The LaserPET is a reactive target with three modes:
Mode 1 – Hit Counter – Counts the shooter's consecutive hits.
Mode 2 – Shot Timer/Fast Draw – Shows the time from start buzzer to first hit
Mode 3 – Speed Shooting – Counts how many hits the shooter can make in five seconds.
The unit is gray plastic, about 6" tall, 2 ¼" wide, and ¾" thick. The LaserPET stands about 8" tall on its plastic tripod. The laser sensor is 1.8" x 1.8" and is located above digital display. The Mode, Reset, and power controls are below that display. Five plastic inserts are included that can be installed over the screen to make the laser sensitive area smaller.
To operate the target, simply install two AAA batteries, screw on the tripod, turn the power on, and select the mode.
I tried the target in all three modes using one of the Laser Ammo SureStrike 9mm Laser Cartridge in a Sig 239 9mm pistol. The target consistently recorded the laser hits without any false positives from normal room lighting.
I found the LaserPET target easy to use and helpful in my dry-fire drills with my laser equipped pistol. I especially like the Shot Timer/Fast Draw mode. I practiced for a few minutes a day for several days and achieved a noticeable improvement in my time on target from the draw.
The Hit Counter mode was my second favorite. For that mode I would insert one of the plastic inserts to reduce the target size and work on maintaining good trigger control for as many shots as possible before the double-action trigger pull on my Sig pistol made my hand tired. I did not find the Speed Shooting mode as useful as the other two, but that may be personal preference. One nice feature is that all three modes auto reset after each drill so the shooter does not have to walk up to the target to reset it each time.
The small size of the target makes it perfect to pack if you want to continue your practice while you are on the road.


SHOP NOW