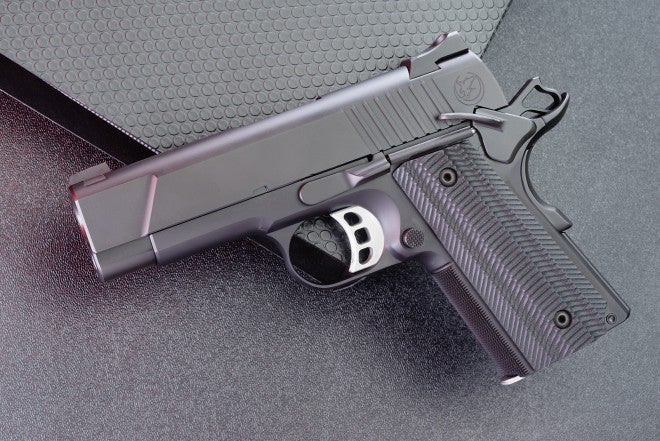 Nighthawk T4 pistol was recommended to me by Tatiana Whitlock, a nationally known firearm trainer and designer of 3D targets for self-defense practice. Having tried several compact and subcompact 9mm 1911s, I had low expectations. Previous examples of this category kicked more than I expected, especially since their weight was also greater than reasonable for a smaller carry gun. However, Tatiana was emphatic in recommending T4 as one of the best choices for female shooters, and I gave it a try.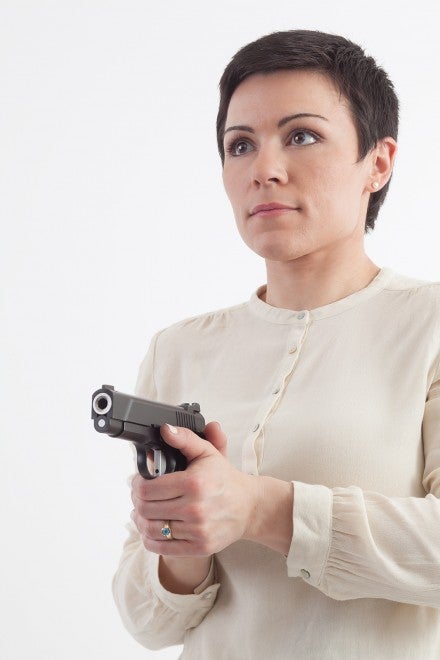 T4 holds eight rounds of 9mm in its single stack magazine. The length of the magazine, front to back, makes the grip the same length as on 45ACP or 38 Super models, but it is thinner. Looking closely at Tatiana's pistol, we can see how the grip was made to fit her small hands with the straight, short trigger. The flat trigger surface is even with the breechface, reducing the reach necessary to control it. My pistol came with the standard curved adjustable trigger, quite appropriate for my bigger hands.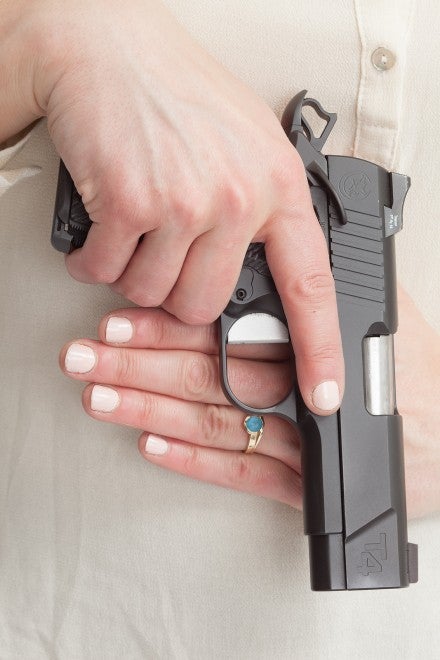 Optional ambidextrous safety, like the rest of the controls, is smoothed, and there's no discomfort in riding it with the thumb for those who prefer that hold. Nitride-coated steel is chamfered in all the right places so that the slide serrations are grippy but the rest of the slide and frame won't catch on clothing or abrade holsters.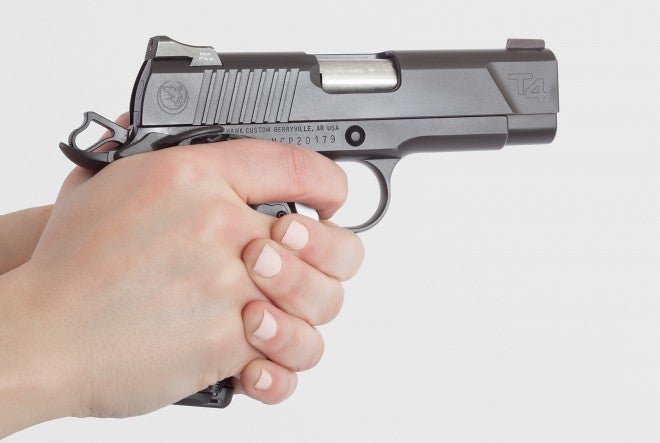 At 34oz, T4 isn't all that light but it is extremely well balanced. The 3.8″ barrel is belled to the front, giving the pistol neutral feel during aiming and reduced muzzle flip upon firing. If you prefer lighter weight for carry comfort, aluminium frame is available as well–but my experience with the 17 ounce STI Elektra suggests that you'd pay in heavier felt recoil and greater muzzle flip.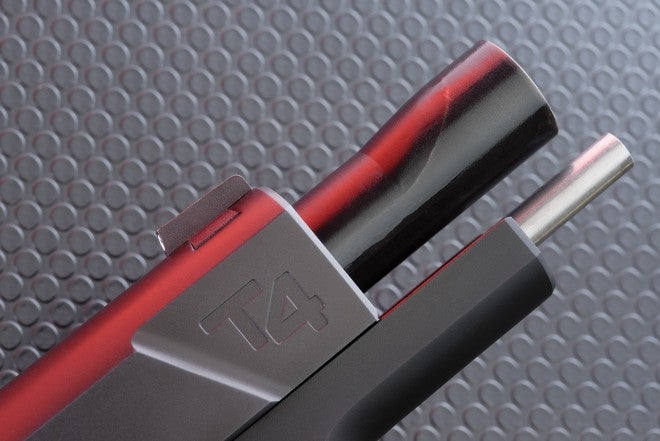 The extra length of the magazines is helpful with accommodating a very wide variety of ammunition. 158gr Aguila FMJ fed just as well as aluminum cased 147gr CCI Blazer, 135gr OATH Halo, 124 +P Golden Sabre, 115gr Corbon "flying ashtrays," Hornady JHP, Geco and S&B ball, 100-grain L-Tech range frangibles, as well as Liberty 60gr frangible JHPs. The pistol cycled all types reliably.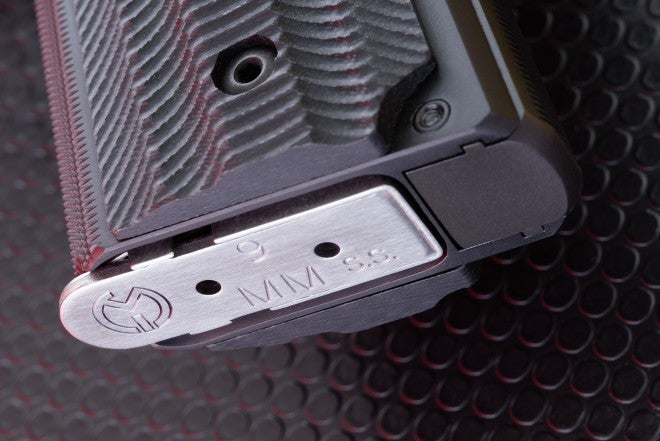 The two dot tritium sights were the most pleasant surprise. They didn't feel very precise while I practiced with dry fire in a well lit environment, but turned out to be ideal for rapid low light. The big illuminated front dot just jumped into focus, with the smaller rear dot visible just enough to ensure alignment. Of all pistols I fired on the same day, this was the only one that didn't produce errant shots from the eye re-focusing on the target at the wrong moment. The serrations on the rear also kept highlights from forming in my line of sight. The rear is drift-adjustable without a punch–it's held in with two set hex screws.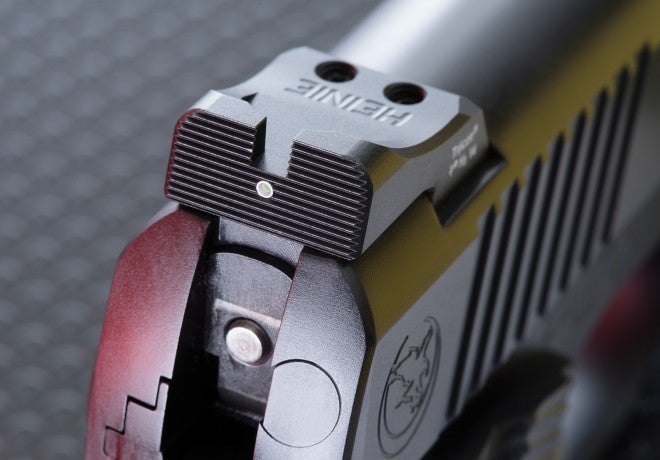 The grips are aggressive without feeling sharp. I noticed no slippage at all when firing. Laser grips upgrade is available, I would consider it worthwhile.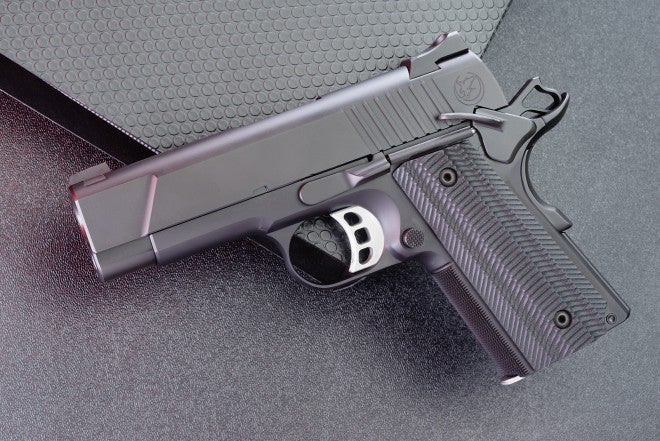 Magazines drop free, so reloading can be quite rapid. In general, the pistol is well suited for fast fire as the trigger reset is very pronounced, muzzle flip minimal, and sights very easy to re-acquire. The front and back straps of the grip are checkered in a way that promoted retention without being hard on the hands.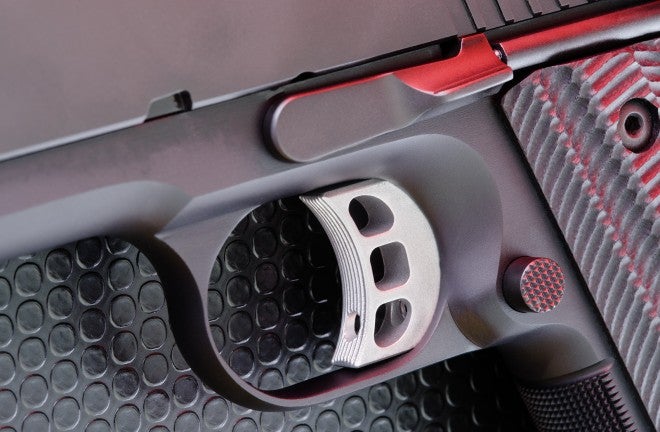 Accuracy? It's not a target pistol nor does it come with target sights, and yet, it shoots very well. The enforced front sight focus facilitated by the Heinie dot makes for very consistent results. Shooting at a steady cadence, I got 8-shot groups under 1.5″ at 7 yards with all-copper OATH Halo, which I normally use to test accuracy. Other kinds of ammunition were all around 2″, with all of the eight bullet holes touching. For a compact defensive gun, that seems sufficient. I was quite impressed that it shot 60 grain hypervelocity screamers as well as standard 115 grain ball and 158 grain subsonics as well. Most pistols do much better with one weight or another.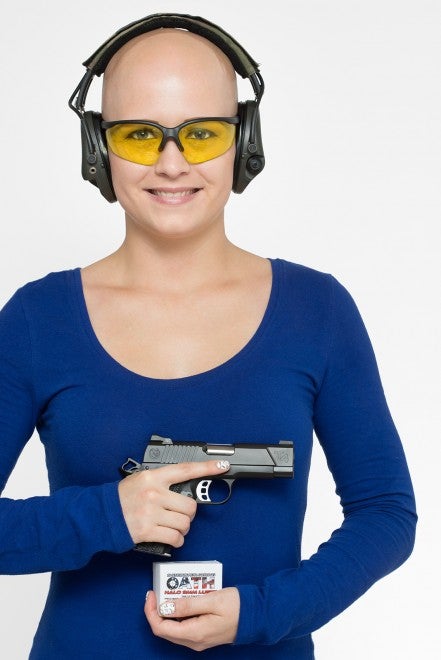 At the range, I shared this pistol with another writer. As the evening progressed, I ended up hogging the T4 because it was just more pleasant to shoot than the rest of the pistols we brought. In the end, that's what Nighthawk level of attention to design and manufacturing detail buys: a pistol that's reliable, accurate, and above all, pleasant to shoot. The consistency of performance with all ammo types, the crisp trigger, and excellent fit in hand all add up to an inspiring experience.