I'm not stranger to the Pelican name. In fact, when I needed to buy a rugged gun case to fly my rifles to Colorado for an elk hunt, I did a pile of comparison shopping and finally bit the bullet and bought a Pelican. It wasn't cheap, but I've never regretted that purchase.
When I learned that Pelican was making coolers, I made it a point to stop by their booth to learn about them.
Turns out, Pelican has been making their coolers for a few years now. What impressed me most when I walked up was the wheels on many of the models displayed. That's right, wheels! Angels sang.
I mean, these premium coolers are HEAVY. I reviewed an Esky 55-quart last year and I really wanted a bigger one, but I knew I wouldn't be able to move it around by myself. So why are wheels such a foreign concept? Wheels have been found on much cheaper ice chests for decades. I'm happy to see them on a premium cooler.
The next thing I noticed was the latches. Before the Esky, I didn't think too much about latches, but the Esky's were pretty hard to engage because they didn't stretch much. Pelican's latches are actual latches that close easily and are extremely easy to open without any kind of strain.
Pelicans coolers aren't light, but they will be a heck of a lot easier to move around than non-wheeled models. Meanwhile, they enjoy a great reputation for providing even more capacity than their model designations and for keeping ice well, and the second video below shows how much headway a grizzly bear made when trying to get into a Pelican cooler.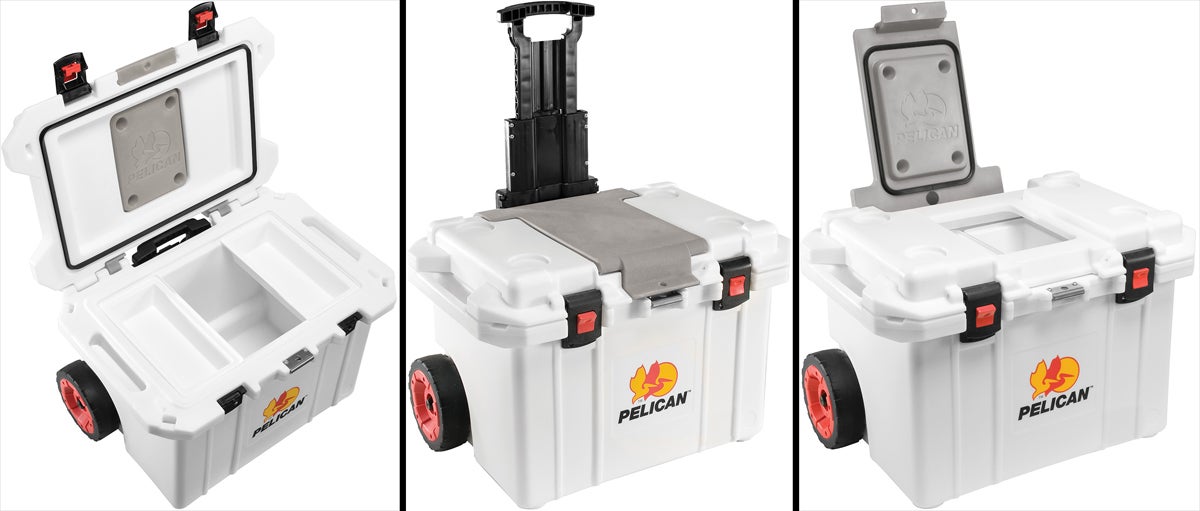 At the booth, they were pretty proud of the Tailgater, a good-sized wheeled cooler that offers a smaller top door to keep the cold in  when you don't need wide-open access.
Also, sadly not pictured here, Pelican will soon (now?) be able to build coolers in a wide variety of colors and combinations thereof. In other words, whereas now you can only get coolers in white or tan, it's envisioned that you will be able to get a two-toned cooler in any combination of colors you desire, with the shell and liner/lid matching your favorite football team colors, for instance.
I haven't had the chance to put a Pelican cooler to the test, but I hope to do so before too much longer. And I'll be expecting great things from it.