Caldwell's New LR Target Camera System – SHOT Show 2016
Russ Chastain 02.07.16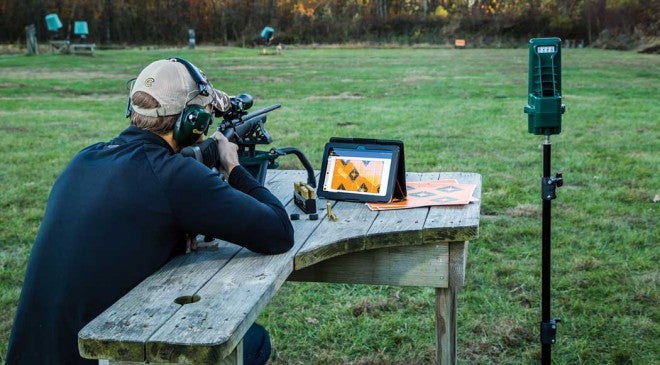 About a year ago, I wrote about TargetVision, a camera setup that allows you to view your target on an electronic screen via WiFi. Then I discovered that the original target camera was actually Bullseye Camera Systems. After I got one, I wrote this update about using it in the field. I like it a lot.
The target camera business is booming right now, no pun intended. And a new entry in that field might just set a new standard for included accessories because I've yet to see a more complete offering than Caldwell's new Ballistic Precision LR Target Camera System.
Target camera systems consist of a camera placed near your target, a WiFi transmitter that creates a wireless network, and for long-range work a receiver/extender placed near the firing line. A related app for iOS or Android allows you to view the camera's feed on a device such as your smart phone or iPad/tablet.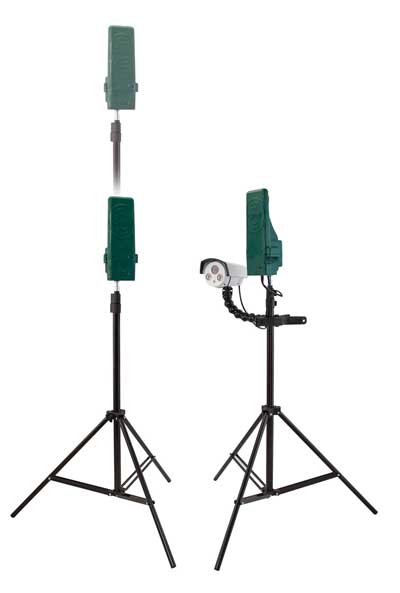 The Caldwell LR package appears to be the most complete one out there. The kit includes a pair of tripod stands for the WiFi routers and an articulated clamp for mounting the camera to one of the tripods. That's potentially a big improvement over setting the camera on the ground looking up at the target. The stands say you can set the transmitter and/or receiver up to 7 feet off the ground. A pair of "stake anchors" are included, which I presume will tie the tripods securely to the ground.
The entire LR system is waterproof, too, and the camera has night vision (another premium feature). WiFi range is one mile, and the Lithium-Ion battery says it'll provide up to 6 hours of life. You can keep it plugged into a receptacle if you need a more permanent setup.
The description says it includes a "compact storage case," but I neglected to check that out at the Show and found no photos of it on their website.
The free app for this camera isn't available for Windows, which could be a bummer if you want to use it with a Laptop or Surface. It is available for Android and iOS, though, and it includes a group calculation feature that can tell you your group size. I haven't seen that in other systems.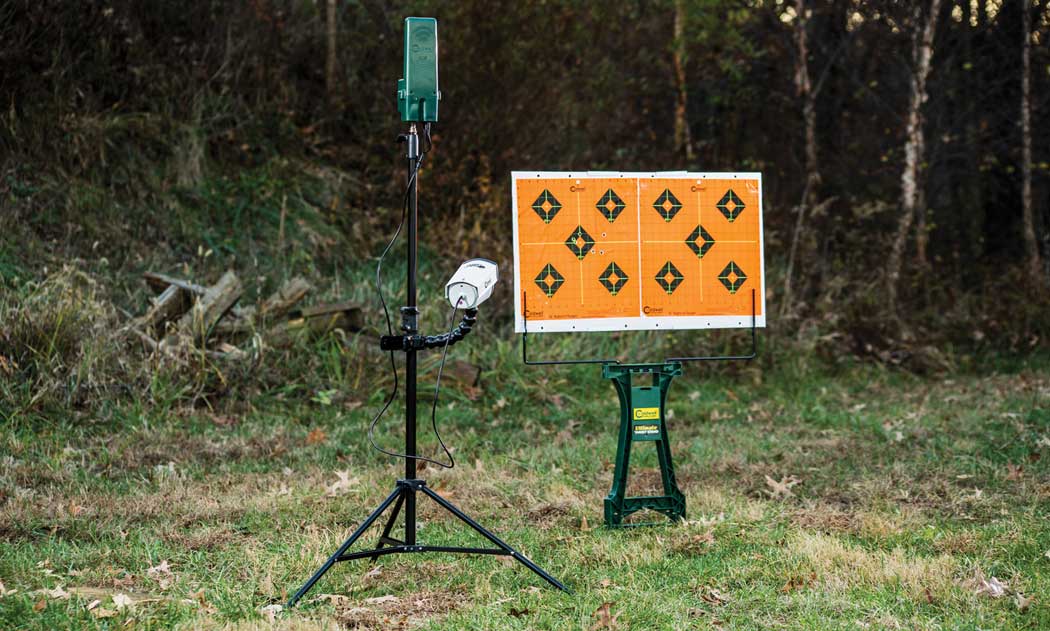 Kit includes:
HD 720p Camera with night vision
Positionable spring loaded camera clamp
Long Range transmitter w/ rechargeable battery
Smart Charger for LI-ION Battery can be used as power supply
Long Range Receiver with rechargeable battery
2x heavy duty Router stands
2x stake anchors
Storage case
Manufacturer's Specs:
Streams live HD video up to 1 mile away
Fully contained waterproof housings
Breaks down into a compact storage case for easy transport
High Definition camera in 720p with night vision
Integrated rechargeable lithium Ion batteries for extended use
Features an external power jack for more-permanent installation
Compatible with Android, iPhone, and most tablets
Free full-featured App allows you to save pictures, add notes, Calculate group size, save info, and Record video
Item: 156726
MSRP: $499.99