Knife Review: Dan Koster's MUCK, Part 1
Jon Stokes 04.22.16

Dan Koster's MUCK is sort of a unicorn among certain knife folks. The waitlist for this blade, the name of which is an acronym for "My Ultimate Camp Knife," is years long, so if you see one at retail, you snap it up.
That's exactly what I did when I happened to check KnivesShipFree.com around midnight before going to bed last week (doesn't everybody do this as part of their nighttime routine?). While Koster works through his backlog he makes a few of these knives for KSF, and when they appear on the site they last maybe a few hours, tops. When I saw those knives appear on my iPhone's screen I jumped out of bed, ran to my computer, grabbed my credit card, and placed my order. I've been wanting a MUCK in desert ironwood for at least two years now, and that's exactly what I got.
(Actually, I mistakenly ordered a cocobolo-handled MUCK at first, but I realized my mistake immediately after getting the automated order receipt email. The fine folks at KSF were kind enough to swap it out for a desert ironwood version.)
Now, you'd think that a random, long-awaited score like this would yield nothing but pure joy in the heart of a knife nut, but it wasn't quite like that for me. The MUCK comes with some baggage (more on that in a moment), and as I waited for the knife to arrive I'd describe my mood as "cautiously optimistic."
My mood darkened to "supremely annoyed" within about a minute of unboxing the knife. My hesitation about this knife and its maker proved well-founded. The fit and finish on this blade are not at all what I'd expect from a $350 full custom knife. This knife was rushed out, and it shows.
The MUCK's Cloudy History
I can't remember how I first came across Dan Koster's work, but when I found the MUCK on his site I knew I had to have one. The blade shape is classic, and it reminds me a little bit of some of the blades from one of my favorite custom makers, Barry Dawson.
I saw that Koster's wait list was long, and I don't do wait lists (there plenty of other great knives to buy out there), so I moved on and forgot about the MUCK until May of last year when an AllOutdoor post about a new Koster-designed folder had me looking again.
I checked Koster's site and saw that it hasn't been updated since February of 2015, but I figured that it's no big deal since he's a knifemaker, not a blogger. Then I saw that his "orders" page was down, and it had been replaced by a "pre-order" page with the following notice:
It's the best way I can think of to keep from making people wait unnecessarily long to get a knife order completed. I have had orders going back for years and I'm ready to start something new. Please be patient with me throughout this process and I promise to do the very best work I can.
This bit of text did not give me a good feeling. It suggested to me that "mistakes were made," and there were some very unhappy campers out there because he had maxed himself out and let the work pile up.
Some searching of BladeForums turned up this negative thread, among others, complaining about the maker's backlog, lack of communication, and a 14-month wait to replace a knife that had failed in the field.
As much as I wanted a MUCK, all of this bothered me a great deal, and the more I read the more I got the sense of a knifemaker who was snowed in and trying to get his act together to dig himself out of a massive order backlog.
I was very concerned that if I managed to score one of these knives through a late-night retail update, the knife itself might be a rush job to fill some sort of quota or contract with the retailer. And I also figured that if the knife failed then I'd be out of luck on getting a replacement.
All of this was on my mind that night when I pulled the trigger on that $350 knife order at midnight. That's a lot to pay for a knife that you have doubts about. But I went ahead and took the risk for the sole reason that this knife gets rave reviews from people who are happy with it. It's a lot of people's favorite knife, and the folks who love it are absolutely over the moon about it. For every person who complains about being burned by Koster, you can find four who are ecstatic about the MUCK, so I figured I'd take those odds.
So far, it looks like I may have gambled and lost.
I don't intend this knife to be a safe queen. If I had then I'd have sent it back within a few minutes of pulling it out of the box. I intend to beat on it, and after I do so I'll post a Part 2 of this review examining how the knife holds up in the field. But as much of a beating as I plan to give this blade, I have certain expectations about the level of fit and finish I want to see from a $350 custom knife, and this MUCK just doesn't meet those. Let's take a look at what's wrong before I conclude by talking about what might yet go right.
The Problems
One of the main things that sets customs apart from factory knives are the grinds. Not every custom knifemaker can be a Walter Brend, but when you shell out for a custom you expect the grind work to be better than what you find on the factory blades in your collection. This is not the case with the MUCK.
I'll start out with the most glaring problem: the swedge grind is woefully uneven. Compare the swedge in the two shots below: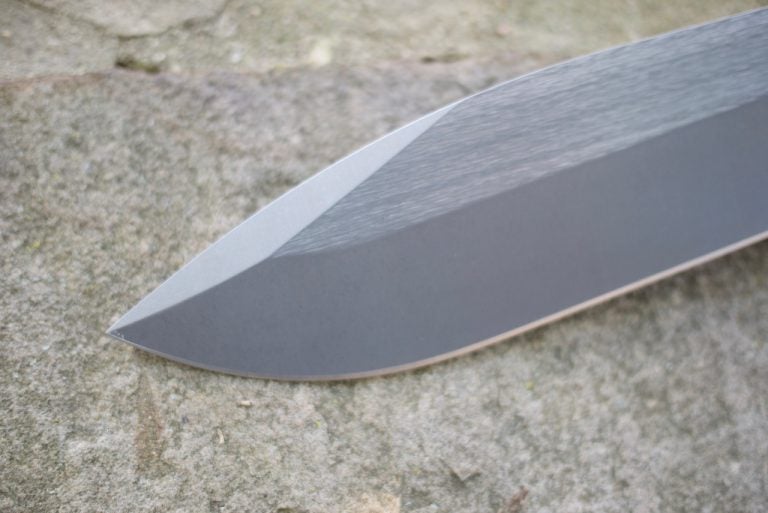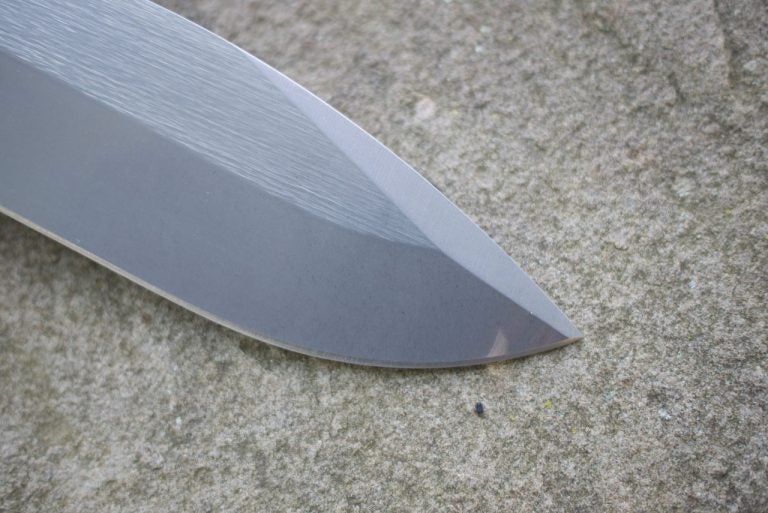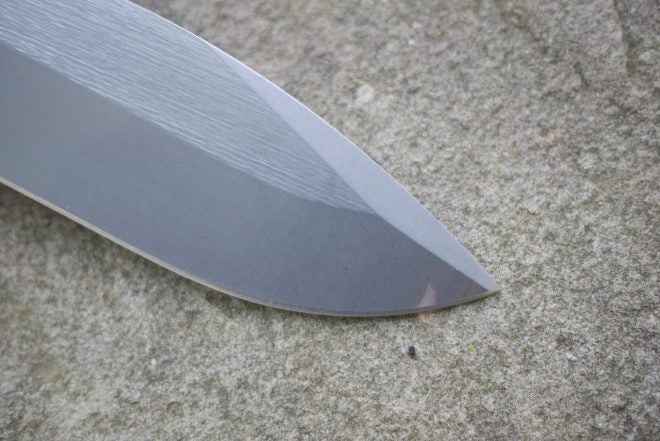 For the swedge to be that far off on a $350 custom is unacceptable. If I were one of Koster's customers who had waited two years for a custom MUCK, I'd be really upset. Given that I just happened to score this one randomly at midnight when I should have been sleeping and that I bought it as a hardcore user and not a safe queen, I'm mainly just really disappointed and annoyed.
The result of this bad swedge is that the blade profile is badly off near the tip. This was hard to photograph, but take a look and you might be able to see what I'm talking about: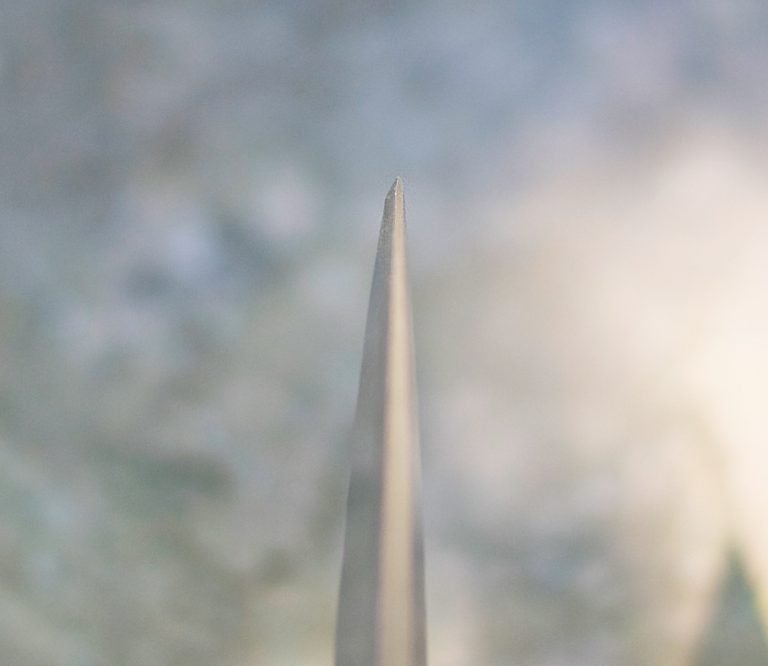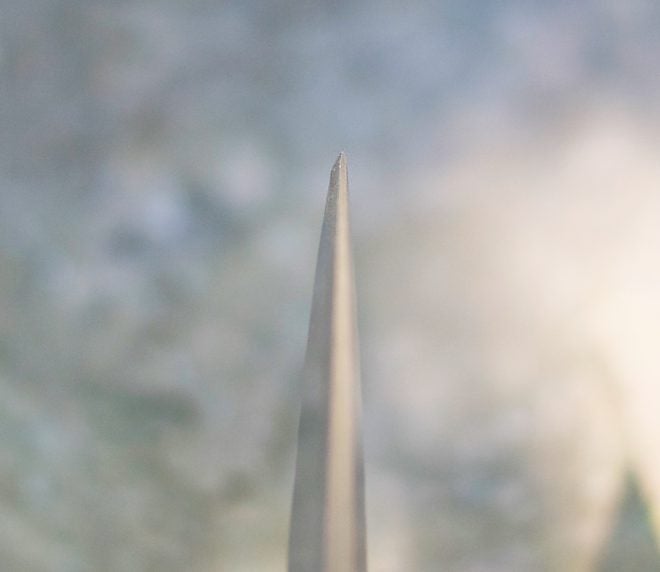 Again, a $350 full-custom knife came out of the box looking like this.
So the swedge is glaring enough that it jumps out at me cosmetically, but the other deficiency in the grind is arguably more serious: the cutting edge grind isn't even.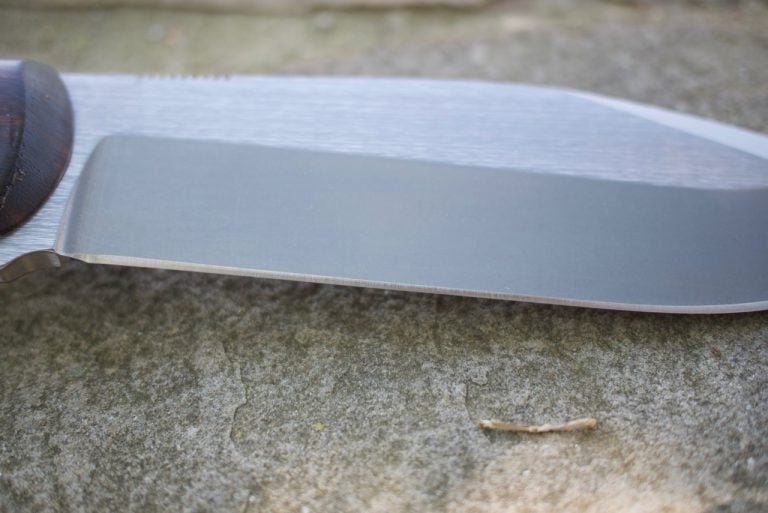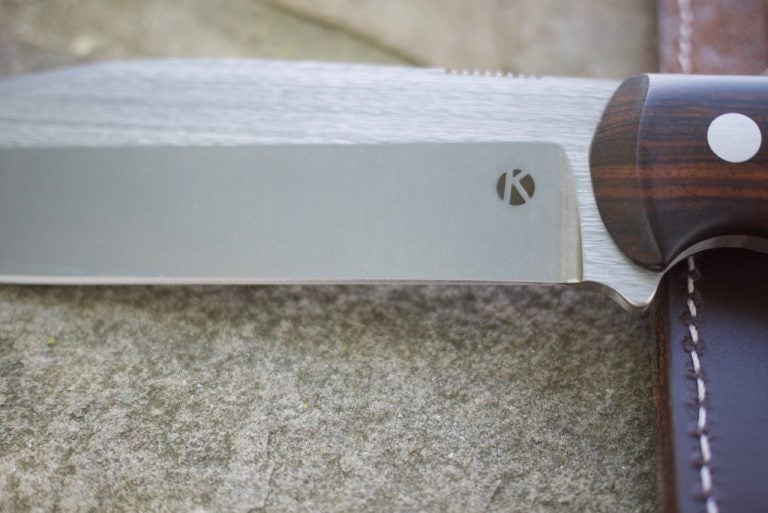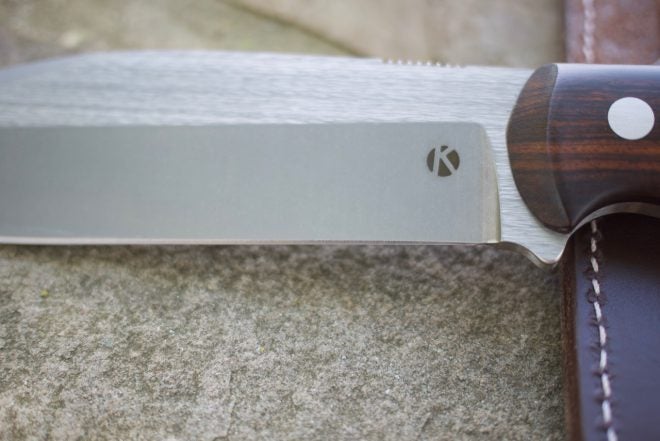 You can see in the shots above how asymmetrical the cutting edge is. Yet again, this is a full-custom, $350 knife that many folks wait years for. Not cool.
The ironwood handles are quite comfortable, but the finish is duller than I'd expected. Liners would've been a nice touch, but there are none. The bigger issue, though, is that there are some flat spots on the corners of the handles where there shouldn't be. Take a look: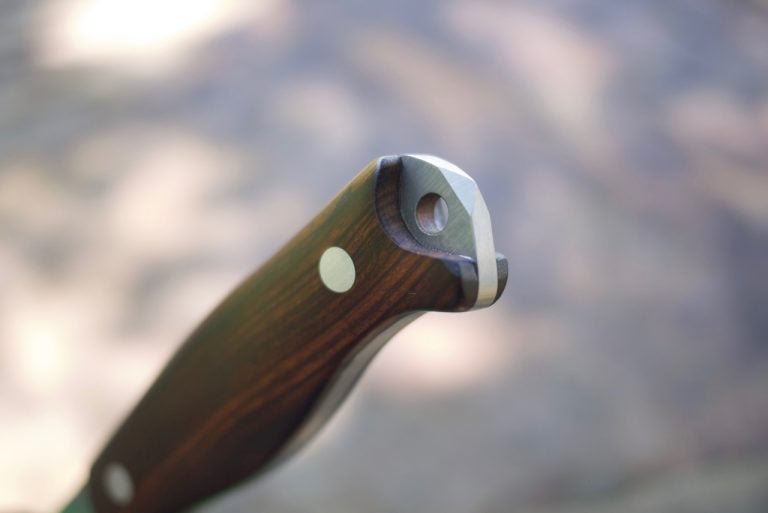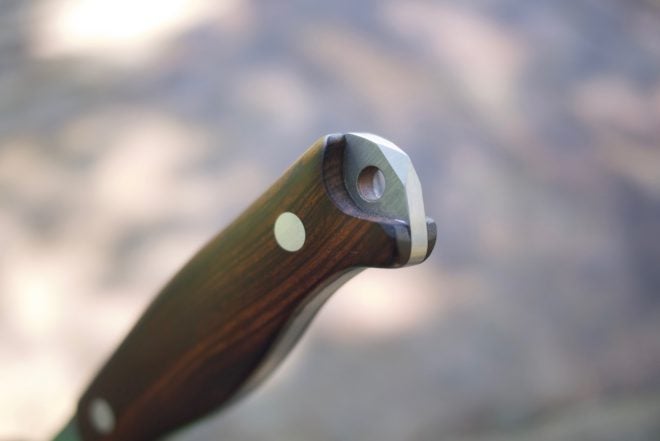 It was hard for me to get the camera to focus right so that I could get a good picture of this, but one corner of the handle is flattened out, while the other isn't. You can also see how the inside of that handle scale doesn't quite mate flush to the tang.
Again, this stuff isn't the end of the world, but when you add up all of these fit-and-finish flaws, the result is pretty underwhelming.
Ultimately, this knife doesn't even come close fit-and-finish-wise to any of my factory Fallkniven blades, much less to any of my Busses or my Barry Dawson custom.
This is tragic, because these flaws take what should've been a great knife and turn into one that's merely good.
There is Yet Hope
I've not yet used this blade, so it could very well redeem itself. As I said above, I plan to use it hard, so we'll see how it stands up to abuse.
Koster's CPM-3V gets rave reviews online, so it's quite possible that the performance of this knife will be good enough that I'll be able to forgive all of the finish flaws. (I won't be able to forget the flaws, though, because that swedge is nasty).
I can certainly see why users who got better finished MUCKs are probably gassed about the knife. The design itself is very good. It packs a lot of usable knife into a compact, lightweight package.
The glass breaker on the end is a nice touch in a survival tool, and the spine is sharp so it should be good for throwing a fat spark from a firesteel.
The jimping on the back of the blade is severe enough that you could almost saw with it, which I really like.
The 6-inch blade of CPM-3V is just the right length to do a little bit of everything from carving to chopping, and the saber grind is a good general-purpose grind for bushcraft.
This knife is also really light in the hand. It feels like it weighs the same as my much smaller Fallkniven F1 in desert ironwood, although I will say that particular F1 (my go-to camping knife, from JRE Industries) feels a lot more premium than the more expensive MUCK. Anyway, the MUCK is light enough that I could see wearing the MUCK all day and forgetting that it's even on me.
Ultimately, despite all of the potential that this knife has and the rave reviews from satisfied users, I'm not letting myself get optimistic that it's going to stand up to hard use. This blade has all the hallmarks of a rush job–of a guy grinding through a quota, trying to get as many out as he can. This does not inspire confidence that it's ready to take a beating.
But maybe I'm wrong, and this knife is gonna crush it in the field. My hope is that sometime in the next few weeks I'll have occasion to dress a boar with it, and then we'll see what's what. I'll also be doing some fire and shelter building with it this weekend, so I'll see how it performs on wood.
I hate to write such a downer of a review of a knife that I've been waiting for for this long, but that's just how it is so far. We'll see what happens in Part 2.
Update: I took this knife out and fooled around with it, working on a limb of dried oak just to get a feel for how it handles hard, old wood. For comparison I brought along the Fallkniven NL3, a very high-end production knife that's almost the same size as the MUCK (it has a 5.9″ laminated VG10 blade). The NL3 is a little more expensive. You can find it for about $370 if you shop around.
The MUCK did a good job on the limb, but the NL3 (with the factory edge still on it) cut circles around it. There's no comparison. This makes me think that the MUCK's jacked up edge is to blame. It was hair-popping sharp, but it just didn't handle the wood nearly as well as the convex-edged NL3, so that tells me the edge geometry is to blame. I'm going to get out the sandpaper and mousepad and re-profile the edge, which will be a major chore given how hard the MUCK's steel is (60-61 HRc). But maybe that will make it a more aggressive cutter.