Review: Altai Low Top Tactical Boots
Pat Cascio 06.06.16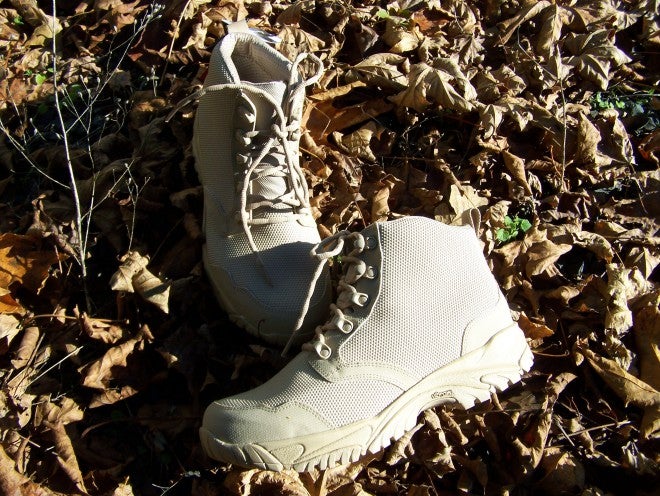 I've
reviewed some Altai tactical boots
in the past, and since I wrote that review they've come out with lower boots as well. These will appeal to folks who don't want or need the protection and ankle support of a taller boot.
I'm here to tell you right off the bat that if you want cheap boots, look elsewhere.
I selected the desert tan low top military boot for testing, and one thing you will immediately notice with all Altai boots is that they are very light and comfortable right out of the box, and no break-in period is needed.
All Altai boots are waterproof and breathable, with uppers made of SuperFabric® (more on this shortly). They have non-clogging Vibram outsoles, are abrasion and stain resistant, come with a speed lacing system, and have a wide heel pull.
The upper material on all Altai footwear is made out of SuperFabric®, and I'm not aware of any other maker using this material in their footwear. In short, SuperFabric® is tough and abrasion resistant, dries quickly, and is weather resistant. It's used in motorcycle apparel and even in some Ferrari cars.
I like the speed lacing system, especially the polymer speed lacing eyelets. I've used other speed lacing systems that weren't nearly as fast as these, and these won't rust or corrode. You can really pull hard on the laces when lacing the boots up and it will tighten the entire boot; you can't do this with many speed lacing systems.
One of the things I really like about Altai boots is
their guarantee
. If you don't like their boots for any reason within 30 days or if you end up with the wrong size boots, just return them. Altai will even pay for return shipping.
Speaking of sizes, I suggest that you order Altai boots 1/2 size smaller than your usual size because Altais run big.
I won't wear boots unless they're waterproof. I live in Western Oregon and we get a good amount of rain. I'm always outside doing something and I count on good, waterproof footwear. Nothing irritates me more than getting wet feet halfway through the day. No worries with the Altai boots. Your feet stay dry. Period.
Even in less-wet climates, your feet can get wet and stay wet just from perspiration if they're not breathable. No worries about that with Altai.
Altai boots are so comfortable that you probably shouldn't loan them out. I made that mistake with my original Altai boots, and my friend refused to return them because he liked them so much! He offered to pay me, but wouldn't give them back no matter what. I refused his money and ordered another pair for myself.
These low-top boots are no different. When I first put on these boots, it was liking slipping on a pair of old slippers. They are that comfortable.
You can spend a lot more on quality footwear if you want to, but honestly, I don't know why you would.
I like to save the best for last, and that is the retail price. My low top desert tan boots were only $119.99, and that is a heck of a bargain in my book. I don't know of any other boots with so many great features, for this price, and with this kind of warranty!