Review: XLR Industries Standard Element Remington 700 Chassis
Major Pandemic 06.14.16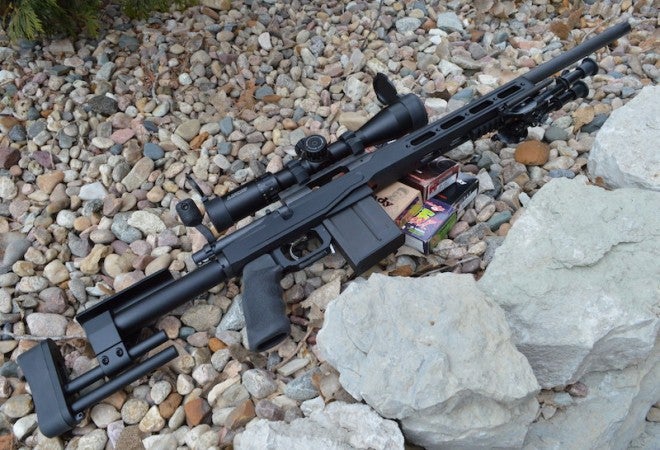 Why go to the trouble and expense of moving from a factory stock to a billet chassis system like this XLR Industries Standard Element stock? Consistency and improved accuracy due to a platform that is not affected by weather and humidity and provides the same positive and precision grip/bedding on the action from shot to shot.
Higher-end chassis like this one also free-float the barrel for (hopefully) the best possible accuracy from a Remington 700 barreled action, and in most cases feature positive mechanical receiver bedding that further increases accuracy and negates the need for the mess of resin or epoxy bedding the action.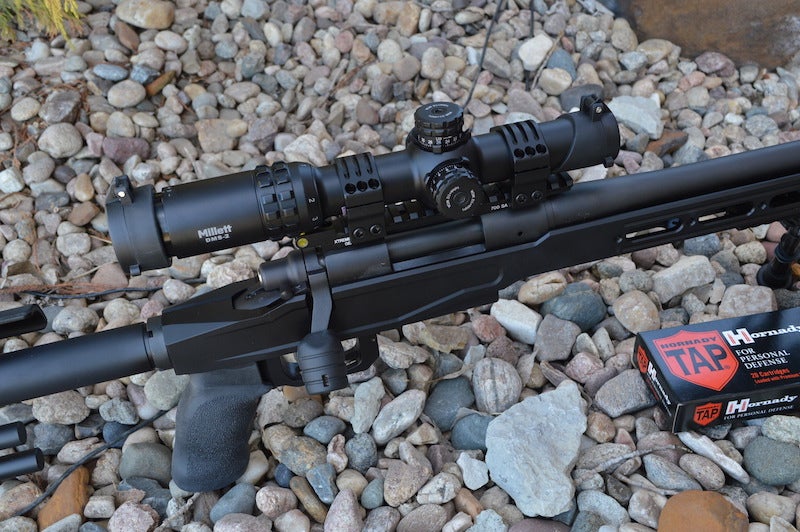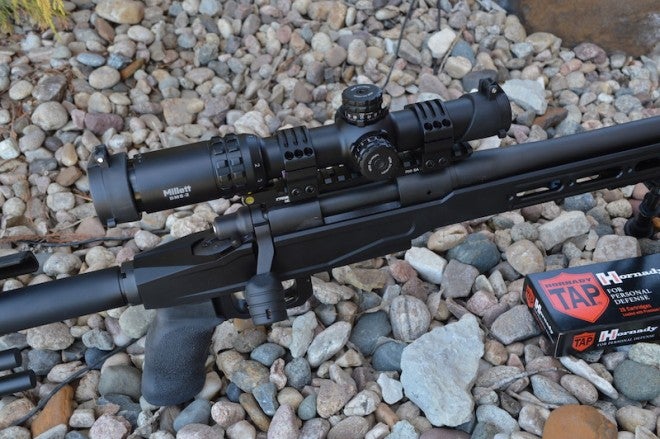 All XLR chassis feature a precision mounting system that does not require gunsmithing and allows the receiver to sit in the chassis stress-free for utmost accuracy, without the need for a V-block.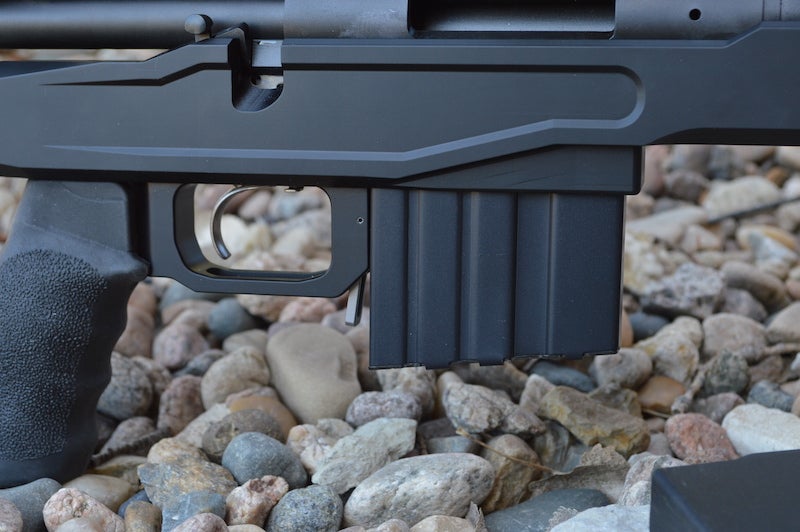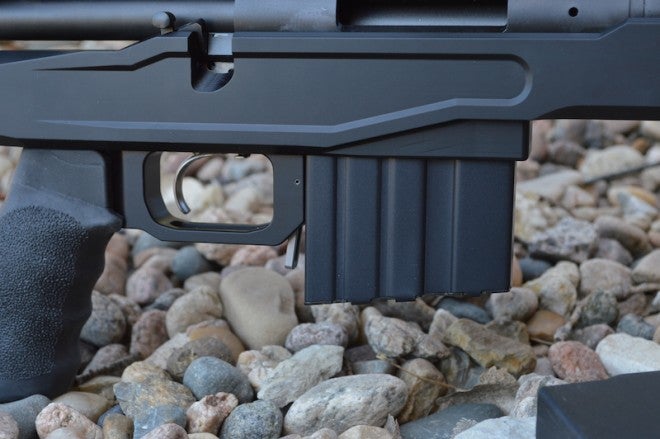 Like many of the other top-tier Rem 700 chassis, the XLR stock also has an integrated AICS-compatible box magazine well, which saves you around $200 for a "bottom metal" magazine adapter for your factory stock.
This feature offers the ability to quickly reload or conveniently unload the rifle without dumping your rounds on the ground. AICS obviously makes various-capacity magazines but ALPHA, Magpul, and MDT all also offer great options as well.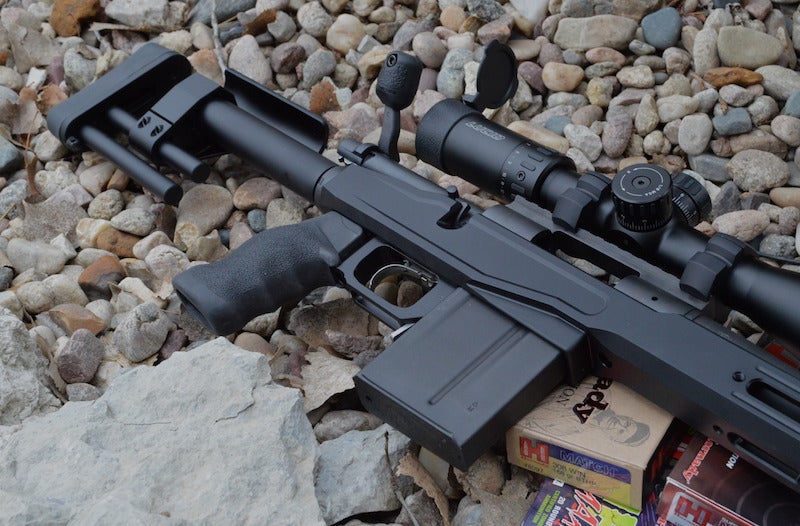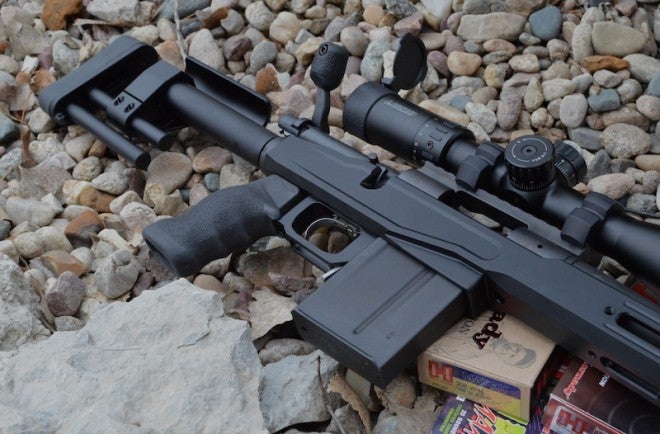 Another benefit of these chassis are that they are typically ergonomically and stability optimized for prone or benchrest shooting positions, thus delivering more long term shooting comfort over long periods of lying or sitting down.
Most people find there is a world of difference in comfort and fit when they get behind one of these chassis systems. If you want the best accuracy possible from your Remington 700 action (along with additional features), it makes sense to look at one of these chassis systems.
An obvious point I should make is that with a few exceptions these target and sniper chassis are usually heavier than a typical bolt-action rifle stock and are not really meant for field rifles that you are going to lug around for miles. These chassis are designed to be supported with a bipod or sandbags for long-range shooting.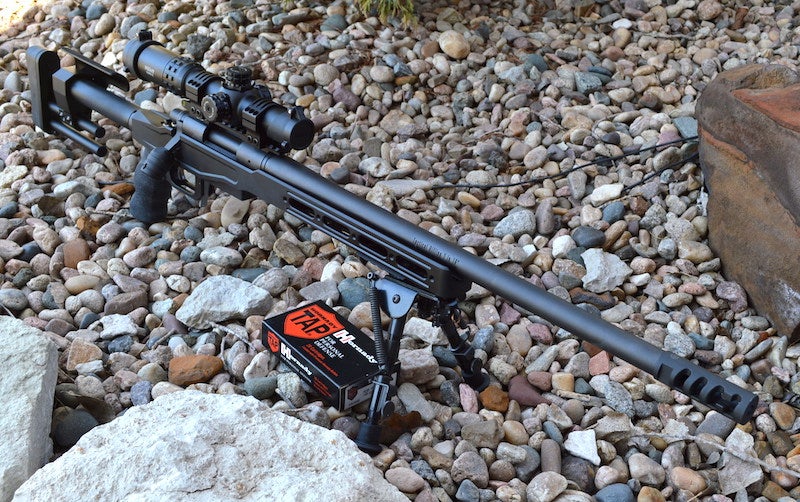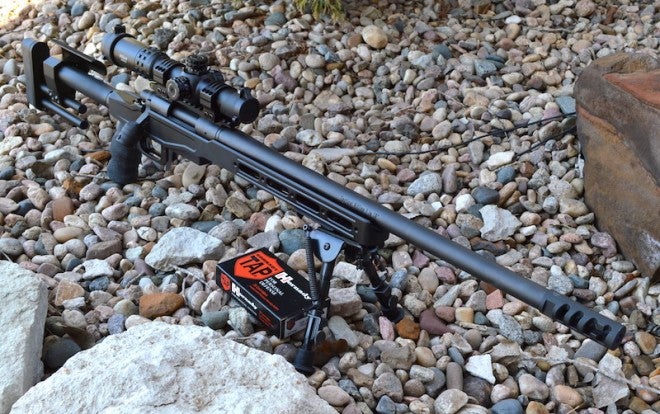 Shooters get a drop-in stock replacement with everything a professional or amateur shooter could want; every aspect of the stock is adjustable while remaining completely backward-compatible with off the shelf Remington upgrade components.
XLR supplied three chassis for me to test and review, including their Tactical Evolution and Tactical Lite Carbon versions, along with this Element model. All are similar but unique.
XLR are the newer kids on the block when it comes to billet Remington 700 chassis, but people are going a bit nuts over them due to their impressive comfort and adjustability as well as the huge variety of chassis offered. In fact XLR chassis are now appearing quite a bit in long range competitions.
Fit, Finish, Feel, Features, and Functions
As with all XLR chassis, the Element series can be had with any of XLR's own billet buttstocks. In this case I choose their Standard stock, so this chassis I am testing is called the Standard Element. If I had selected the Tac Lite buttstock, this model would have been the Tac Lite Element.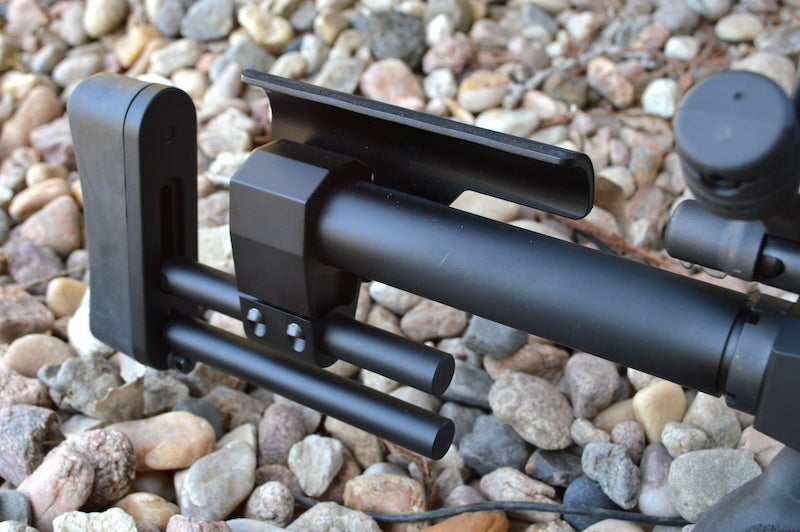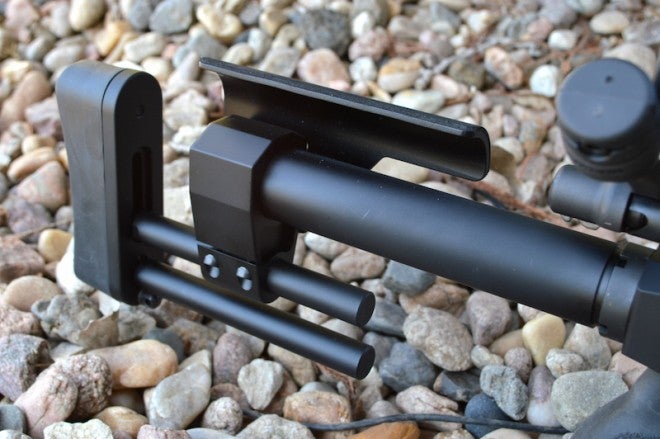 XLR's folding $115 stock adapter can also be added to any of the stocks at any time. Personally I recommend every longer Rem 700 rifle has a buttstock folding adapter to simplify transport. I didn't add that option on the XLR Standard Element chassis, but I likely will.
The "Standard" buttstock is fully adjustable for cant, cheek rest position, cheek rest height, length of pull, and buttpad height. You can get insanely comfy behind this rifle. About the only thing it is missing from a comfort perspective is a memory foam pillow. The base of the buttstock stock is angled to work with sandbags for elevation adjustments when prone or on the bench.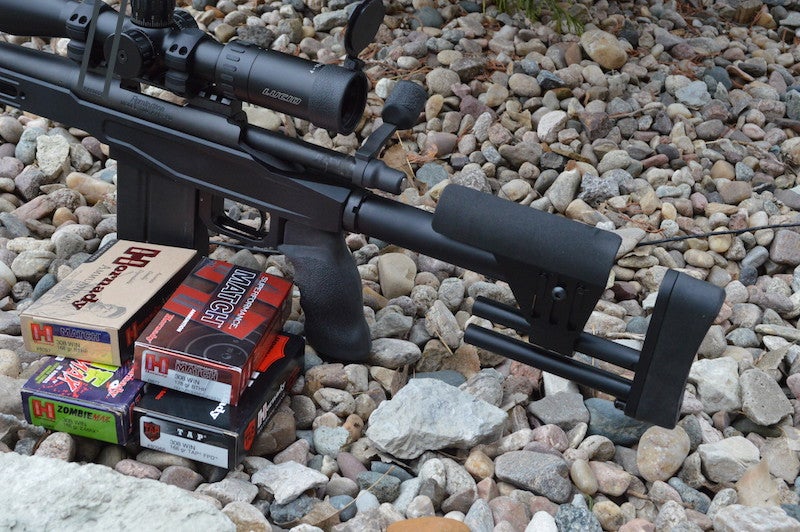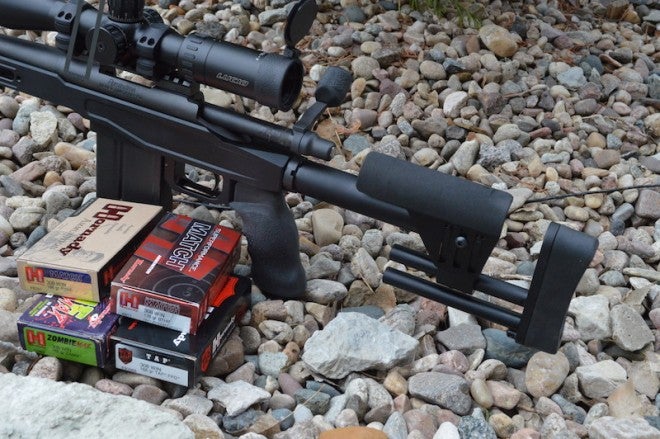 XLR chassis will accept AR15 grips, but it already comes with the best possible grip. They will likewise accept "some" AR15 buttstocks, but why would you go there when XLR's are better, more adjustable, higher quality, in some cases lighter and less expensive?
Like a custom one-off chassis, the design, quality, and precision is totally insane. Even just their own stock folding adapter is superior in quality to any other AR15 style adapter on the market and fits any of their chassis. Really, their stocks are artful they are so well made.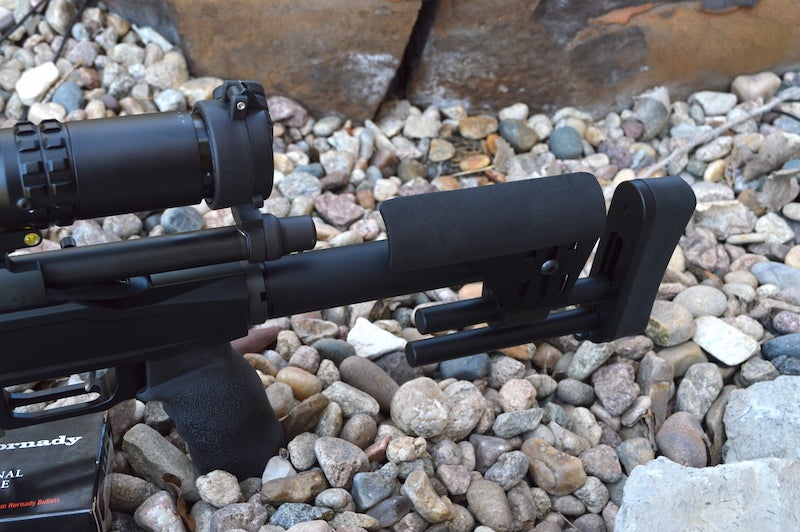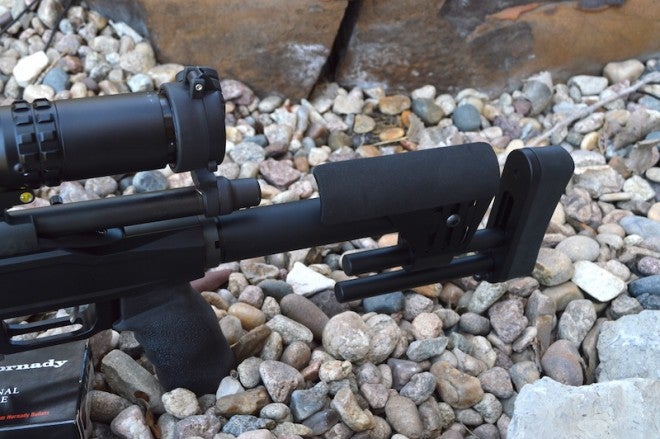 The XLR Industries Standard Element chassis I tested is one of XLR's most popular chassis, offering both light weight and durability at a very reasonable price. It is not a lightweight stock per se (at just over 4 pounds, it's nearly twice as heavy as my factory Hogue stock), but it is light weight compared to most billet chassis systems.
It is a chassis that can be heavily knocked around and will take the abuse. Where the rest of the XLR chassis feature tubed forends the Standard Element features an more traditional free-floated, open top forend design. The XLR Element chassis provides mount rails positions at 3, 6, and 9 o'clock positions for accessories.
One of the really great things about the XLR Element design over XLR's tubed forend Carbon and Evolution chassis is that any existing Remington 700 rifle with base and scope already mounted can be lifted from the stock chassis and dropped into the Element chassis in 2 minutes without removing the scope or base. This may seem obvious, but on other chassis with tubed handguard/forends, some extended bases and shorter rings can be a problem due to lack of clearance for the hand guard.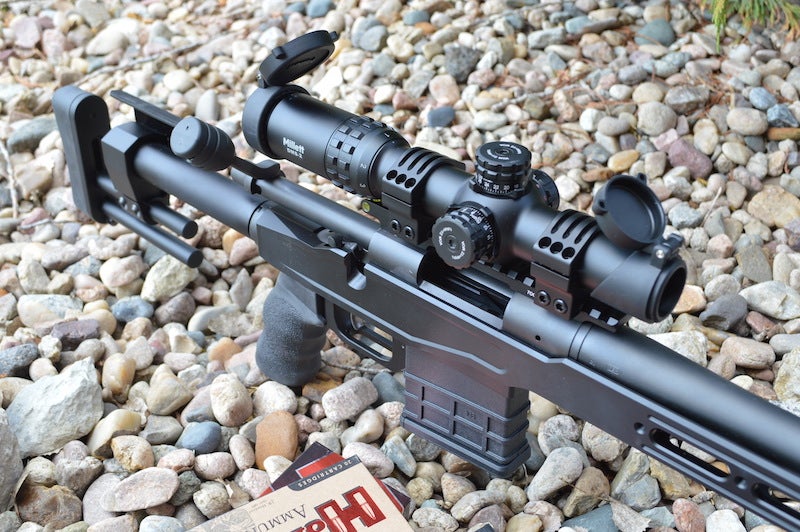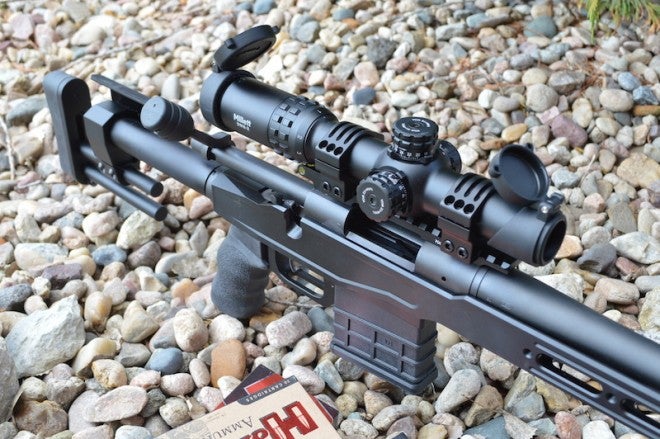 Installation was as simple as removing the two stock action screws, pulling off the factory stock from my Remington 700 SPS AAC 308, dropping it into this action, and using the supplied action screws to tighten everything down. The entire procedure took less than 2 minutes.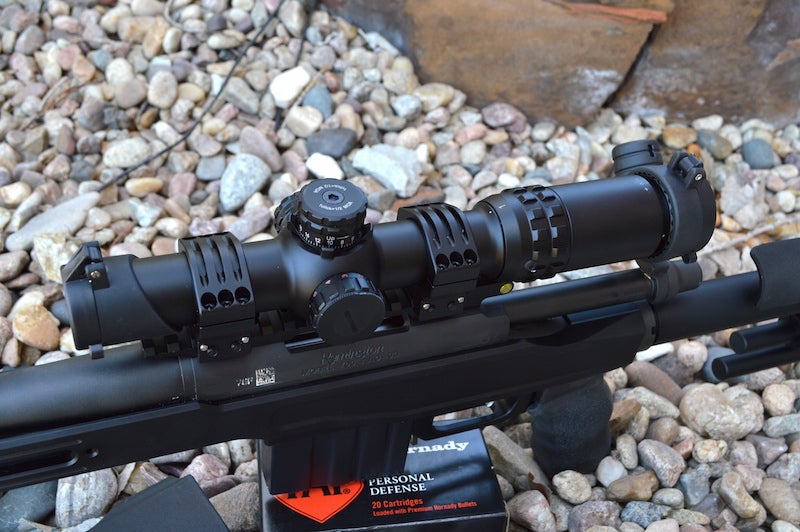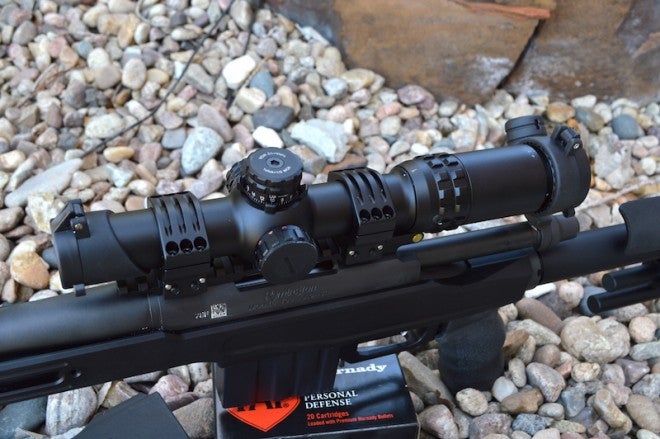 As with the other chassis, there was an accuracy improvement of about 15 percent vs. the factory stock. This basically pushed my best .65"ish groups to just over .5" and my more typical .8"-.9" groups down to the .7"-.75" mark. Not mind-blowing, but it is an improvement.
This Build
Remington 700 SPS AAC Tactical barreled action
KRG Bolt Lift bolt handle.
Tested with Lucid 4-16×44 Crossover Optic and Millet DMS-2 Scopes
Brownells Steel Remington 700 SPS scope base
Burris high rings
PWS Brake

Final Thoughts
Considering the beauty and craftsmanship of this chassis, it's surprising that XLR is selling this at only $595 when many other billet chassis cost much more. It is a deal wrapped up in a attractive design that performs as good as it looks.
The most significant advantage to the XLR chassis are that you can make them comfortable to lay behind for hours without overly fatiguing the shooter. This is a great sniper chassis for those who want a true drop-in option without worrying about having to change out bases and rings for scope and forend clearance.
Specs
XLR Industries Standard Element Remington 700 Chassis
6061 T-6 billet action block
Type 2 Class 2 anodized finish
12 inch or 14 inch hand guard
Ergo overmold tactical AR grip
Right or left hand configurations
Fully adjustable stock
Sling ready
Single shot or DBM setup
No gunsmithing required
Made in U.S.A
MSRP $595 + $115 Stock Folder Adapter