Review: SOG Knives Kiku Large Folder
Pat Cascio 07.23.16

If you've followed my knife articles for the past 22 years or so, you'll know that I favor large folders. They just seem to fit my hand better than smaller folders, and they can accomplish more chores than small folders can. I've always thought that folding knives with blades between 3.5-inches and 4-inches were about right for me, but I don't mind admitting when I'm (slightly) wrong.
The
SOG Knives Kiku Folder
was designed by Japanese custom knife maker Kiku Matsuda. This is his first folding knife design, and he hit it out of the ballpark if you ask me. The Kiku large folder has a 4.6-inch AUS-8 stainless steel blade. This is one of my favorite stainless steels because it holds an edge well and is easy to re-sharpen.
The blade shape is a modified Tanto, which I like very much. Rockwell hardness is 56-58–just perfect! The black blade is TiNi coated for even more weather resistance and that tactical look. There are also ambi thumb studs for fast and easy opening.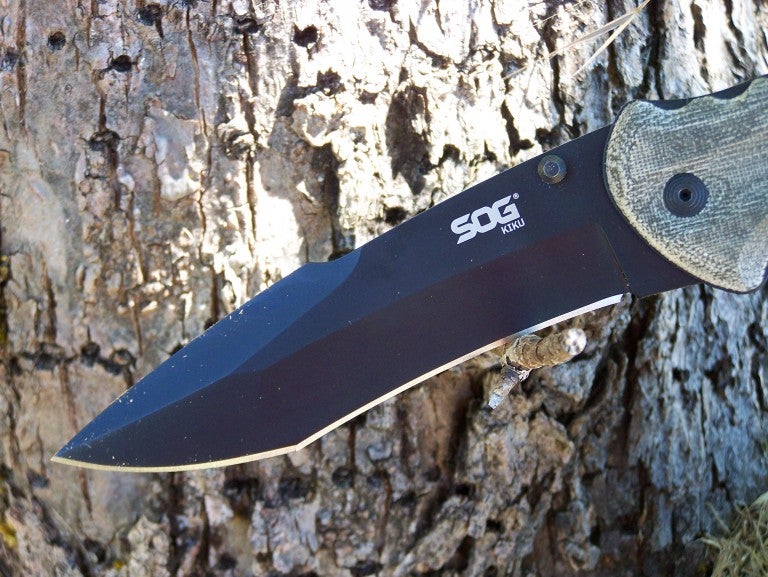 The handle scales are green linen Micarta. The green is washed out, sort of a stone-washed look. I would have preferred a deeper green color myself.
The blade has a liner lock, which I found to be strong and easy to open and close. A reversible deep carry pocket clip rounds out things. Total weight of the Kiku large folder is 7 ounces, but mine didn't feel that heavy clipped in my pocket.
The Kiku large folder is perfectly balanced in my opinion.
I carried the Kiku large folder for more than a month, and during that time it was used from cutting meat in the kitchen (the wife really liked it for that chore) to opening boxes from UPS and FedEx. To test sharpness, I sliced and sliced the edges of copy paper until it got boring.
I even abused my sample a bit by pounding it through some tree branches (using one branch to pound the knife through another branch) and by trying it out as a throwing knife. I never got it to stick, which isn't surprising on this model knife, but it was a good test of the lock, which never failed to keep the blade open.
Even though my Kiku sample has a plain edge with no serrations, it sliced right through seat belt material as well as poly rope. I've found that poly rope is one of the toughest cutting test; many knives simply slip right off the slick rope, but the Kiku cut right through with no problems.
Everyone who saw my knife loved it, although many can be harsh critics. The only negative comment they had for the Kiku was that it was too large. And when I explained that SOG has a 3.5-inch blade model, that put the argument to rest.
I look at knives as tools first and as last-resort self-defense weapon secondly. And I wouldn't hesitate to use the Kiku as a weapon of last resort.
I wouldn't hesitate to use the Kiku to dress out wild game either. And although I'd rather have a fixed blade knife as a survival tool, I think the Kiku folder would get most camp/survival chores done without failing you. (SOG also offers a fixed blade Kiku.)
I predict this will be a hot seller for SOG and a great choice for military and law enforcement personnel. I believe this should be the new flagship folder in the SOG lineup. I like it that much!
Now for the good news: the large Kiku folder retails for $190.00. Although spendy, it is one heck of a buy in my book. I've had custom folders that weren't as nicely put together as this Kiku folder is.