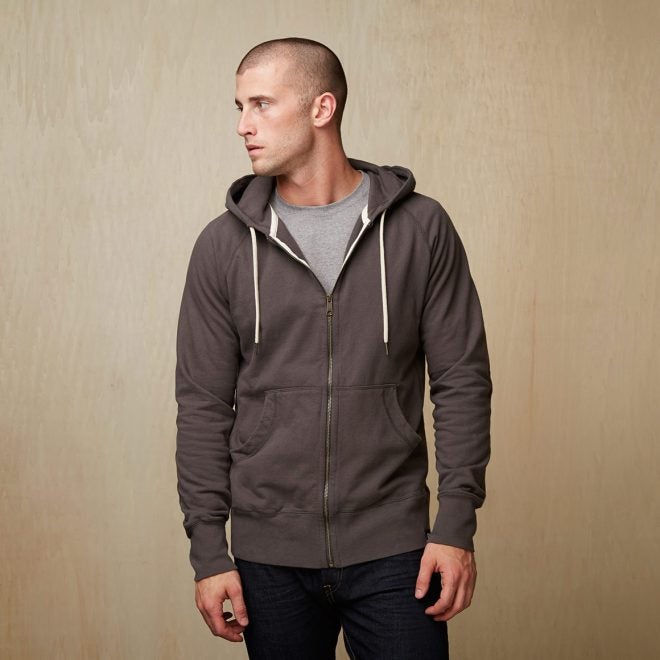 Whenever people tell me I need to like something, it has the opposite effect. After the wall to wall advertising and breathless hype that surrounded American Giant's Classic Zip Hoodie (when was the last time you saw a hoodie review in the Wall Street Journal?), I was ready to never order one, despite my love for a good hoodie. And so I avoided the jacket like the plague, not wanting to give in to the marketing machine that American Giant so effectively deployed when they launched their company a few years ago.
Three years passed and I was happily hoodie-less and glad I didn't give in to the excessive marketing hype. Screw you Mr. or Mrs. Marketer.
But then, for my 38th birthday, my wife got me the AG Classic Zip Hoodie and I have worn it pretty much every chance I could get since. It is, without question, the jacket I wear the majority of the time, which says a lot because I generally can't wear it during the week. It's a shame that American Giant spent so much pushing their brand as the ad campaign was withering and the image (grumpy people casually walking down New York streets) seems odd. But if you set the marketing BS aside, your left with one spectacularly well made item, perfect for the fall, the winter, the spring and even chilly summer nights.
Description
The American Giant Hoodie is…well…a really expensive hoodie. You can swing by a Wal-Mart or an Old Navy and get a Hoodie for 1/5 the price. This hoodie is distinguished from the competition by a very heavy cotton fabric, beefy seams, and double lined hood. The drawstring, zipper, and chord tips are all custom made for American Giant, which, frankly seems like a waste of money. There a dozen or so colors, many I would never buy or even take if someone gave them to me for free, but mine is a dark gray. (Other acceptable hoodie colors: navy, black, light gray. White or light colored hoodies are for people that use them solely to get from their fancy gym to their fancy car, not folks that really go outside or get dirty.)
Testing
I wore the AG Hoodie for a year now and it has stood up to all sorts of things–carrying an infant with accompanying spit up, the pine sap from being out in the woods, getting soaked by salt water while sitting on a rock near the ocean in Acadia (see: carrying infant for reason why), and all of the dirt and soil you'd expect from chasing and carrying two boys outside. The Hoodie got washed probably once every other month or when it started to smell like camp fires. The fact that it is pre-shrunk makes a difference. Also note that it is a slim fit for its size. It didn't bother me, but it is not a billowy hoodie like some are.
Implementation
Having both a Champion and a Dickies hoodie in the past fifteen years, as well as countless numbers of LL Bean fleeces, I can assure you this is a horse of a different color. Just picking up the American Giant Hoodie tells you it is designed to last a long time. There is a heft to it that is missing with most other Hoodies. I have paired the AG Hoodie with a softshell to make one hell of a layered coat, good enough for all but the worst winter storms.
I have been on quite a few hikes with the Hoodie over the past year and it does not breathe like a technical jacket would, but it does cut the wind and keep out the cold. I have found that it is also very abrasion resistant, again, not like a technical jacket would be, but more than your normal hoodie is. It has zero water resistance, so don't think it will work in the rain, but then again this is a hoodie so what do you expect?
After a year, the jacket is indistinguishable from when I first got it. Like a good pack, it shows very little wear and tear, something a cheap hoodies do quite poorly. I literally wore my last hoodie to death. It frayed and fell apart until it was not really a jacket anymore, but I wasn't about to get rid of it. It had sentimental value (it was the jacket I wore when I took the bar), but when the sleeve disintegrated, I knew it was time to go. Fortunately, I don't see anything like that happening with the AG Hoodie. Both the waist band and the cuffs are thick and durable material. They will hold their elasticity forever.
Conclusions
There is no avoiding it. The price is crazy. If you are comparison shopping hoodies, then this will always be last. There are other premium hoodies out there, and some are as expensive, but you could buy five Old Navy hoodies for the price of one AG Hoodie. Then again, five Old Navy hoodies will probably last as long as one AG Hoodie and unlike with the Old Navy numbers, you don't have to worry about wearing some gauche or outdated graphics five years from now. I wouldn't mind a few pennies being pinched on the custom hardware. A $70 version with commercial off the shelf parts but the same thick durable fabric would be awesome.
In the end, I am too cheap to buy a $100 hoodie. I'd rather spend my money on a new knife or another piece of kit. I also am a huge proponent of technical jackets like the Triple Aught Design Stealth Hoodie. As a jacket of all trades, the Stealth crushes the AG Hoodie in terms of performance and versatility. But, the Stealth is three times as much and it's not that comfortable to wear around the house (if I am cheap, my wife and her thermostat regime are positively miserly). If you need to run to the store or go for a walk and don't want to suit up in a technical jacket, the AG Hoodie is awesome. And even though I would never spend the money on something like this myself, it is, without question one of my most favorite gifts I have ever received.
It also happens to be a marker in my life. When my wife bought the Champion hoodie I wore for the bar, it was all we could afford. So when she bought me the AG Hoodie, it was a nice reminder of how far we have come.