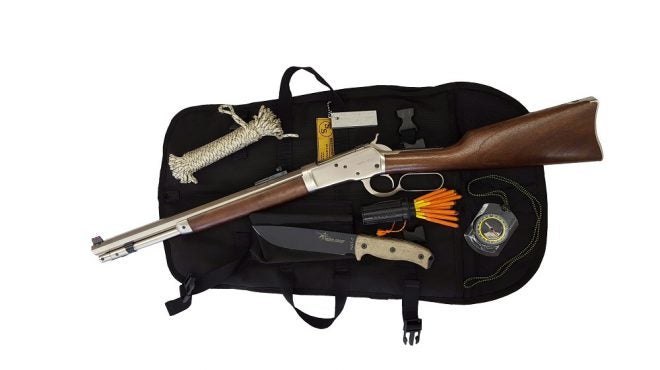 You don't have to be a bush pilot or even a pilot to own and use this unique survival oriented kit. In fact, preppers and survivalists might just find this special kit containing a proprietary take down rifle and other vital survival gear just the ticket for multiple applications.
Skinner Sights of Saint Ignatius, Montana is the manufacturer of custom firearm sights and the HTF Firearms Covert gun hiding garment bag, which has been reviewed previously at All Outdoor. Now Skinner Sights has assembled a specialized survival kit aimed for use by bush pilots, back country enthusiasts, as well as anybody looking for a compact, survival kit with critical pieces of gear put together in one simple carry case.
Central to the Bush Pilot Kit is a customized Chiappa .44 Magnum, take down, lever action rifle. With a 6+1 ammo capacity, this 5.5 pound rifle sports a 16-inch barrel along with a Skinner precision rear sight and their own fiber optic front sight. The rifle is finished in a hard chrome stainless steel with a walnut stock. This rifle is not only highly functional, but is also one beautiful piece of firearm hardware as well.
Other items included in the Bush Pilot Survival Kit is a RAT-7 OKC survival knife with a 7.2 inch carbon steel blade that is finished in a black powder coating plus a Micarta handle. Unique to this kit is the fact that the Bush Pilot logo and serial number applied on the knife's blade matches the serial number of the carbine rifle. Now, is that cool or what?
Also in the survival kit are Titan storm and water proof matches stored in a sturdy capsule container, an official U.S. Government issue Doan magnesium fire starter, a Ration brand heat and cooking stove with Hexamine fire fuel tablets, and a tough polyester film space blanket tube tent with enough space for two adults.
The kit also includes a fine Brunton TruArc 3 flat base scouting compass. In the kit is also a wrap of 50 feet of Mil. Spec. 750 parachute cord for various survival application uses.
The entire kit and all its contents come in a Skinner's Montana made custom padded carry bag made of 1000 denier Cordura fabric for extra strength and durability. Inside the bag are Molle attachment points. The case closes with a full width buckle down closure flap with no zippers to fumble with. The bag has ample space for other small items as well.
The Skinner Sights Bush Pilot Survival Kit retails for $1799. For additional information and specifications, check out the kit at www.skinnersights.com.