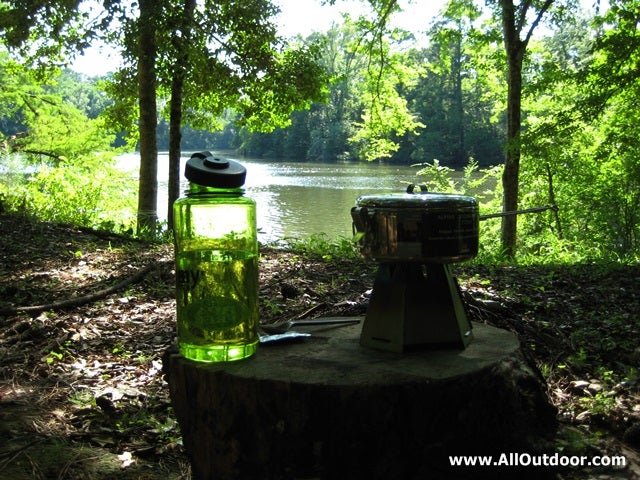 Several years ago I was walking through Academy Sports and Outdoors in Beaumont, Texas when I noticed an MSR alpine stowaway pot. I picked it up, looked it over, then put it back on the shelf. A few weeks later I went back and bought it.
MSR (Mountain Safety Research) is known for its wide range of outdoor products. These include tents, stoves, water filters and cook pots. One of the reasons why I bought the cook pot is because it had the MSR name on it, so I was expecting a certain level of design and quality.
First Impressions
My first impressions were good. The MSR alpine stowaway is made out of stainless steel, which I liked at the time.
The stowaway has a long handle that is secured with a latch to keep it closed. When in the closed position, the handle latches to keep the lid in place.
When in the open position, the handle is held in place with two clips have ears on them.
Specifications:
3 1/2 inches tall
5 1/2 inches in diameter
12.3 ounces
775 ml
Packing the Alpine Stowaway
The first problem came up while packing for a camping trip. The single burner propane stove I was using did not fit inside the pot. It is not that big of a deal. I have since bought a smaller stove that does fit.
While handling my cookware I noticed how heavy the MSR alpine stowaway is. I had been using a Vargo Sierra 750, which is made out of titanium.
Weight
Vargo sierra 750 – 4.6 ounces
MSR alpine stowaway – 12.3 ounces
The alpine stowaway weighs 2.67 times more than the Vargo Sierra, and all I gained was 25 ml of capacity. It seemed that I was gaining no benefit from carrying a cook pot that weighed twice as much as my current pot.
Camping Trip
The camping trip was on the Angelina River near Jasper, Texas with my son and nephew. We loaded our gear into the boat and made our way to the camping site. It was a beautiful June day with clear skies and perfect weather. The day was spent fishing for perch off the bank and walking through the woods around the campsite.
When it came time to cook, I used the MSR alpine stowaway to boil water for noodles.
I felt the pot was too large for what I needed. Cooking a package of noodles only filled the pot about half way.


SHOP NOW
MSR Alpine Stowaway Final Thoughts
Why was I using a stainless steel pot that was twice the weight of my titanium pot?
With so many other lightweight options on the market, why was the stowaway made out of stainless steel? If nothing else, why not make it out of aluminum?
My MSR alpine stowaway has been retired to either river camping, where I use a boat to reach the site, or park camping.
With so many other lightweight options on the market, I can not justify taking this hiking or on a backpacking camping trip.