Backpacks: Medium ALICE Pack Overview
Kevin Felts 01.15.17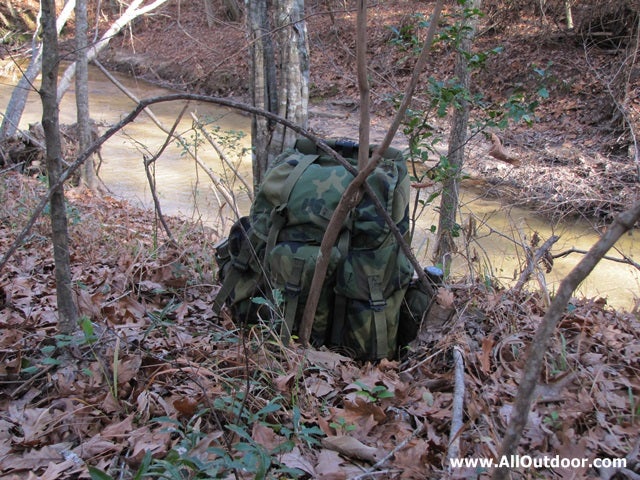 The medium ALICE pack is perfect for either a first backpack or for experienced campers and backpackers.
ALICE is an acronym for "All-Purpose Lightweight Individual Carrying Equipment" and was adopted by the United States Army in 1973. ALICE was slowly phased out in the early 2000's in favor of MOLLE.
I bought my medium ALICE pack around 1993. To this day it is one of my favorite backpacks.
Versatility
One of the nice things about the medium ALICE pack, it can be used with or without a frame. The frame is made out of aluminum and does not weigh very much. If you want to shed some weight, take the frame off and attach the shoulder straps straight to the pack.
The large ALICE requires a frame, while the medium ALICE does not.
There is webbing on the sides and bottom of the pack. I usually strap canteens on the sides and use the bottom webbing to secure either a tent or sleeping bag.
On the outside top, there is webbing that wraps around the pack.  Any number of extra pouches can be attached to the webbing.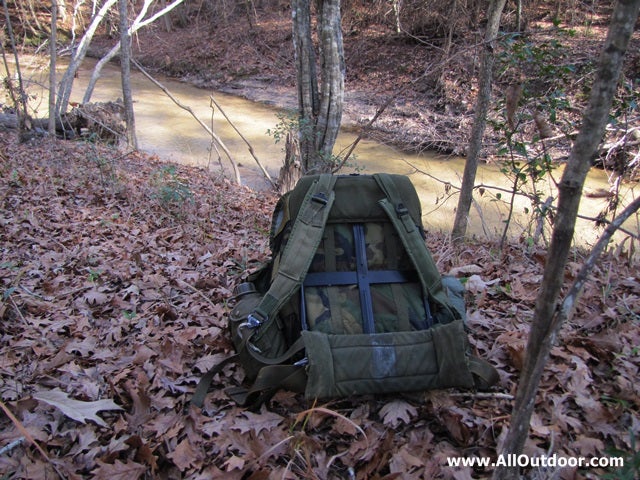 Size
The medium ALICE pack has a large main compartment, small internal pouch, and three external pockets.
Small internal pouch – is where I keep small items, such as a camp stove, hygiene kit, Bible, and a few other odds and ends.
Large main compartment – extra clothing, poncho liner, maybe small sleeping bag or one person tent. A lot of times I strap the sleeping bag or tent to the outside of the pack. On the bottom of the main compartment, there is webbing for strapping extra gear to the bottom of the pack.
Exterior pockets – there are three exterior pockets that measure around nine inches deep and five inches in diameter. This is where I keep a fuel bottle for the stove and rain poncho.
Main compartment – 2,075 cubic inches.
Total estimated capacity – 2,412 cubic inches.


Cost And Availability
From what I understand, the U.S. government is not auctioning used ALICE packs. Supplies have been slowly drying up and prices have been increasing.
A search of eBay for medium ALICE pack used to return hundreds of results from dozens of sellers. A search of eBay on January 15, 2017 resulted in 61 results and prices from $40-$60. Medium ALICE packs used to sell on eBay for $25.
Medium ALICE Pack Final Thoughts
I have a lot of good memories with my medium ALICE. It is just right for a warm and cool weather camping trip. If it is a cold weather trip, I use either the large ALICE or large MOLLE.
Some people may say the pack is rather small at only 2,412 cubic inches. Having a limited size forces you to only bring the required gear.


SHOP NOW