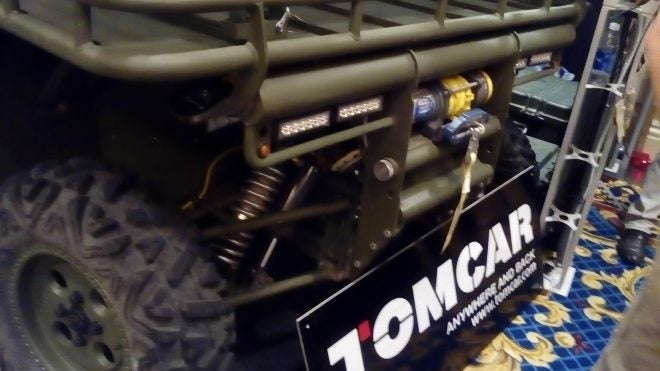 Let's say you're in the market for a strong utility terrain vehicle. Something that can take a hit. Something easy to take apart, fix, and put back together with little more than a hammer and wrench. Since 1991, Tomcar has been building and overbuilding the toughest UTV's around.
Unlike many of their competition that may start with a motorcycle or snowmobile, the Tomcar line was purpose-built for the military theater then adapted for the consumer market. The spokesman at Tomcar's SHOT Show 2017 booth told me the following:
If someone bent the frame, that means they drove the car off a cliff…

…[It's] a cross between a tank, a caterpillar, and a dune buggy.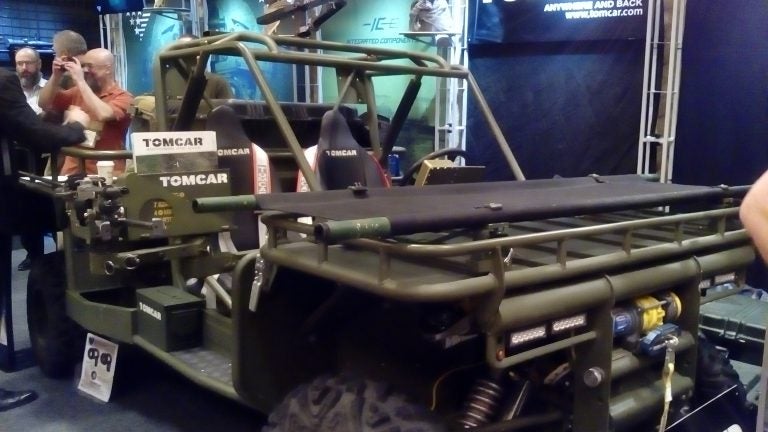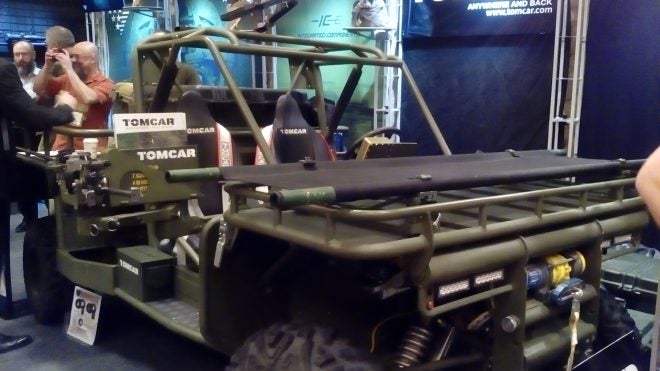 Performance
At the start of the week, I had the opportunity to ride shotgun in the commercial four-seater model, the TM4. The handling was spot on. The ride was smooth but there was a hitch. The driver demonstrated the fifteen-inch ground clearance by traversing a large stone. Looking ahead I spotted a well-hidden ditch coming up. My thought at the time was, "Oh no, we're going to plant the nose in the sand!" But what should happen to my surprise? We kept going. Barely a dip in speed and the suspension kept us comfortably level, even as we lost a bit of altitude. From a first-hand experience, I have to give the suspension a 10 out of 10. The Tomcar tamed the wild desert gravel, thus transforming what could have been a jarring chiropractic disaster into a smooth dance thru the cacti.

Reliability
There are even parts built in to deal with a potentially damaging collision. A fifty dollar sacrificial piece is designed to break. This is to prevent you from needing to replace more expensive modules. Again, repairs can be done with minimal expertise, with a hammer and wrench.
The Tomcar comes in a few engine flavors. Electric/hybrid, gasoline, and diesel. The gasoline model is fuel injected, while the electric motor option could help you keep a low profile during a hunt. For those of us that wish for the simplest package, I'd recommend the diesel model. There's little to no electronic components to deal with. Humorously, I was told the idea behind the diesel model was,
Stick the vehicle in a swamp for 30 years. Dig it out, it'll start.
Ambitious, but I'd love to see that tested. The motors are governed to 65 miles per hour. The reason being, if a vehicle ran at its maximum performance all the time it would likely to break down sooner. Tomcar has taken the old Russian approach. Make it last and make it easy to fix should it break down. Modular accessories range from covers, doors, a winch, beds, and even a second fuel tank.
If you're interested, check them out on their site here.
TM4 Specs
Length: 146″                Width: 70″
Height: 67″                   Wheel Base: 15″
Payload: 1,000 lbs       Towing Load: 1,757 lbs
Cargo Box: 48″ x 26″    Dry Weight: 1,817 lbs