Review: Talon Grips Rubber Pistol Grip Enhancement
Russ Chastain 02.21.17

Ever since I first discovered Talon Grips at the 2016 SHOT Show Range Day, I've been a fan. Handling is believing, and when I went from a factory Glock 17 to one wearing a Talon Grip–a thin, adhesive-backed textured product designed to make your gun easier to hold onto–the improvement was immediate. Not only was the pistol easier to control while shooting, it was also much easier to retain my grip when the company owner "tried" to take the pistol out of my hand.
But how well would it hold up in the real world? I needed to find out, so I soon placed an order for Talon Grips for a Kel-Tec PF-9 and a Glock 36.
Many of today's handguns have polymer frames, and you can't change the grips. No more can you slap a set of Pachmayrs on to make it grippy. Talon's solution is a stick-on product that stays put and won't leave any stickum behind (or not much) if you remove it.
Talon Grips are 100% made in the USA and available in Rubber and Granulate. Rubber is about what it sounds like, and is the most popular one. It adheres well, conforms well, provides great grip, and doesn't add more than a half-millimeter to the size of your grip. Granulate is another story; it's about like sandpaper and is for extreme situations when you expect your hands to become wet (and you want calloused hands or good gloves if you choose granulate).
I chose to use Rubber Talons for the two test pistols.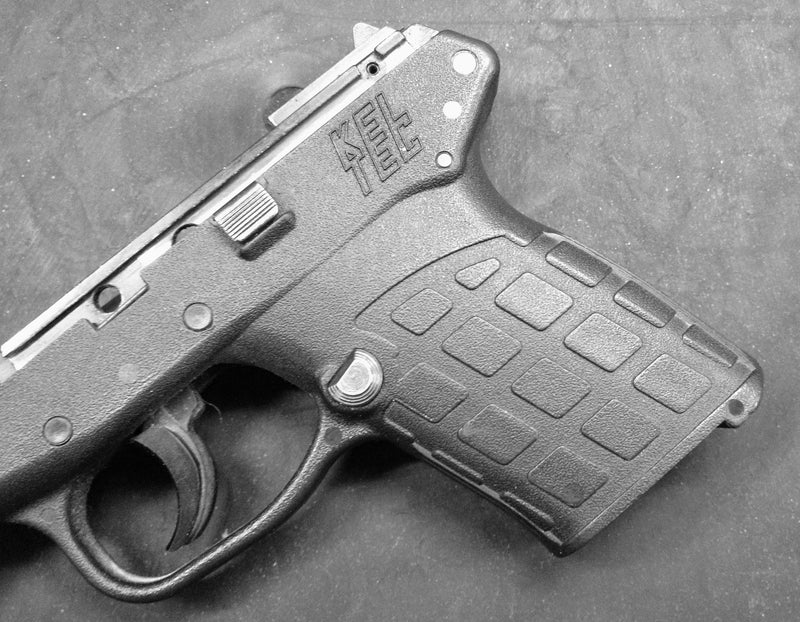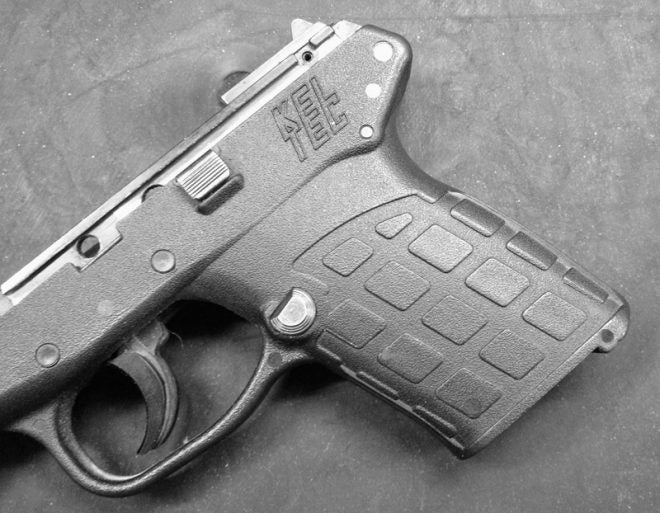 I began by cleaning up the grip of the Kel-Tec PF-9 pistol. One small alcohol wipe is included with each grip, but I was disappointed that the instructions recommend using more alcohol than what they provide. Why provide any at all, if you're not providing enough to do the job?
Extra rubbing alcohol and a small brush, in addition to the supplied alcohol swab, is recommended for improved cleaning.
Anyhow, I cleaned up my grip using their wipe and some 99% isopropyl alcohol that I had on my work bench.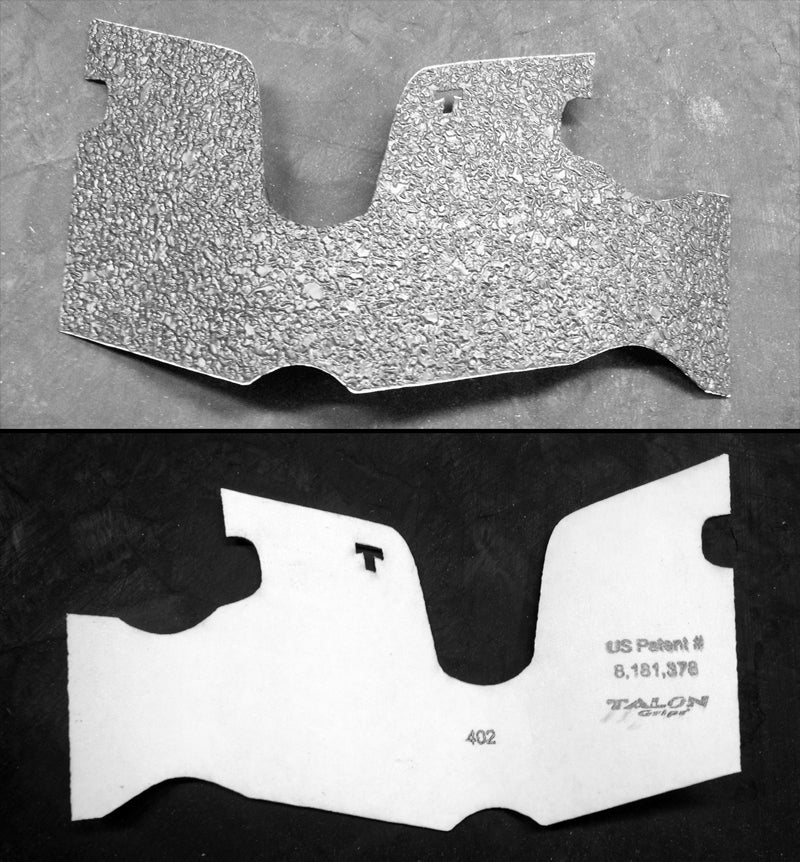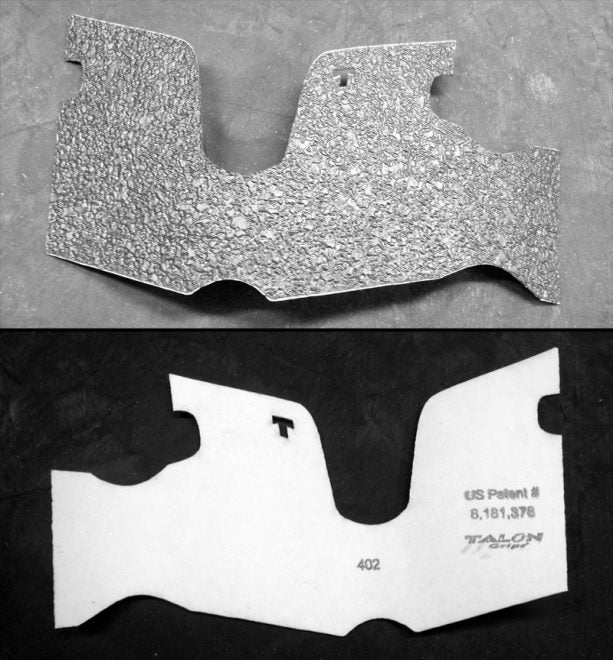 Above is the PF-9 grip before installation. The best way to start installation is to leave the backing on and do a test fit. Wrap the grip around the gun, see how it's going to fit, and above all, read all of the instructions BEFORE you peel off the backing and begin sticking it on.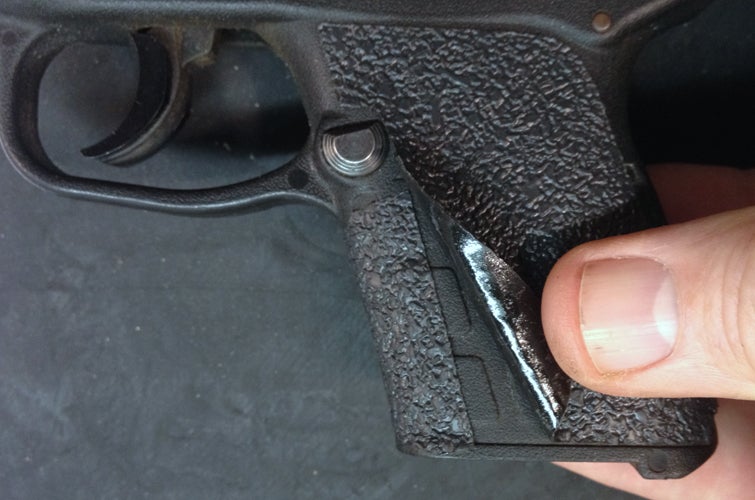 Example: They tell you to begin with the left side in step 3, but in step 4 they say the part that wraps around the front should go UNDER the left side. If I had begun by sticking on the left side, I couldn't have done that.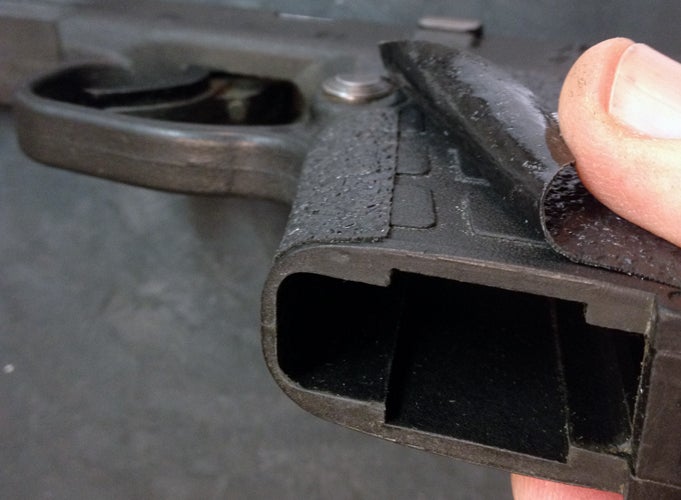 The instructions also say this:
If the TALON Grip is misaligned at any time, gently peel back the grip, reposition, and reapply as many times as needed.
That's pretty accurate; I had to pull up and re-apply portions of the grip three or four times to get the alignment correct. I had not pressed down on it before pulling up, and it came up without a fight.
After sticking it on, you need to use a blow dryer or a heat gun to get the stuff hot so it conforms to your gun's grip and adheres properly.
MUST DO: When the TALON Grip is properly aligned, heat it with a hair dryer or heat gun to the temperature of a warm cup of coffee and press FIRMLY into place. DO NOT HEAT OVER 130 DEGREES FAHRENHEIT. Repeat this several times conforming the TALON Grip to the gun's factory grip. Pay special attention to pressing all outside edges including the backstrap.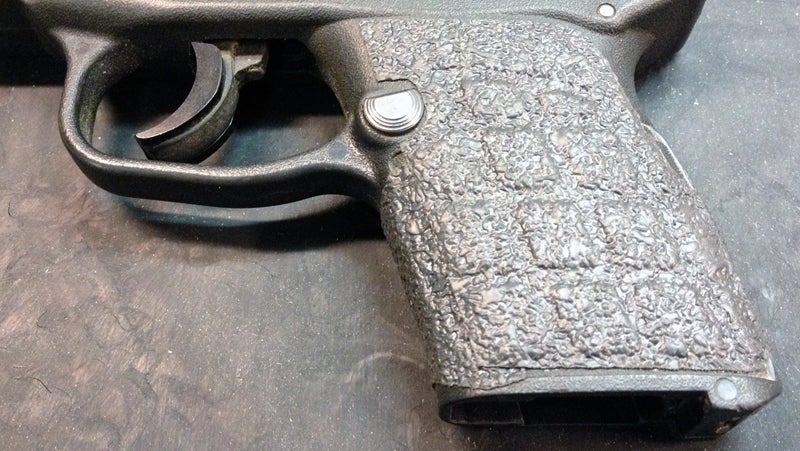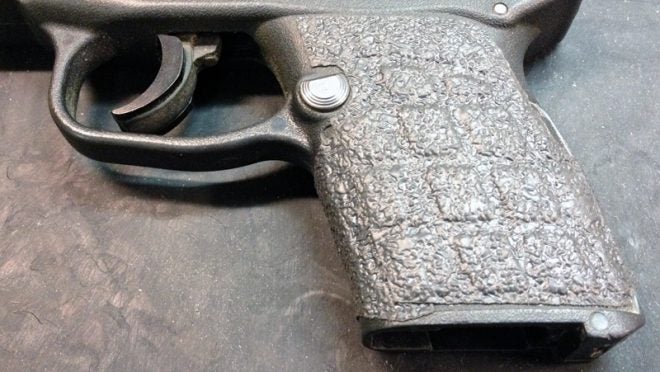 The photo above was taken after the grip was heated and pressed per the instructions above. The Talon grip conformed well to the shapes molded into the gun frame, and in my notes I wrote, "Feels nice and almost looks like part of the frame."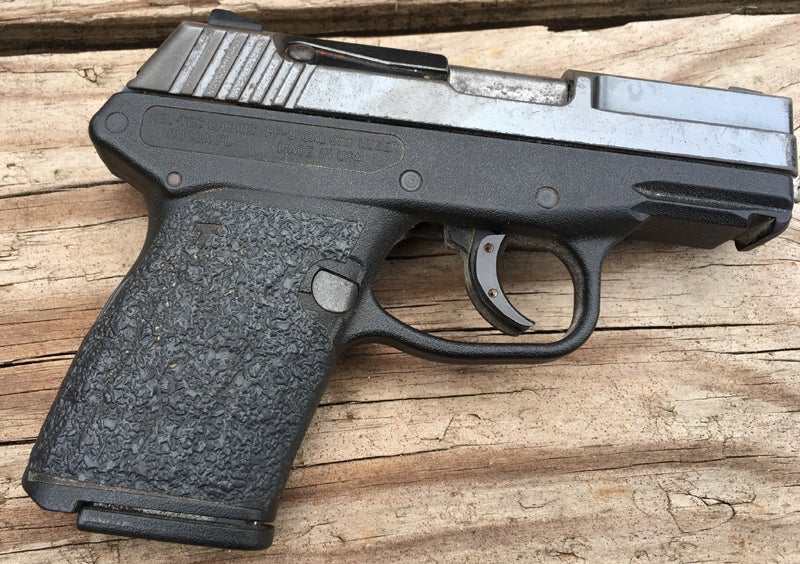 The photo above was taken after I'd been carrying the pistol for almost 13 months after applying the Talon grip. I carry without a holster, and my guns get sweated on A LOT. The Talon grip has shown no signs of coming unglued, and except for a little grime that I ought to clean up, it looks fairly new.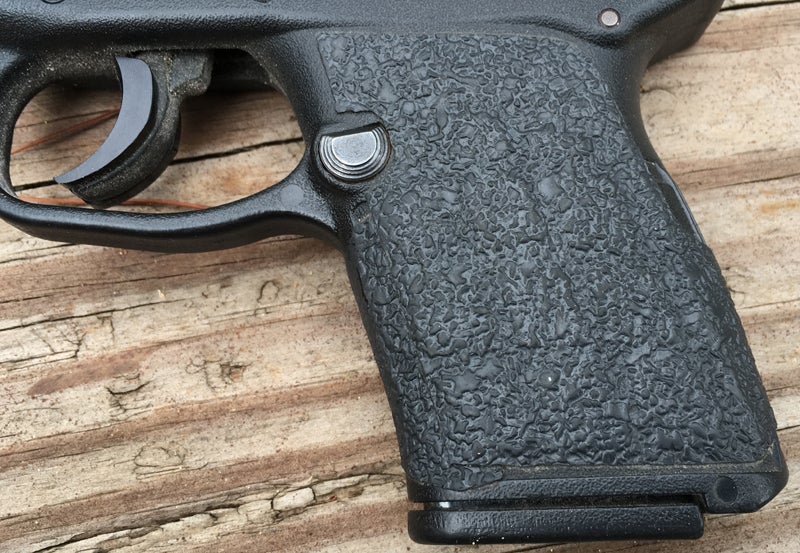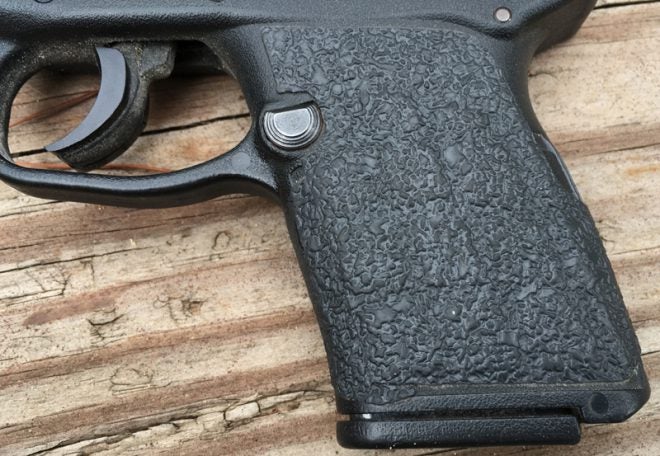 The front of the grip shows some wear (the texture is wearing smooth), but other than that it doesn't look any different than it did the day I installed it. It's still not easy to find the front edge of the left side where it overlaps the front wraparound as mentioned above.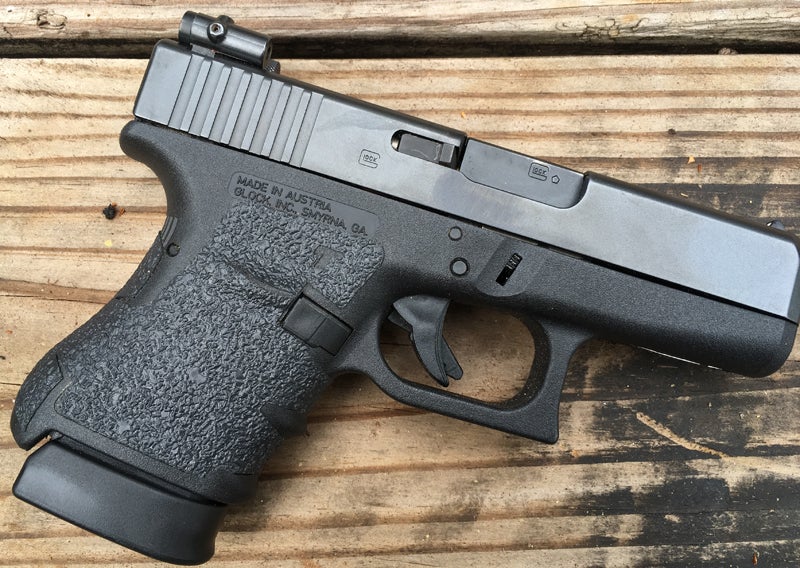 I also installed one on a Glock 36. After wiping the grip down with an old handkerchief and my 99% alcohol, I began–but once again I did NOT begin on the left. I decided to start each side at the bottom rear corner to best match the factory-molded grip surface. I was happy with the results.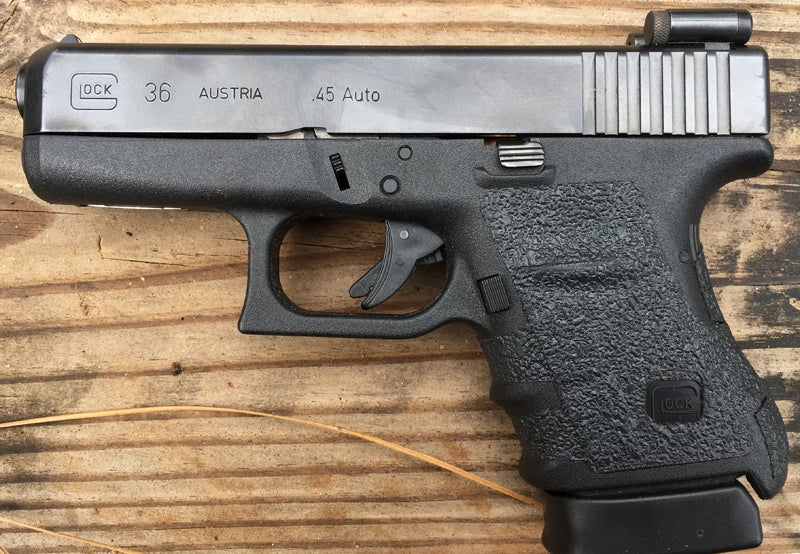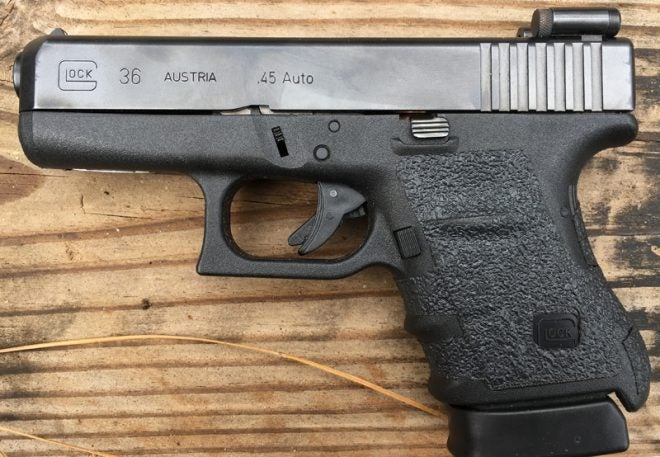 In my notes I wrote, "This gun's factory grip looks grippy, with its grooves and whatnot, but the Talon transforms it. It is much more secure and less likely to slip around in my hand."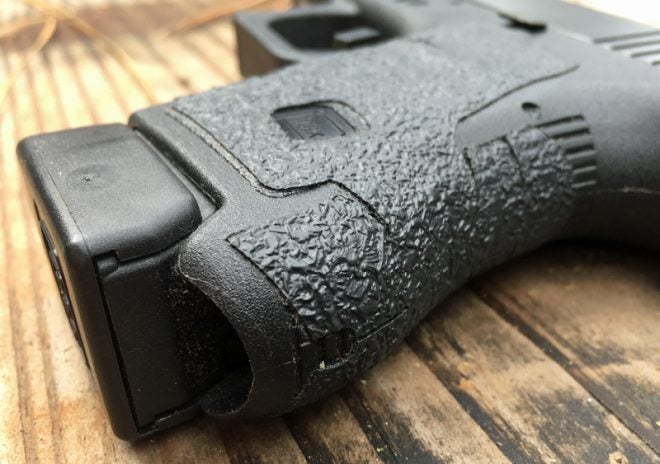 It's still true; this Glock grip was greatly improved.
These products and many others are available on Talon's website. Most retail for $17.99, and don't forget to select your grip texture. Most likely, you want the rubber texture. Many can be had in "moss" light brown color for an extra $2.
Talon Grip for Kel-Tec PF-9
Talon Grip for Glock 36
I did not install nor carry the Granulate (sandpaper) texture, so I can't say how well those conform and stay on, but these rubber ones work great.
Manufacturer Specs
100% made in the USA
Custom designed and manufactured for this specific firearm for an OEM quality fit and finish
Low profile grip adds minimal bulk/size
Granulate texture – Often referred to as sandpaper or skateboard tape, this provides positive grip on the firearm and best suited for holster carry and competition shooting.
Rubber texture – This textured rubber grip provides positive grip on the firearm and is more commonly used for concealed carry (less likely to irritate skin or snag on clothing) and users with softer hands.
Easy to install within minutes (proper installation requires a hair dryer or heat gun)
Instructions and cleaning pad included
Most cleaning solutions do not harm the grip, but avoid aerosol based solvents like CLP.
Adhesive will not move once properly installed and can be easily removed with little to no residue.
30 day refund for return of unused product
90 day warranty