Two New "Premium" 22 LR Bulk-Packed Loads from Federal
Russ Chastain 02.23.17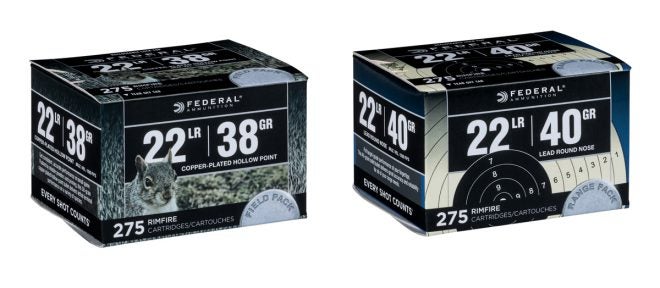 Federal Premium is coming out with a couple new 22 LR loads and packing them in bulk. (Read my review of them here.)
Any shooter who's been at it for a while can recall the bulk packs of 22 LR rimfire ammunition that used to be readily available and cheap at retailers like Kmart and Wal-Mart. 500 rounds for ten bucks was the norm, and you could expect to choose between brands, usually Remington and Federal. After Federal upped the count to 550 rounds, they usually got my money.
The days of cheap ammo seem to be long gone, but Federal is looking for my money once again. They're coming out with two Premium bulk-packed loads, one for range and one for field, that they say is more accurate than their older ammo. They also say these two loads are ballistically matched. In other words, you can plink and zero your rifle with the Range load and expect the same point of impact when you go hunting with the Field load.
They're packed in 275-round boxes.
Federal Premium Ammunition is pleased to announce new Federal 22 Long Rifle Range & Field loads. The 275-round bulk packs offer convenience and economy while yielding improved accuracy for target and hunting applications. Shipments of both of these new products are being delivered to dealers.

The range load features a consistent 40-grain lead round nose bullet that's perfect for targets, while the field round offers an accurate 38-grain copper-plated hollow point suited for small game and varmints.

Federal 22 Long Rifle Range & Field rounds provide nearly identical ballistics, reducing or eliminating the need to adjust sights when shifting between loads. Improved manufacturing processes have also enhanced the accuracy of both rounds.
I have always preferred to use more expensive hollow point ammo for hunting and "pest control" around the house and yard (think of the stuff in the clear plastic box with sliding top), but if this new ammo is as good as they say, I might have to change my ways.
If I'm reading the boxes correctly, it looks like they're rating the muzzle velocity at 1200 fps.
Manufacturer Specs
40-grain lead round nose ideal for accurate, high-performance range shooting
Item 729/22 LR 40-grain lead round nose – 275-count/$20.95
38-grain copper-plated hollow point great for small game and varmint hunting
Item 730/22 LR 38-grain copper-plated hollow point – 275-count/$22.95
Ballistically matched loads provide similar aiming point
Improved accuracy due to improved manufacturing processes