Review: Bog-Pod DSS Dead Silent Standing Model 72″ Shooting Sticks
Russ Chastain 03.13.17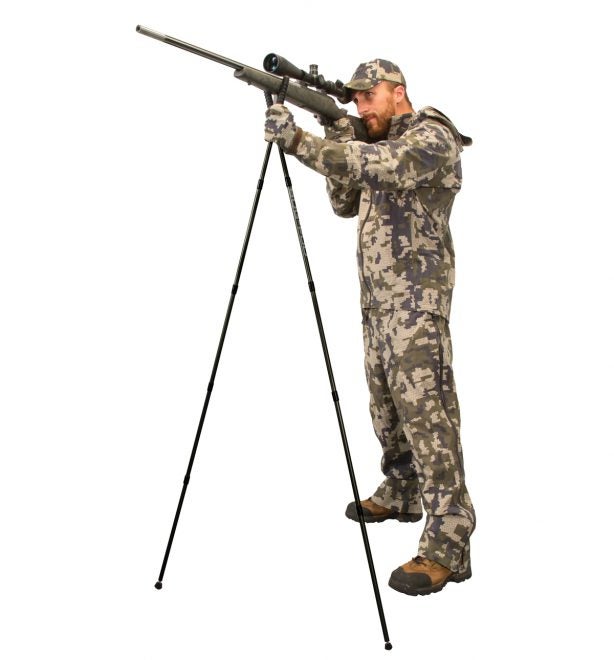 As I noted in an earlier Bog-Pod review, there's nothing like taking a rest to improve the accuracy of your shooting. Yes, it's important to be able to make accurate offhand shots, but it makes sense to take every advantage you can, especially when you're hunting and may be winded from exertion or all jazzed up with adrenaline. And speaking of exertion, it's nice to be able to find a rest quickly when you're walking or hiking, and the Bog-Pod DSS Dead Silent Standing Model 72″ Shooting Sticks can help with that.
What sets this Bog-Pod apart from the SB-2C bipod is that it can be deployed quickly, requires no twisting to secure the legs, and is long enough to double as a walking stick. Here's what the manufacturer has to say about it:
The Dead Silent Shooting Sticks bring BOG-POD® stability and durability to a collapsible shooting stick platform. The DSS are made of robust 9/16″ diameter aluminum and nonmarring weather-resistant surfaces. The Leg Section Retention clips are movable and adjustable to allow the shooter to fold and clip a leg section to the Shooting Stick. This adjusts the platform to a lower height and keeps the folded leg sections secure and out of the way during transport.
Manufacturer Specs
9/16″ diameter aluminum tubing
Elastic strap keeps collapsed sticks bound tight and quiet
Leg Section Retention Clip allows the shooter to lower the shooting height of the DSS for a kneeling or sitting position
Standing Extended Height: 72″ per manufacturer (my sticks measure 66.5 inches overall)
Weighs: 16.8 ounces
MSRP: $59.99 (currently available at Amazon for $26.99)
In the Woods
I hunted with the DSS Shooting Sticks, and they did the job. For sitting in ambush, I prefer a "sure-nuff" bipod over a pair of shooting sticks, but the DSS really shines for still-hunting or stalking. This product can act as a walking stick to help you keep your balance on uneven terrain, and when the need arises your walking stick can transform into a bipod within seconds to provide you with a steady gun rest.
You can adjust the height by pulling the shock-corded sections apart and folding them back. Five different lengths are possible: 15, 28, 40.5, 54, and 66.5 inches.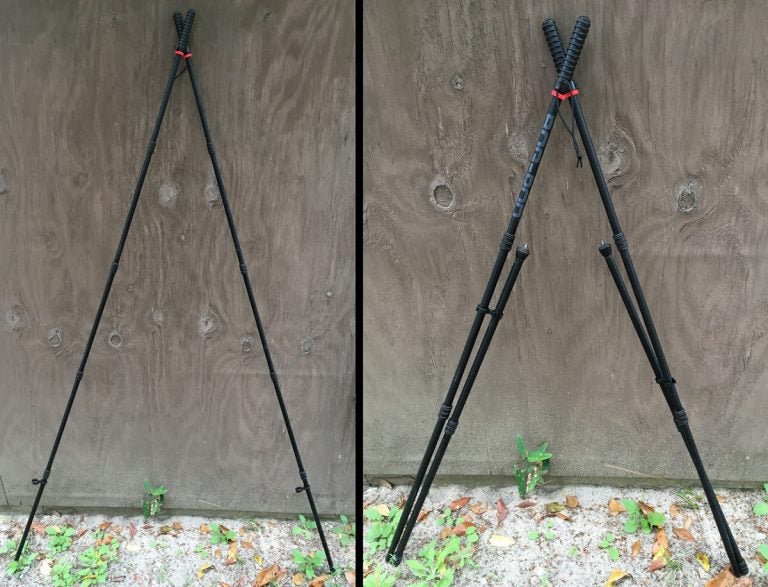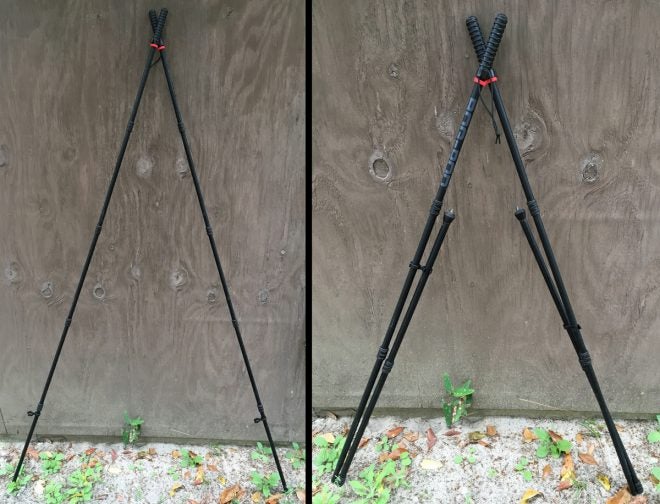 At every joint, a short and somewhat rubbery black plastic collar acts to keep each joint snug so the sections don't rattle or come loose easily as you walk.
The matte black finish is durable and unobtrusive. Overall quality is excellent, with my only complaint being that the elastic band (which holds it together when collapsed) has been known to "jump off" of its little plastic hook. But that's been uncommon and is not a major concern.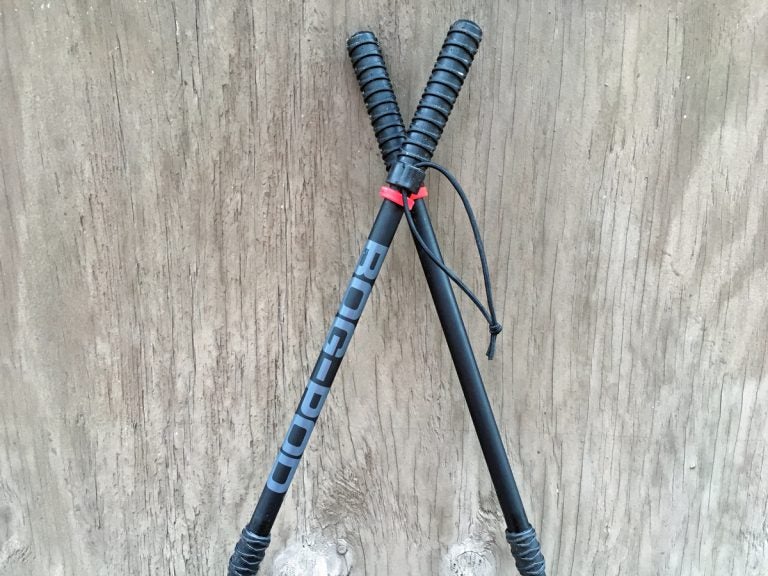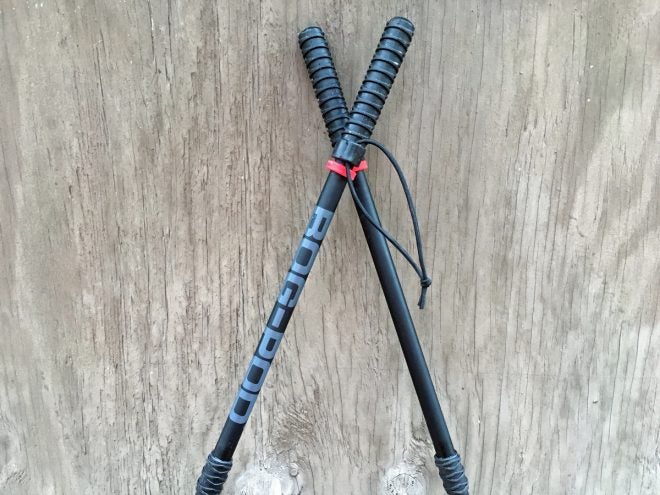 I like the feet on the shooting sticks. The rubber feet have threads inside of them, and by turning them you can expose or conceal sharp pointed steel spikes… in other words, you have spikes when you need extra grip, but you can easily extend the rubber to conceal them if the spikes aren't appropriate for your location.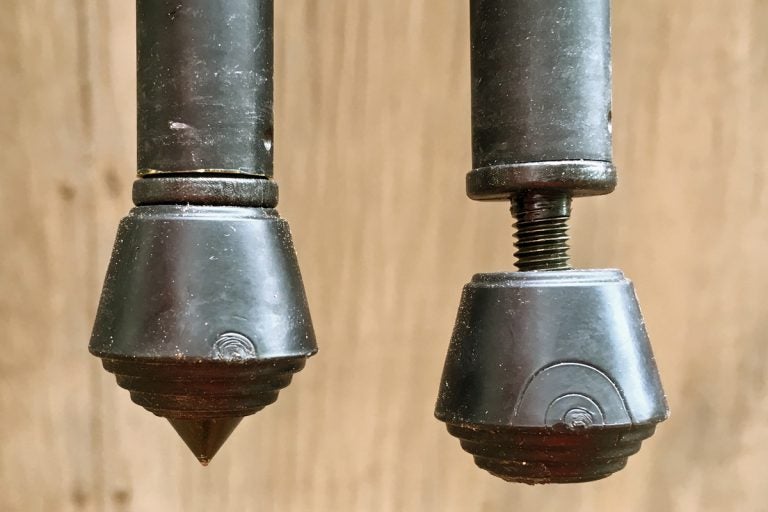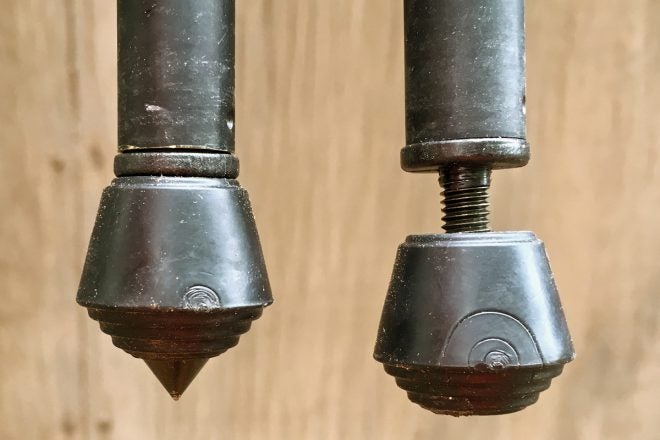 When folded, the DSS 72″ forms a bundle about 15 inches long and roughly 3 inches in dimeter.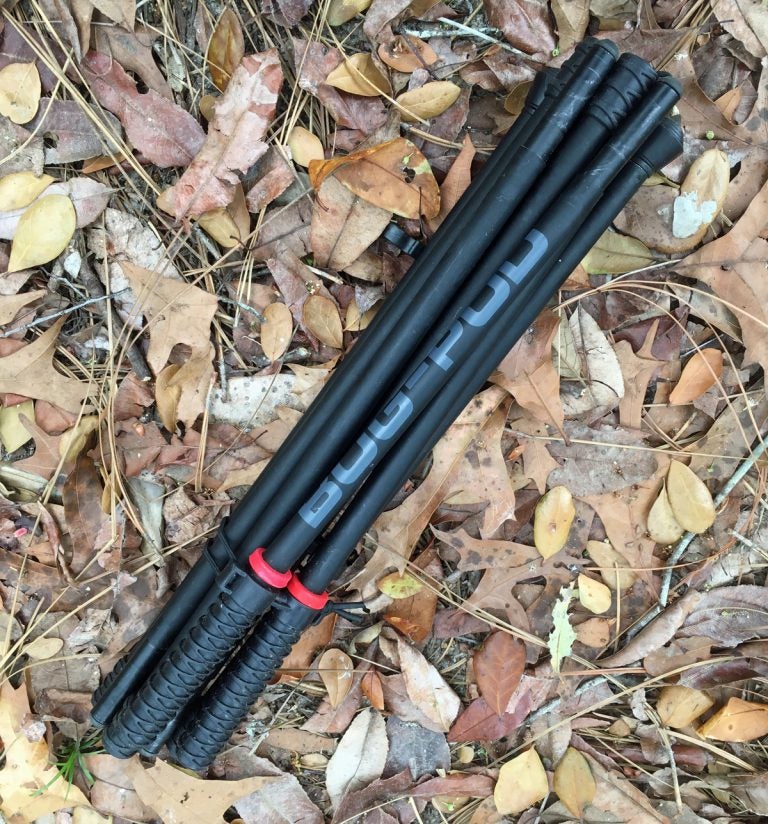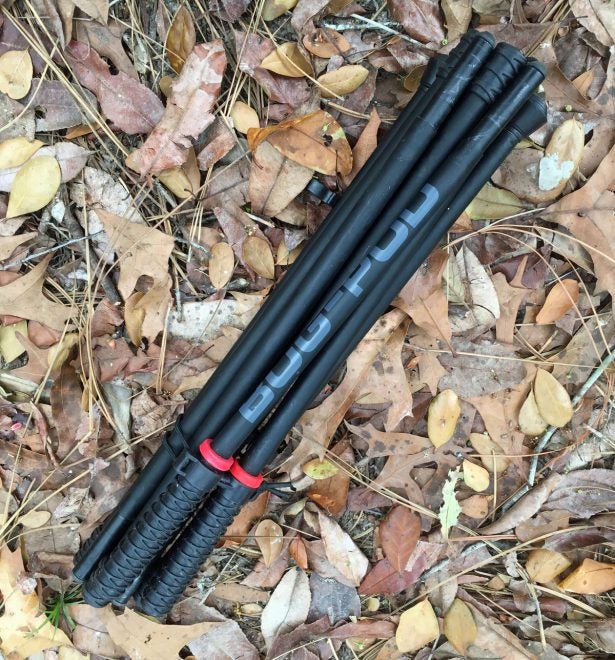 Conclusion
Nothing is perfect, and for long sits I prefer an actual bipod. But to provide a shooting rest in a hurry while doubling as a walking stick, the Bog-Pod DSS Dead Silent Shooting Sticks Standing Model is tough to beat, especially for walking and stalking. And if you find a nice hidey hole in which to kick back and wait in ambush, the adjustable height will come in handy so you can use it while sitting or crouching.