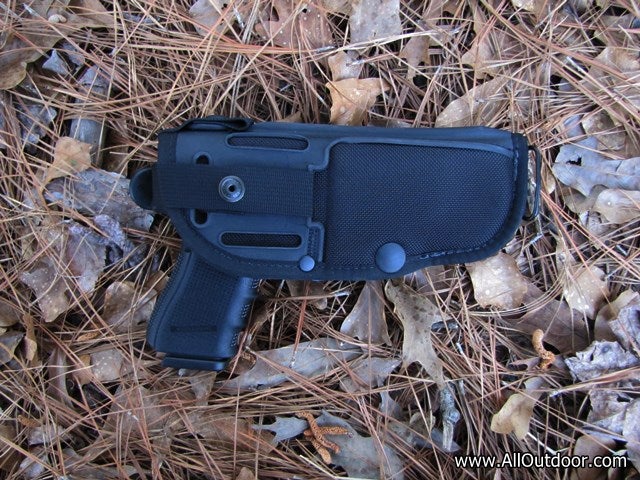 There was once a time when holsters where made to fit a range of handguns. When I looked for a new holster for a recent handgun purchase, I realized how much times have changed.
My first handgun was a Smith & Wesson model 66 my dad gave me as a high school graduation present. Along with the handgun I was also given a holster.  It was a basic holster that had a belt loop, thumb strap, and fit a range of popular revolvers. Somehow in the past 30 years, the holster has been lost.
Because of the sentimental value of the model 66, it rarely leaves the gun safe. So not having a holster for it is not a big deal.
However, I made a recent Glock 19 handgun purchase and wanted a holster or it. This Glock is going to be my primary handgun around the farm, replacing the 1911. So I went looking for a plain Jane holster. I did not want tacticool, no quick draw, preferred nylon over Kydex, and it had to have a thumb strap. All I wanted was a basic holster.
Work Holster
It seemed like there were hundreds of range and tactical holsters, but very few work holsters. Where were the holsters that are intended for people working on the land? These are the people who want to carry a handgun for snakes, coyotes, wild pigs or other pests.
The main reason why I carry a handgun around the farm is for snakes, which are mainly the copperhead and the cotton mouth.
I ended up going with a Bianchi UM84 size II, which is for compact handguns with around a four inch barrel.
SHOP NOW
Universal Holster
Something else I wanted was for the holster to be "somewhat" universal. The vast majority of Kydex holsters on the market appear to be made for a certain handgun.
Having the same holster for every handgun makes training much easier.  I have another handgun on layaway, and the Bianchi UM84 should fit it.
Why are the vast majority of the handgun holsters designed for the range or look like they are going into a combat zone? Running fence is neither.