Review: Mountain House Biscuits and Gravy
Kevin Felts 04.10.17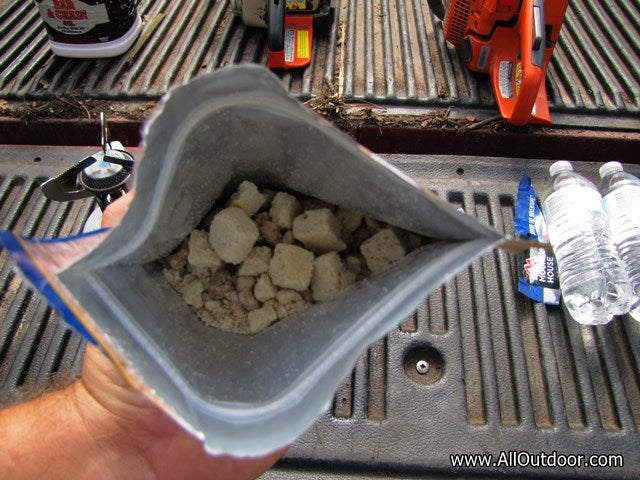 Being from the south where biscuits and gravy are a meal all to itself, I felt the Mountain House freeze dried biscuits and gravy tasted better than expected. The meal was not as good as homemade, but still pretty good.
Whether it is working on the farm or a hiking/camping trip, breakfast is the meal that kick starts my day. On the day I tried the biscuits and gravy, I had been clearing brush for a fence line here at the farm and decided to have it for lunch.
I had planned on eating lunch in the field so everything was brought in the truck. The Coleman Max stove was setup and water put onto boil.
This is a two serving pouch that has a net weight of 4.94 ounces. Add 16 ounces of hot water and wait until cool to eat.
These two serving pouches usually take around 20 minutes to cool down enough for me to eat. Then again, I do not like my food very hot. Open the pouch every few minutes and stir. Stirring helps ensure that everything will be reconstituted.
Biscuits and Gravy Taste Test
The biscuits were excellent. I expected them to be soggy, but they were just right.
Sausage crumbles were just the right size.
Gravy had good flavor and was not runny.
Overall, the only thing I thought was missing from the meal, was it needed more black pepper.
The Mountain House biscuits and gravy will be added to my stockpile and is one of my favorite Mountain House breakfast meals.
This was a two serving meal, and it filled me up. Even though I had been working all morning clearing brush, the two serving pouch was just right.
Why Taste Test
Part of my overall prepping plan is to stockpile various Mountain House freeze dried pouches in five gallon buckets. Rather than buying a bunch of meals and hoping they taste good, I am buying some here and there and tasting them.
After I have a list of meals that taste good, place a bulk order to fill the five gallon buckets.