Preppers: Cabin for Bug Out Location
Kevin Felts 05.15.17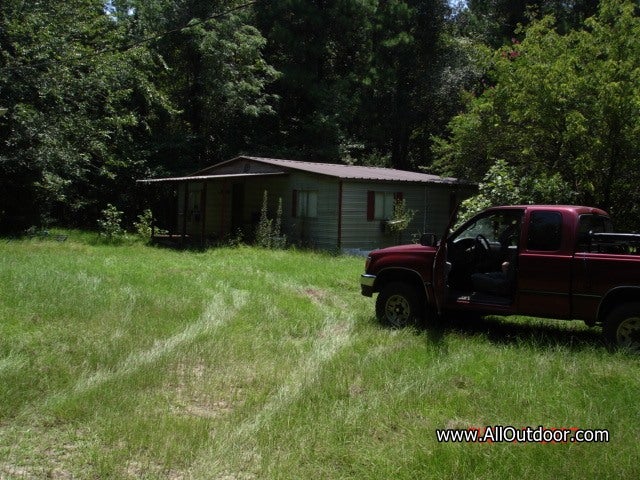 Here on the farm there is a small five room cabin I am thinking about prepping for a bug out location for friends and family. The building could also be used as a weekend or hunting camp. It has a living room, kitchen, sitting room, bathroom and bedroom. The sitting room is a room that connects to the kitchen.
The cabin was built in the mid-1970s, has metal siding, metal roof and a wood floor. While looking the cabin over, I was thinking of what I could do to make it livable from a prepping point of view.
Beds
It may sound odd, but one of the first things I thought about were beds. This was because getting a good night's sleep is a morale booster.
Queen sized bed in the bedroom.
Bunk beds in the sitting room.
Couch.
Couple of cots.
That provides sleeping arrangements for seven people.
For storing blankets and pillows, I was thinking about putting a wire rack in the bedroom.
Water
The cabin has a water well, but something is wrong with it. I suspect the foot valve may have gone bad. Getting the well fixed is at the top of my list. To provide water pressure when the main power is out, I was thinking about solar and a 12-volt water pump like what is used in an RV.
There is a clear running stream two hundred feet from the house.  For a water filter, the only real option I see is something like a Royal Berkey.  A Sawyer mini water filter is an option.
Maybe store some Lifestraws at the cabin?
Cooking
I would like to provide at least two cooking options at the bug out location.
The cabin does not have a stove, but it does have a 150 gallon propane tank. I am debating on whether to get a full stove, or get a Coleman stove and connect it to the propane. A used gas stove would probably be the best option.
The cabin would also need an outdoor grill.  This could be a fire ring, smoker, something for people to cook with wood. Firewood should not be a problem. There are several oak trees near the cabin and I have a cord of wood in the barn.
Maybe even just a grill that can be placed over a fire?
I would need to get a full set of cooking and eating utensils. Maybe go to an estate sale or hit the local garage sales? The place needs pots, pans, forks, spoons, the whole nine yards.
Screened in Porch
The cabin has a 20 feet long by 8 foot wide porch that it not screened in. I am thinking about making it 10 feet wide instead of 8 feet.
Why a screened in porch? So people can sit outside, or even sleep outside and not get ate up by bugs. My great-grandparents did not have air conditioning. During the summer, my great-grandfather had a couch on the front porch that he slept on.
My ideal setup would be to have a screened in porch with a picnic table. Just a place to sit outside, read, eat, have a roof over your head and not get ate up by bugs.
Food
I have mixed feelings about storing food in the cabin. If food was stored there, it would be freeze dried #10 cans.
The idea I am playing around with, is getting a job site metal tool box and lining the inside with a foam board insulation. The insulation would be to keep the inside temperature stable.
Another option would be to put the #10 cans inside the fridge. We are not talking about a large stockpile of #10 cans, maybe four or five–just something that if all hell were to break loose and some friends or family members show up, we'd have enough food to last a few days.
Cabin Potential
The cabin has a lot of potential and it needs a lot of work. However, I already have a lot of irons in the fire.
Between the forums, writing articles, YouTube videos, fencing in several acres for livestock, Toyota Tacoma that I have not touched in months, etcetera. I just do not know where I will find the time to work on the cabin.