Watch: CMMG MkG 45 ACP AR-15 Review
Kevin Felts 05.17.17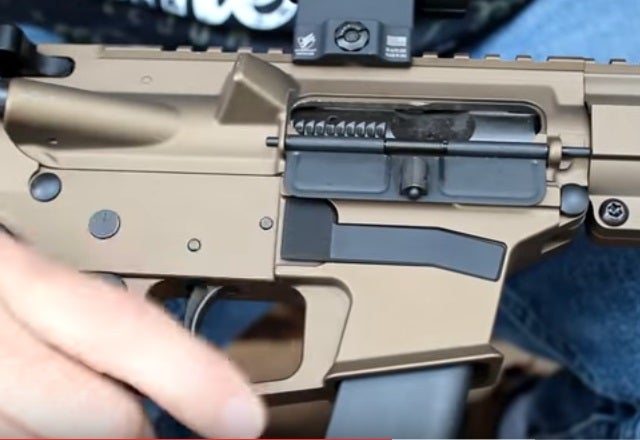 The CMMG MkG Guard AR-15 Carbine is chambered in 45 ACP, features a delayed blowback design and uses Glock Magazines.
In a previous article we talked about Glock standardization. For someone who uses a Glock 21, it would appear the CMMG MkG Guard would be an excellent addition.
The CMMG MkG Guard is available in six different models: two pistols, one short barreled rifle, and three full sized rifles.
Pistol, MkG-45 PDW
Pistol, MkG-45 PSB
Rifle, MkG-45 PDW, NFA
Rifle, MkG-45 DRB
Rifle, MkG-45 DRB2
Rifle, MkG-45 T
Now for the video.
Special thank you to sootch00 for making this excellent video.
On a personal note, I have always been interested in a rifle that is chambered in a handgun caliber.  However, I have not been able to bring myself to purchase one. Before I make the purchase, I have to justify what role would the rifle play?
My rifles are divided into two categories, home/property defense and hunting. I live in a rural area, have chickens and plan on getting goats and maybe some cattle. From time to time a coyote will pick off a chicken.  I worry about predators getting my goats when I get a few on the farm.
The 223 Remington / 5.56mm is good for predators. I can justify having a rifle in 223 Remington / 5.56mm based on various factors.
On the other hand, I can not bring myself to justify having a rifle chambered in a handgun cartridge, but that is me.
Someone who lives in an urban area, concerned about civil unrest and wants to standardize their handguns and rifles, the CMMG MkG Guard AR-15 may be a good choice.