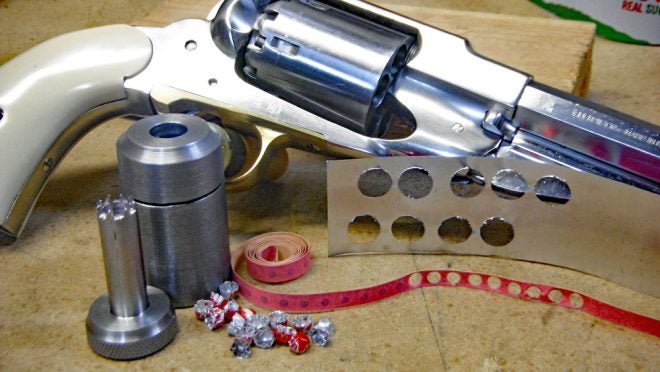 Many outdoors folks love to do stuff ourselves, whether it's building shelters, making our own repairs, or loading our own ammunition. Heck, I've even built a muzzleloading rifle from a kit. I cast lead bullets and balls for my muzzleloaders, too. And if I wanted to, I could even make my own percussion caps!
This isn't new tech by any means, but it's still interesting. I was reminded of it when I wrote about the Sharpshooter 22 LR reloading kit, and saw that they were also selling a tool for making percussion caps using aluminum cans.
You use a punch to create cups of aluminum, then add some sort of pressure-sensitive priming compound. This version naturally recommends the use of the same company's "Prime-All" priming compound, but some folks simply use the goodie from roll caps for toy cap guns.
The short video below is a demo of Sharpshooter's #11 Percussion Cap Maker, for which they charge a whopping $50. Do yourself a favor and skip the first 38 seconds ; it's nothing but splash screens, a.k.a. life-wasters.
This next video shows a homemade version of the same sort of punch tool, and gives instructions for using a cheap 5/32″ punch to cut out the explosive part of a toy roll cap to put inside of the cap to make it go bang.
He snaps a couple of them, and they're not nearly as loud as any store-bought percussion cap I've ever used.
I don't see any reason to add blackpowder to the caps, but he gives it a try.
I think this makes a lot more sense than trying to reload 22 rimfire ammo, but I hope I never need to make my own caps. If I did, though, it looks like a relatively easy and worthwhile process.