Whether chopping a little brush during a hunt, whipping up some bear stew at camp, or shucking out a critter, it's nice to have the right tool for the job. I've used a bunch of different blades over the years, and these are some of my current favorites.
Sunrise River Model 201
The first knife I ever spent real money on was a custom hunting knife made by Jay Maines of Sunrise River Custom Knives. Jay sent me the knife to test and review sometime around 2001. After the review was done, I couldn't bring myself to part with this fine specimen. And that's how a poor country boy from the Florida scrub ended up shelling out triple-digits for this knife, and I've never regretted it.
The Model 201 (then called the Model 15) has a heavy 440-C stainless steel blade, almost 1/4″ thick at the spine. This blade holds an edge like nobody's business and is tough enough to chop through bone while remaining nimble enough for finer work.
Numerous handle options are available, but I've never regretted the white linen micarta on mine. They clean up quickly and easily, and after many years, many miles, and many deer & hogs, they still look like new. Handle shape and balance are also superb, making this knife a pure pleasure to hold and use.
The false edge on the top front also works great for scaling fish, and I've cleaned many a bluegill and bream with this blade. The sturdy blade doesn't flinch at chopping off a big catfish head, either.
Homemade Saw Blade Skinner
Years ago, my father made this knife from an old saw blade. He carefully crafted every aspect of it, right down to the walnut handle scales. You can even see some remnants of saw teeth on the blade's spine, which serve as a form of jimping.
After he built it, he gave the knife to me. He had crammed it into an old eyeglass case as a temporary sheath. Two decades later, it still lives in that old case. Like the knife, it reminds me of my late great best friend.
It may not look like much, but this is one fine skinning knife and I've used it on dozens of deer. It holds an edge well and its blunt nose helps you cut hide away from meat without puncturing the skin. The finger notch makes it easy to control and gives your finger a "home" so it doesn't slip forward to get sliced.
Best of all, of course, is that Dad made it, and second best is that he never had any great tools at his disposal. This knife was made almost entirely by hand, and that's worth a lot.
Schrade 498
Like the previous blade, this one reminds me of my father. I found this old Schrade 498 knife rusting away, stuck into the wall of an abandoned building in the early 1990s. I loved the shape and feel of it, so I cleaned it up, took it home, and built a sheath for it. Admittedly, the sheath ain't great, but it's held up this long.
Dad fell in love with this knife because the blade's shape bore a striking resemblance to his old Case knife, which some rotten bastard had stolen from him. After playing coy for a while, I gave him the knife and thrilled him to the core.
When he passed away, the knife came back to me, and I don't believe I'll ever part with it again this side of Heaven.
The shape of this blade makes it a great all-around hunting knife.
Buck 446C
Yet another knife that ties me to my father, this 446C was one of Buck's Bucklite series, back when making a plastic full frame/handle for a decent folder was still fairly new. Known as the Goliath for obvious reasons, this is a decent utilitarian blade that will get the job done, and it's remarkably solid for what it is.
When Dad bought his last truck, he conned the young seller into giving up this knife along with it, having spotted the knife in the door pocket of the '96 Chevy. He was forever proud of that, and he admired the knife for its functional practicality and the fact that he could shave his neck with it when he got back to the truck after a morning hunt (I'm not kidding).


Kizlyar Supreme Enzo D2S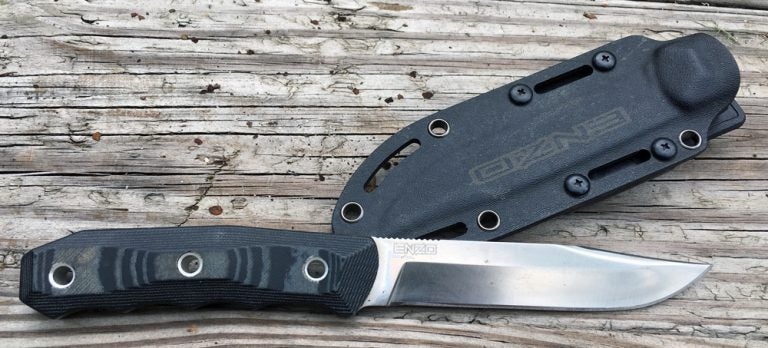 I've only had this one for a couple of years, but the Enzo D2 Satin from Kizlar Supreme quickly became a favorite of mine. After shucking out a bear and a few whitetails, I knew I had a good blade on my hands, and it works great in my camp kitchen as well.
The Micarta handles on this Russian-made knife are understated but functional, they feel better than you'd expect, and they let you keep your grip on the blade. Full tang construction with exposed D2 Steel all the way around the tang means you know exactly what you have, and it's plenty rugged at 5/32″ blade thickness at the spine. It's worth noting that this is one of the few blades I own which doesn't balk at cutting up some tough old bear meat for camp stew.
Citadel Chantha
There's not much I can say about this Cambodian cutter that I haven't already said in my Chantha review. Suffice it to say that it's easy to use, well-made, and easy to clean. And although designed as an EDC folder, it shines as a big game skinner.
Something tells me I'm not done loving this handy "little big" knife.
What do You Like?
What do you think of these knives? Do any of them strike your fancy? Maybe you have your own personal pets among your knife collection. Feel free to sound off or show off in the comments below.