Review: Yankee Hill Machine (YHM) Titanium QD Phantom 3300 .30 Caliber Suppressor
Major Pandemic 07.19.17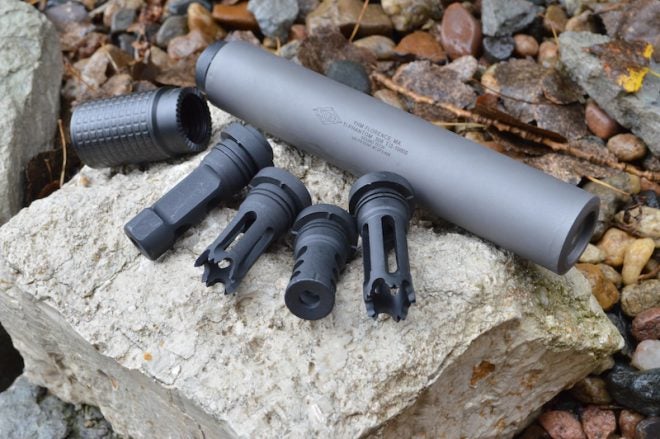 The YHM Phantom 308 suppressor line has become the standard in the rifle suppressor industry; therefore many articles will reference a direct comparison to the YHM Phantom during suppressor reviews.
The original stainless steel YHM Phantom was heavy, did not deliver the "pretty" looks of today's suppressors, and weighed in at a brick-breaking 2 pounds–but you could beat the living crap out of it and it still worked like new. The patented SoundTech baffles also helped YHM become the go-to .30 caliber suppressor.
YHM did sex-up the Phantom 308 suppressor a bit over the years by adding a QD (quick detachable) system as well as a lightweight Titanium Phantom model. What is probably most sexy about the Ti Phantom is that it dropped the weight from nearly 2 pounds to 15 ounces. For a rifle suppressor, the hardly-new Phantom Ti is still one of the lighter titanium .30 caliber QD suppressors on the market.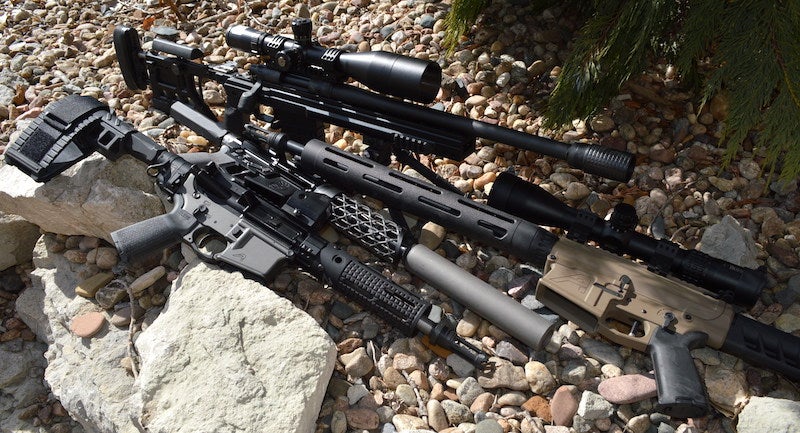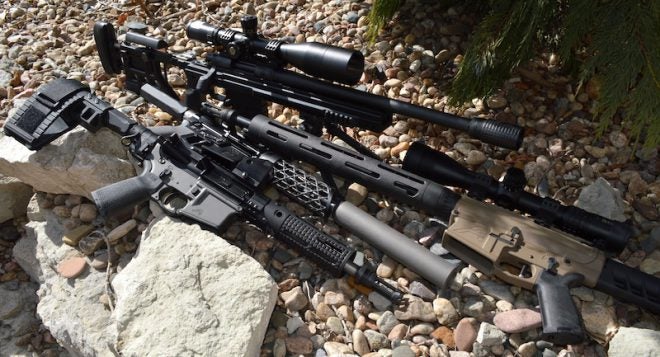 The YHM Phantom has remained one of the most popular on the market because of the value, performance, rugged toughness, and variety of QD mounts the company has offered. In short, the YHM Phantom has been tough to beat competitively when buyers are looking at quality $1200-$2000 rifle suppressors.
Fit, Finish, Feel, Features, & Functions
YHM does make 5.56 suppressors, but the .30 caliber has been the most popular due to its multi-caliber flexibility. YHM told me the Phantom is optimized for the 308 and similar rounds — but can use it to suppress any caliber from 17 HMR through 300 RUM/300 WIN MAG, which allows a huge range of firearms to use the same suppressor.
YHM even noted that the Titanium Phantom can be used for limited shooting with dirty 22 LR, but it does need to be either ultrasonically cleaned or shot a few times with 308 to clean it out afterward.
To date, I have shot the Ti Phantom 3300 in 22 LR, 223/5.56, 308, 7.62×39, 5.45×39, and 300 Blackout in bolt action, AR15 rifle, and AR15 pistols. My only challenge is having enough QD mounts to go around. The quality of the YHM Titanium 3300 Phantom suppressor is beautiful simplicity. It looks like a well-made titanium tube void of a bunch of weld lines.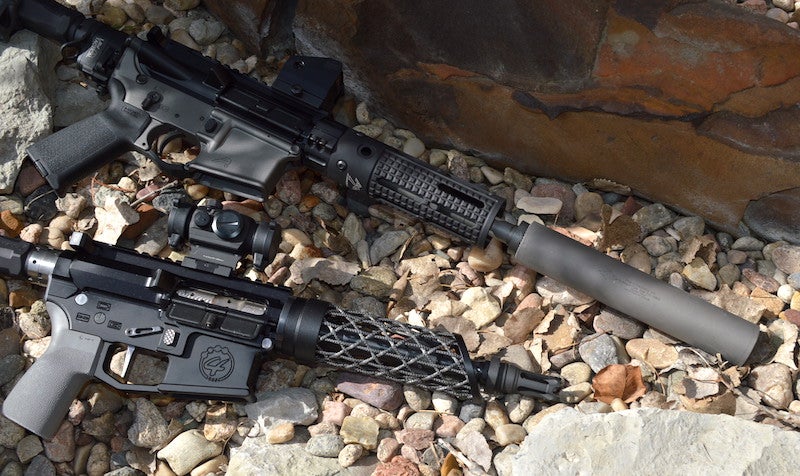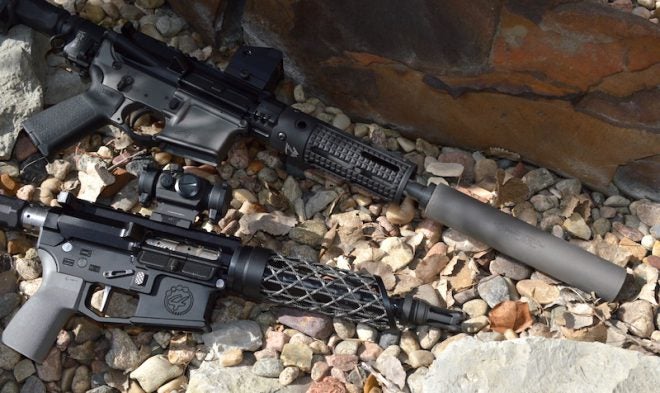 The QD mount system is innovative, secure, quick, and easy to use. YHM manufactures a variety of proprietary muzzle brakes and flash hiders that will fit .30 caliber Phantom suppressors.  The QD mount uses an aggressive thread which only requires about one full turn to attach and uses a ratchet system to prevent movement. Once attached, it's rock solid and according to YHM preserves zero. I have never had any issues through the course of thousands of rounds–assuming I snugly tightened the suppressor in the first place.
A strong suggestion is to attach all the QD mounts to the barrels with red/permanent Loctite as there can be a substantial amount of force applied to the QD mount during attachment and removal.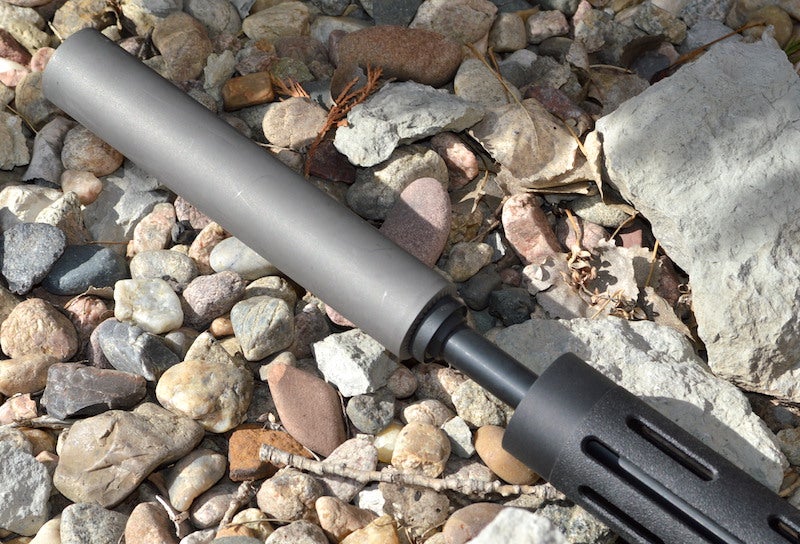 I was a little confused initially about which muzzle brake and adapter would fit my suppressor, but I was overthinking it. All YHM QD muzzle devices (including the 5.56 QD devices) will fit all .30 YHM QD suppressors, but the larger and longer .30 muzzle devices will not fit on the 5.56 suppressors (to prevent firing a .30 caliber round in a 5.56 caliber suppressor). .30 YHM supressor owners have the option to use the shorter 5.56 muzzle devices or the longer .30 caliber devices, which offers a lot more flexibility with builds.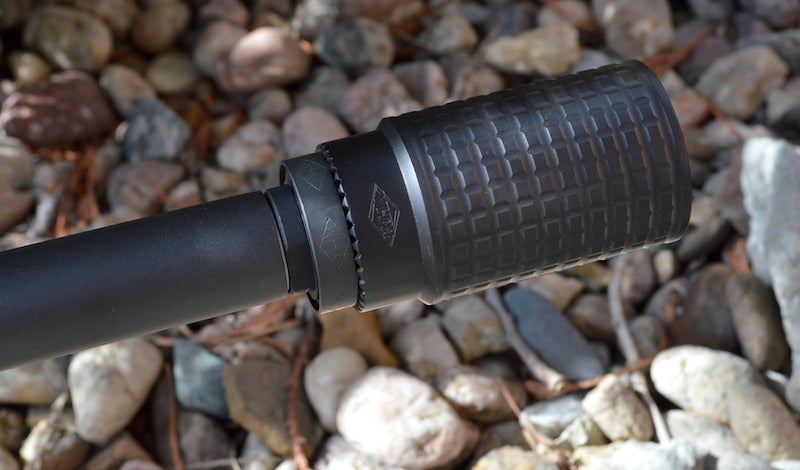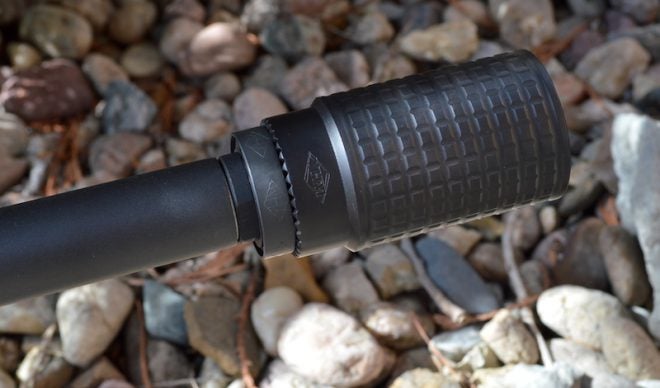 My primary testing platforms for the YHM Ti Phantom suppressor included a couple custom AR15 pistols. The first was an Aero Precision custom lower with a short 8" Ballistic Advantage Hansen 300 Blackout barrel.  The second AR15 pistol was a Houlding precision custom lower with a Phase 5 billet upper with Ballistic Advantage 223 Wylde Hansen barrel.
Both setups had YHM QD flash hider mounts attached for use with the suppressor. These pistols should technically put a lot of stress on the YHM Phantom mounts, but even after several extended mag dumps, I had no issues with the mounts coming loose.
The primary rifle testing platforms were a custom 223 chambered Remington 700 bolt action nestled into a Whiskey 3 chassis and a custom Aero Precision 308 build with a match grade Feddersen barrel. Using the 5.56 QD adapters with ½-28 threading, I was able to do some testing on several 22 LR rifles as well.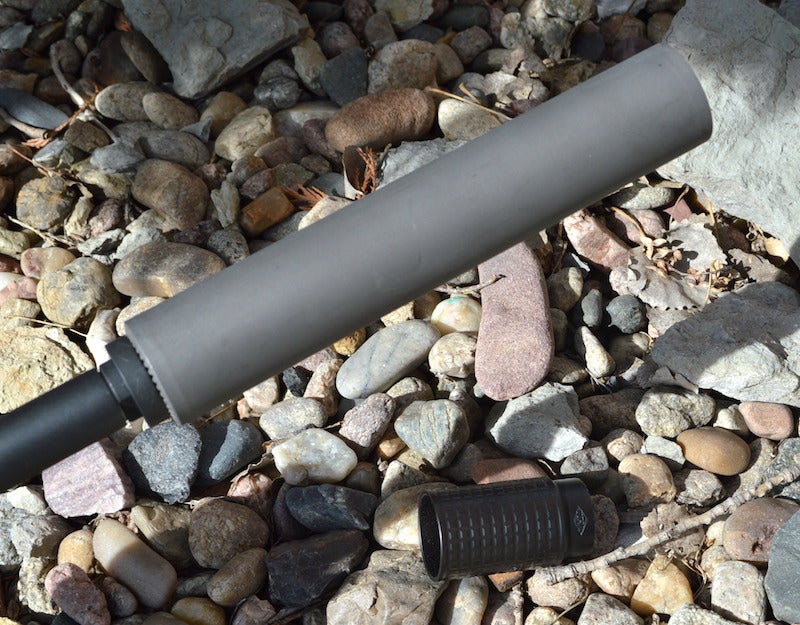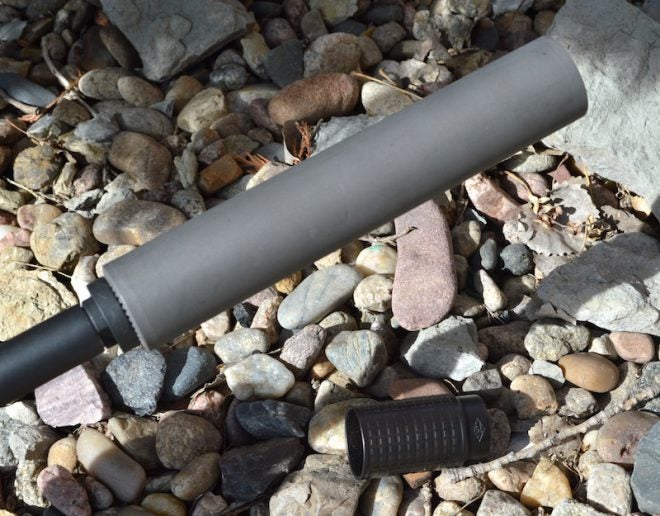 Final Thoughts
Hopefully with the new silencer-friendly legislation hitting the Congress floor in 2017 we can finally purchase all the suppressors we want without the ATF hassle, but for now we need to send in all the paperwork and wait. 
Every suppressor manufacturer I've been in touch with is extremely hopeful about silencers becoming legal, but all have noted that it will still be a long road which could easily extend into 2019 even if everything goes well. The recommendation is that if you want a suppressor, buy now, pay the $200 tax stamp fee and if the HPA passes you will get a refund.
The YHM Ti Phantom 3300 is a great suppressor with good sound and tone, rugged durability, and the ability to accommodate a wide range of calibers. The QD mount system makes it easy to apply that versatility across multiple platforms.
I have a number of suppressors at this point, the thread on suppressors usually end up staying put once mounted, but the YHM Ti Phantom with its light weight and versatility gets used constantly. The new hot thing now in suppressors is multi-caliber flexibility The funny thing is that YHM has been doing that multi-cal thing for years with the Phantom line.
Manufacturer Specs
Caliber: .30

MSRP: $1117

Overall Length: 8.500″

Diameter: 1.60″

Weight: 15 ounces

Suppression Level: .137 dB on 20″ 308 Win

Material: Grade 9 Titanium and Heat Treated Inconel 718

Finish: Natural Matte Finish

Method of Attachment:  Q.D. Flash Hider (or Muzzle Brake)

Rating: 17 HMR through 300 RUM/300 WIN MAG

Limited Full Auto Rated
Choose the included QD mount from the following options:
Flash Hider QD Mount Thread Options: 5/8″-24, 1/2″-28, 1/2″-36, M15x1 RH, 9/16-24 LH, 9/16-24 RH, M14x1 LH, M13x1 RH, 19/32-32, Muzzle Brake Mount Thread Options: 5/8″-24