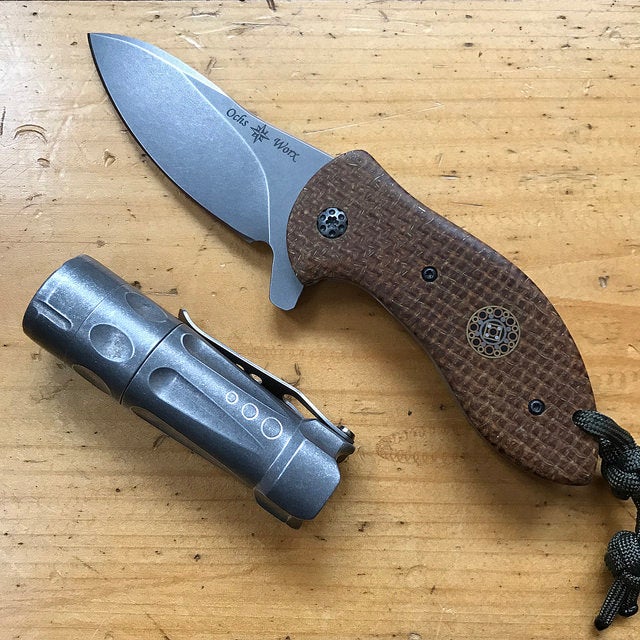 This is part II of the Under $600 Recommendation. Part I, which covers the knives and tools that can be had at this price range, can be found here. Like I mentioned before, I split this up because there are just too many good options to do both a knife and a light recommendation in one article. Unlike the knife choice, where they are enough options that you have to take off your shoes to count them all, here the fight comes down to two lights. I could be satisfied for life if they were my final light. I am not sure how to categorize these two lights–they are made in very small batches, but neither are per se single-source products. Both feel solid enough to be shot out the front end of a Mossberg with little damage to the light. And both offer a few state of the art features.
A few words on stuff I am ignoring. There are quite a few "limited edition" lights from the major brands that fall into this price category and while they are all nice, they lack that bit of extra design oomph that will keep the light useful even after its brand spanking new emitter isn't so brand spanking new. So all of the rainbow anodized titanium gilded lillies are skip-worthy. Your paying for things that don't matter.
Second, I don't really think that 18650 lights are worth the hassle. First you have to have a charger. Second, you can't buy the batteries easily. And third the lights are just big. Given recent emitter upgrades and battery improvements, you can get 95% of the performance with 0% of the hassle using a 1xCR123a light. For me, the whole point of an EDC light is that you can drop it in your pocket and carry it with you easily. One of the two lights I picked here is right at the upper limit of that test and ever 18650 light I have seen is right over it. There is nothing so compelling about the format that it overcomes that most basic issue.
SHOP NOW
The first light I'd look at is the
HDS Rotary
. As the latest iteration of lights from the Arc4 lineage, this light is as tough as they come. It is significantly larger than most 1xCR123a lights, but this extra bulk goes to a positively bulletproof body tube. It also allows the light to have a deeper reflector, which, in turn, allows for a more throwy beam pattern. It is not a searchlight, but for those used to the 10 foot throw of most high end product lights, you'll be surprised at how far you can cast light.
The Rotary's best feature, its namesake, is the rotary selector ring on the back of the light. This is the best UI on any light anywhere. You can access any output level directly from off with a twist of the ring and click of the switch. Furthermore, you can leave the ring in a given position and the light comes on at that brightness every time. The low is a wisp of photons and the high, 250 lumens, seems much brighter than its rating thanks to that great reflector.
I have run the Rotary against my oLight S1R and in real world settings, the brightness difference is negligible. This is due, in part, to the way our eyes perceive light and the fact that the oLight has basically no throw. In a wall test or ceiling bounce the S1R is noticeably brighter, but if you are illuminating things more than 7 feet away, they are just about equal. The Rotary lacks a clip and sometimes has trouble tailstanding, but beyond that this is a truly great light, one you will be using long after its lumens count seems pitiful.
The other light worthy of consideration at this price point (or maybe a bit over it) won't have to worry about its output seeming pitiful for a while, even in this modern lumens-arms-race world. The TorchLab BOSS35 hits 1200 lumens in a form factor about as long as a thumb and 50% thicker (depending on your thumb size).
It has the amazing Triad tailcap, the best tailcap in flashlights by a huge margin. It is fully programmable, though honestly, the outputs are perfectly chosen for my needs so I haven't bothered. You can get it with a low lumens mode or a red lumens mode (to guarantee night vision preservation). The pocket clip is incredible. Even the screws on the pocket clip are great–custom numbers that still use a common bit, but have a bit of design flair. I was lucky enough to get one of the first runs with a body tube of 7075 aluminum and a custom stone washing. The result is an incredible object that both feels amazing in hand and looks stunning. Grayson Parker, one of the writers at Blade Reviews and host of Gear Geeks Live After Dark, called it a light straight from Fallout 3, and I can't disagree.
But the BOSS35 isn't just gee whiz tech in a pretty body tube, it, like the HDS Rotary, is built for gotterdammerung. The body tube is massively thick, a metric ton of replacement parts and accessories are available, and the emitters are mounted under TIR optics for a bit of extra heartiness. Even the clip is an overbuilt cut of titanium. The light is so well built that it will certainly work long after coin cell lights can bet its max output.
Conclusion
In the end, as between these two lights, its a very tough call. Neither is a bad choice, both will serve you for a lifetime, and both are practically bullet proof, but, for me, its the clear lumens superiority of the BOSS35 that gives it the nod. Lumens aren't everything, of course, but when the light has a lot going for it AND it belches out 1200 lumens, it is hard to ignore. The real shame with the BOSS35 is the fact that it is hard to get. They sell out in about five minutes when they are posted on Overready, the exclusive place to buy them, so sign up for their emails and get your clicky finger ready.