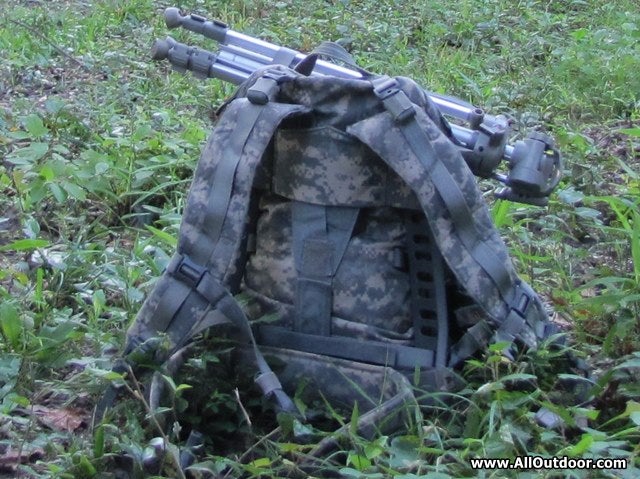 August 2017, a military surplus medium MOLLE pack was bought off Ebay. This article is about my first impressions of that pack.
Sometimes people get in a comfort groove. We get use to doing certain things a certain way, which may not allow us to welcome new ideas. This is way it has been with MOLLE gear. Even though prices of surplus MOLLE pack are reasonable, I was happy with my medium and large ALICE. After using my medium ALICE since 1992, I decided to break down and buy a medium MOLLE.
After shopping and comparing prices for a couple of weeks, yes, weeks, I decided on a pack that cost $35.00 + $15.45 shipping. It was advertised as being in "Good Condition." This was a complete pack with frame, belt and shoulder straps.
External
Rather than having a flap and draw sting like the medium ALICE, the medium MOLLE has a zipper that closes the top. Right off the bat, I like how large of an opening the pack has. There are YKK zippers that zip half-way down each side. There is a cloth loop at the top, and on each side at the end of the zipper. This is where I put a snap ring to attach the zipper pulls. This prevents the pack from opening up while hiking.
On the back of the pack are two large pouches. The top pouch being slightly smaller than the bottom.
The top pouch is large enough for:
Water filter
TOPO maps, compass and GPS.
Bug spray
Toilet paper
A few other odds and ends.
The larger bottom pouch is where I have the military surplus rain poncho.
Both the top and bottom external pouches are secured by zippers.
There is webbing on the sides and back of the large outer pouch.
Internal
Inside the main compartment are three pockets.
One large pocket against the frame. This is where I have the poncho liner, cook stove, fuel, spork and spoon are stored.
Two smaller pockets attached to the large pocket. These look like they are large enough for a shirt and spare socks.
Final Thoughts
Overall, I like the design and comfort of the medium MOLLE pack. I have only carried it for half a mile or so, but that is what these first impressions articles are for, first impressions.
I have a multi-day camping trip planned for September 2017 (next month). After spending a few days with the pack I will be able to post more.

SHOP NOW