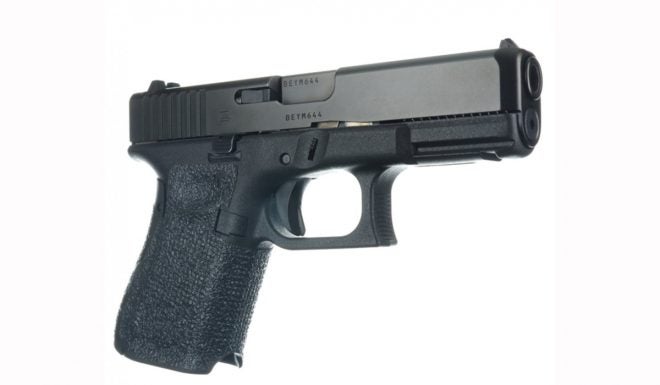 If you love Glocks, this might be welcome news: Talon Grips has just released grips for Gen 5 Glock model s17 and 19.
Talon Grips are superb, long-lasting adhesive textured panels which you apply to your gun (or other object) to make it much more "grippy." I have had some on a little 9mm carry piece for years, and they just keep on keepin' on.
On their page for the Glock Model 17 and related models, as well as the page for Model 19 and related models. You can choose between Gen 5 with no backstrap, medium backstrap, or large backstrap.
Here's an excerpt from their press release:
'The absence of finger grooves on the Gen5 Glock resulted in a TALON Grip design that provides comprehensive grip area coverage in a very durable design,' said Mike Morris, president of TALON Grips. He continued, 'Our inhouse design, prototyping, production, and product testing enabled us to move quickly and efficiently from concept to final product. Truly our entire team contributed in the development of this grip.'

TALON Grips drew on their extensive design experience to produce a grip that appears simple yet incorporates the latest design developments. The result is a reliable and stylish grip. Specific grips are available for each backstrap option including no backstrap, the medium backstrap/beavertail, and the large backstrap/beavertail. The variety of grip sizes offered ensures a perfect fit regardless of which backstrap is selected by the user.
Available textures include rubber and granulate. You probably want rubber, which comes in black or "moss" colors. Granulate is extremely gritty (think sandpaper) and designed for harsh conditions with calloused hands or gloves.
I have used Talon Grips on a few different guns, and while I sometimes have to "play" with them to get the fit just right, they can be made to fit and when properly applied they stay in place until you want them off. And they do let you hold onto your gun much better, making it much more difficult for anyone to disarm you if they get in close. Here's a link to a full review of Talon Grips.
About TALON Grips

TALON Grips are 100% made in USA. TALON Grips was founded by a law enforcement officer, competitive shooter, firearms instructor, and armorer to enhance shooter comfort, consistency, and weapon retention. The patented TALON Grips provide maximum grip coverage in custom designs for over 300 firearms.  The precisely cut designs are available in rubber-black, rubber-moss, and granulate-black materials for different applications and user preferences.