This simple-but-rugged mount and holder for your smart phone (or other similar device) from Ram Mounts does the job and is easy to use. A simple squeeze of the X-Grip opens it, and spring tension holds your phone in place after you release it. Mine has a suction mount, but several other types of mounts are available.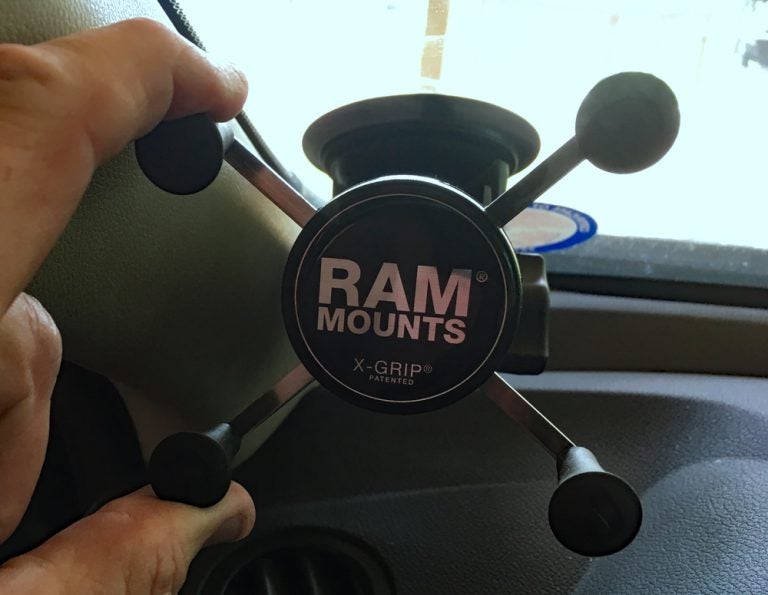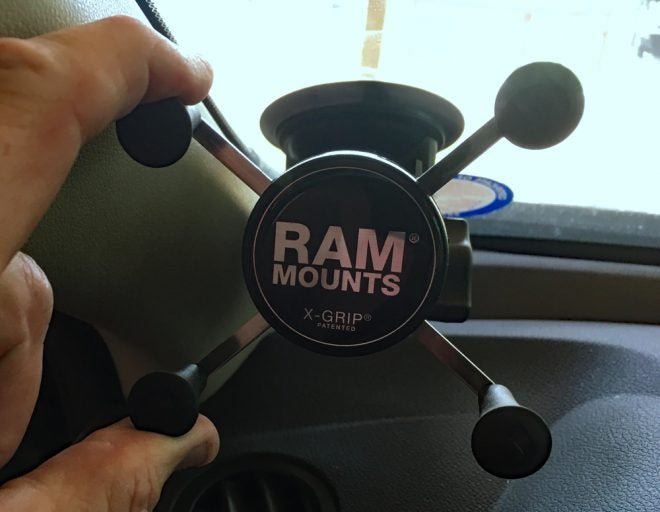 I learned about Ram Mounts via PR emails, but there's a difference between looking at something online and seeing it in person. So I stopped by Ram Mounts' display at the 2017 SHOT Show and I'm glad I did. I was able to look at a number of their products, and I wrote about some here.
I've been using one of their suction-mound X-Grip phone holders in the "standard phone" size for more than half a year now, and it is by far the best phone holder I've tried. It's easy to mount, adjust, and use, but it's not perfect.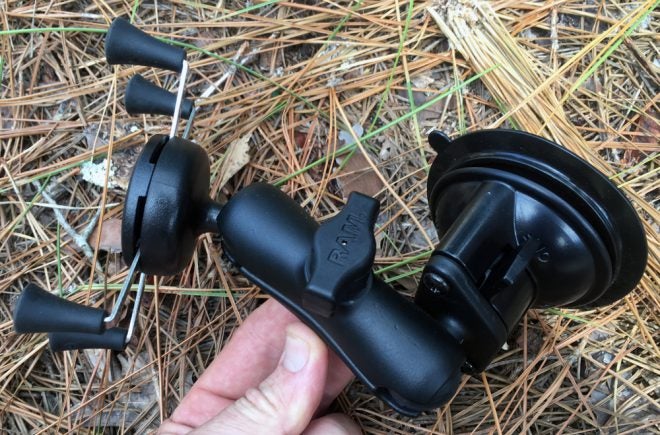 I'll get this out of the way right now: This suction cup is good, but not perfect. Mine has fallen off of the windshield more than once. However, when the glass and cup are properly cleaned and a little moisture applied to the cup before locking it on, the mount will stay on very well, and at times it takes a little work to get it off, even after releasing the twist-lock lever that secures the suction cup.
So take your time preparing the surfaces, and it should stay on just fine.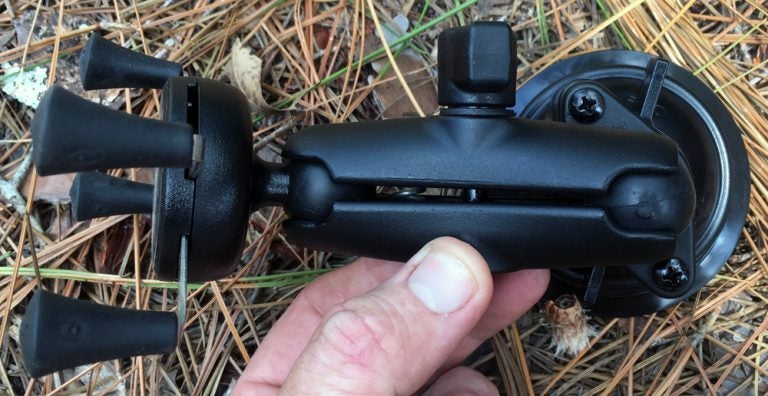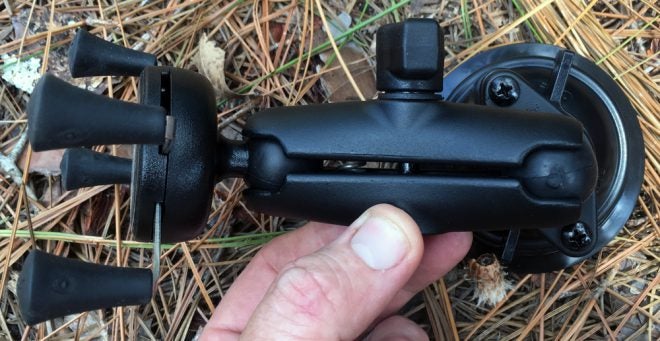 The Good Stuff
Now on to better things: This holder works great with my iPhone SE, with or without a phone case… and after I let my wife borrow my Ram Mounts X-Grip, I had to get one for her car as well. It's easy to mount and remove the phone, and the double-ball swivel adjustment method makes it easy to get the right angle. And once you have it set, my phone vibrates and shakes less than it did in other mounts I've tried.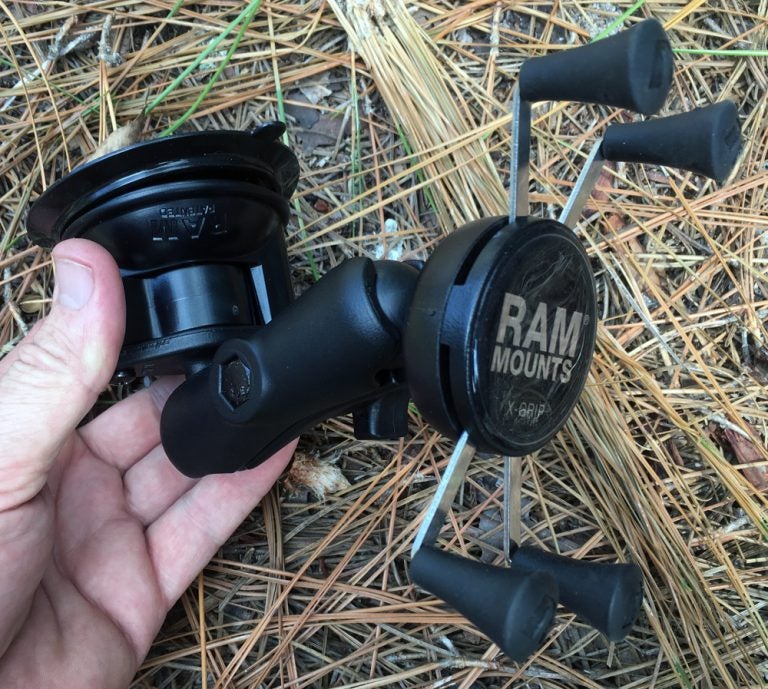 I do recommend that you use the included super glue to glue the rubber pads (they call them "post caps") to the 4 contact points on the X-Grip; otherwise they can pull right off. Just make sure you have all the Rs facing the right way when you glue them on, if you're picky about stuff like that.
A tether is also included, so you can securely strap your phone to the mount by stretching it around the 4 corners of your phone. I haven't needed to use that, but if I was using an X-Grip with a motorcycle or UTV, I would use the tether.
Aside from the numerous other mounting options (below are just a few of many listed on their website), there are also different sizes of X-Grips. X-Grips like this one are sold for tablets up to 8″, and more elaborate/sturdy models can even secure 12″ tablets.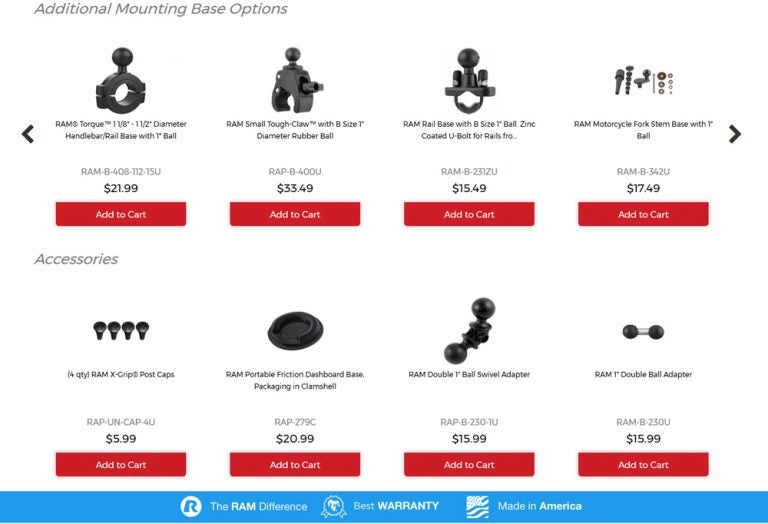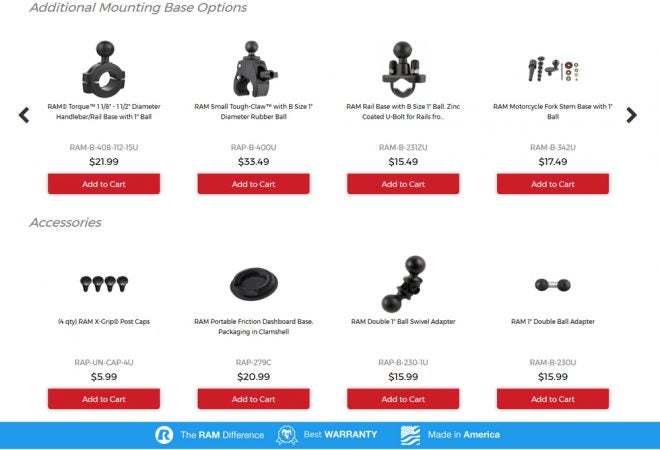 SHOP NOW
Not shown is the simple "surface mount," which is a ball attached to a flat round plate with holes, which you can screw or bolt to any flat surface. This would make a very sturdy mounting system.
Conclusion
All in all, this is a great product that's well-made and has a lifetime warranty, and it's manufactured in the USA. It does the job well, and being overbuilt, it should last much longer than other mounting solutions. I'm looking forward to trying their other stuff, including game camera mounts and swivel cup holders.
Here's a link to the one I have; it works great for our iPhone SEs.
SHOP NOW