Watch: Stan Zuray & Russ Winch a Fish Wheel up the Yukon River Bank
Russ Chastain 09.20.17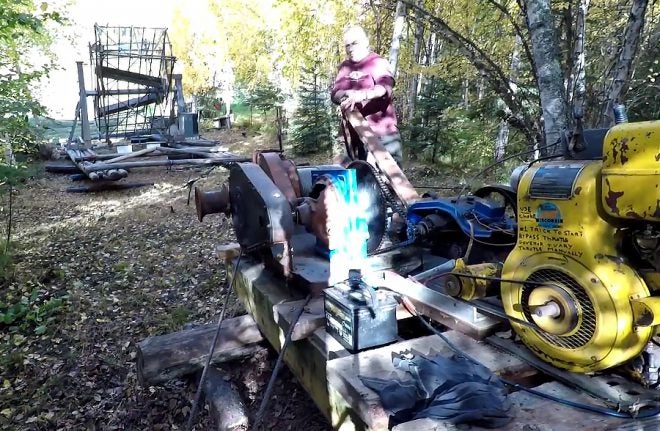 I recently posted a video of Stan Zuray of the "Yukon Men" TV show moving his fish wheel to his camp, and pulling it out of the water. He did it all by himself–with some mechanical advantages, of course. And the coolest thing for me was when Stan commented on that post to thank me for sharing his video. Nice!!
Now he's posted another vid, of the final steps of pulling the fish wheel up the slope and getting it stowed for the winter. Oh, and Russ is helping him out.
No, not Russ Chastain. The Russ in the video is a retired master sergeant of the Army National Guard, so he's done a few things this Russ hasn't.
The video starts with Stan & Russ shuffling rollers fore & aft as Stan's powerful winch slowly hauls the fish wheel up the bank. I shudder to think what might happen if the cable was to break! Yikes!
Weird moment at 15:33 as if someone edited out the actual grabbing of the cable.
The homemade winch is impressive. A yellow Wisconsin single-cylinder engine & gear reduction box from an abandoned piece of ditch-digging equipment, a transfer case from an old International Harvester 4×4 truck, a large chain-driven sprocket rigged between a couple pillow blocks, all attached to a huge, heavy-duty winch drive that was recovered from an old abandoned mine.
Cool. As someone who enjoys mechanical work, I really like this sort of thing. I also enjoyed the handwritten "trick to start" on the old engine.
In the end, Russ even says a few words to the viewers.