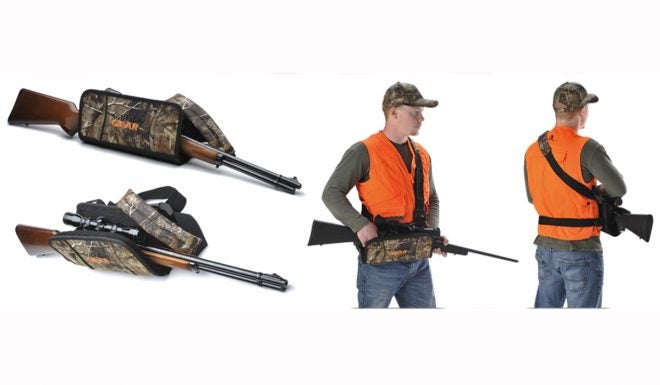 A while back, I ran across a cool item for carrying a rifle or shotgun and told y'all about it. Called the "Ready Aim Rifle Carrier," it's a sort of cradle for holding your gun horizontally at waist height. Whether you tote your gun on your hip or crosswise in front of your stomach, it can be a nice, hands-free way to transport your popper — while keeping it at the ready.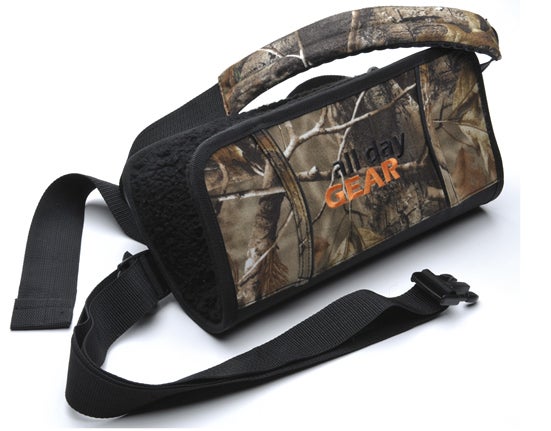 Here's some info (from the manufacturer):
Quiet, soft fleece rifle pocket won't harm rifle
2″ polyester belt and straps adjust from youth to 53″
Large, durable, quick-release clips
Durable Lexan brackets for lightweight construction
Internal core for form fit
Quiet tricot camo fabric
Foam back with mesh for increased breathability
To clarify (from me):
I wouldn't really call it a "pocket," because the sides are not closed. It's really more of a holster for a long gun.
The shoulder strap is 2″ wide, but the belt is 1.5″ wide. This is perfectly sufficient, but it's not what the specs say.
The "quick-release clips" apparently mean the QD belt buckle, which works easily and is plenty tough.
The Lexan brackets are inside of the padded cradle part, and they hold the U shape of the thing. To be clear: the Lexan never touches your gun.
The outer fabric is indeed a tricot knit, but be aware that limbs or other objects brushing against the Ready Aim Rifle Carrier can make a little noise at times (but not to an unreasonable extent).
Check out this video to get a better idea of how it works (but remember that the 2″ wide belt is actually 1.5″):
Okay, let's get down to brass tacks here. This carrier is really pretty useful, and makes it much easier to tote your rifle or shotgun in the field. In the turkey woods, it was nice to put my shotgun in this while walking in to set up on a gobbler, and even nicer when I didn't have to lean my gun against a tree or lay it on the ground to set up my turkey hunting seat.
For walking through the woods, this can be a great way to carry your long gun. When things get tight, you can slide it to your strong-side hip with the gun's muzzle forward, and shoulder the rifle pretty quickly if the need arises.


The cushioned part surrounding the gun's receiver helps protect it when you push through brush etc, but of course twigs and leaves will also get captured in it. So there's a trade-off — but this beats a sling in many cases, and it's really nice for guns without slings like old muzzleloaders or shotguns.
When you need your gun, simply pick it up out of the padded cradle. The fuzzy lining makes this nice and quiet. And having the gun in a horizontal orientation means it will probably be faster for you to get on target.
While stalking, you can stop to glass with binoculars without having to hold onto your gun or having its sling slide off of your shoulder as you scan the landscape for critters.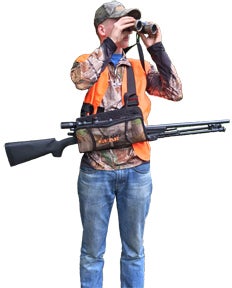 Conclusion
All in all, this is a great way to carry your gun afield, and I like mine a lot. In the future I'll use it for both shotgun and rifle hunting, and I foresee much less frustration looking for a place to lay or lean up my gun, or having a sling sliding off my shoulder at inopportune times. And perhaps best of all, my gun will be handy for a quick shot when I need to make one — and all hunters know that being ready to make the shot is everything.
Check out their website and order one up if you'd like. You'll be supporting a small American-owned company if you do.
Disclosure
A review sample was provided by the manufacturer. (This doesn't affect my review, which contains my honest opinion of the product.)