Review: LuminAID Packlite Max Lantern
Kevin Felts 11.06.17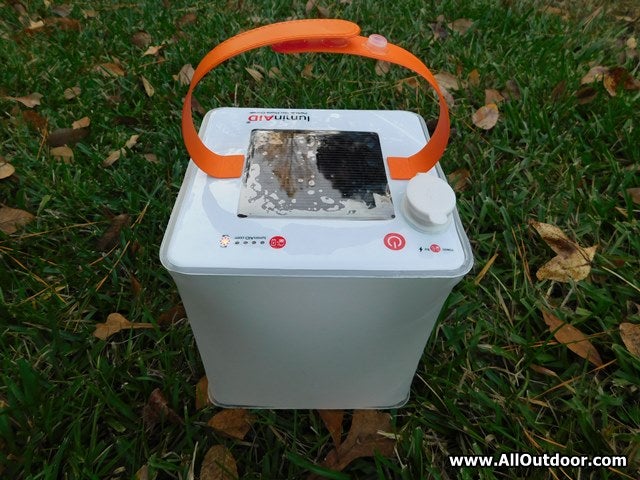 In short, the LuminAID Packlite Max is a solar rechargeable lantern with a balloon bottom that acts as a diffuser.
LuminAID products are designed by two women engineers who pitched the idea to Sharktank. During the Sharktank sales pitch, it was stated LuminAID products are targeted towards disaster affected areas. The compact size makes them easy to pack and transport, and the solar panel allows them to be charged just about anywhere.
The diffuser, which is inflated by mouth, spreads the light from eight LEDs. Rather than a beam of light, there is radiate light that fills a room.
Specifications
Turbo: 150 lumens / estimated run time of three to five hours.
High: 75 lumens / estimated run time of six to eight hours.
Medium: 18 lumens / estimated run time of sixteen to eighteen hours.
Low: 15 lumens / estimated run time of forty four to seventy two hours.
Height: inflated: 6 inches
Width: 6 inches square.
Solar panel: 3 1/8 inches square.
USB rechargeable.
2,000 mAh built in battery.
Waterproof and floats.
Operation
Using the LuminAID Packlite Max is straight forward. Push the on/off button to turn the light on. Then push the button again to cycle through the different brightness settings. After going through the settings, the light will turn off.
While charging, there is a red indicator light that comes on.
To check the battery charge level, push a red button opposite the on/off button. Four green LEDs will cycle giving you an idea of how charged the built in internal battery is.
Leaving the Packlite in direct sunlight for around seven to eight hours resulted in an estimated 25% charge.
I used the LuminAID Packlite several times to check on my chickens. The Packlite provided plenty of light to move around the chicken house, and was not blindingly bright.
LuminAID Packlite Final Thoughts
This would be ideal for power outages. The Packlite Max provides enough light to move around the house, or to read with, without being excessive.
As solar powered lanterns (such as this) become more cost effective, maybe it is time to phase out kerosene lanterns and candles. Anything with a flame is a fire hazard, which is exactly what you do not want.
As of November 6, 2017, the LuminAID Packlite Max is listed on its site for $49.95