USMC ILBE Assault Pack: First Impressions
Kevin Felts 12.12.17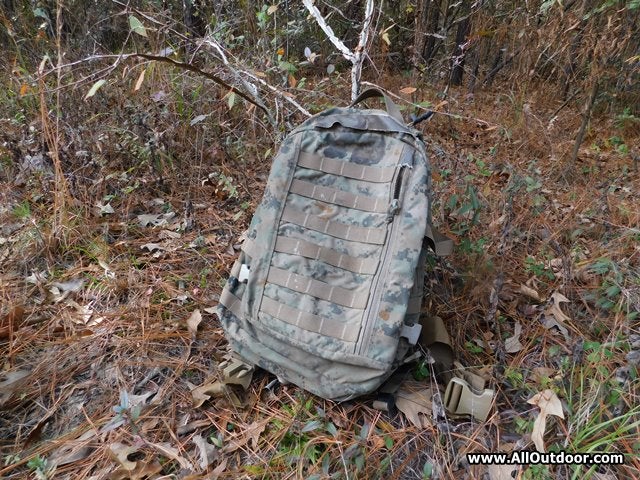 While watching Ebay for various military surplus items, I came across an auction for a United States Marine Corp. ILBE Assault Pack. ILBE is an acronym for Improved Load Bearing Equipment. This is what the Marine Corp. is replaced its aging ALICE gear with.
As with other military surplus items, the pack had minor issues, such as a broken strap and a seized-up zipper. The starting bid was only around $1, so I took a gamble and bid on the pack. Bidding continued until the pack was won for a whopping $5.50 + shipping.
Why buy a pack that has issues? This is more of a testing sample than anything else.
The ILBE Assault Pack arrived and was unboxed. Condition was not that bad. The bottom piece of a shoulder strap had pulled loose from the pack. The top strap was attached to a compression strap, so the pack was still usable. The seized zipper was worked loose and is working fine. The zipper pulls were replaced with new paracord.
As this article is written I am 49 years old and have been hiking and camping for more than 35 years. These first impressions of the ILBE Assault Pack are based on my personal experience. Your mileage may vary.
First Impressions
Advertised size is 27L, which equals 1,647 cubic inches. I have gone on overnight warm weather camping trips with less than that. This should be enough room for hammock, poncho, poncho liner, canteens, water filter, hygiene kit, and a few other items.
No straps on the bottom or top. One way to save room inside the pack is to strap stuff on the outside. It is rather difficult to strap stuff to the top or bottom when there are no straps nor strapping points.
Neither shoulder strap is replaceable. Meaning, this pack was probably designed to be disposable. If a strap breaks, throw the pack away and get another one. Contrast this to the Medium ALICE pack where the straps are replaceable.
No webbing on the shoulder straps. There is no way to attach a compass pouch to the shoulder straps, or a bandage pouch.
Outer compartment is large enough for basics: TOPO maps, water filter, rain poncho, snacks… etc.
The pack has YKK zippers, which is a big plus.
Overall
For military surplus, this pack is missingmany features that similar packs have had for decades. Even the ALICE pack has webbing on the bottom. If someone is looking for a day pack that can carry the basics, the ILBE Assault Pack looks like a good investment. However, if you want features, there are better options on the market.
However, I will reserve final judgement until the ILBE Assault Pack has a few miles on it. The pack will be taken on a couple of hiking trips during the spring of 2018. We will have to wait and see how to performs before I can reach a final decision.
SHOP NOW