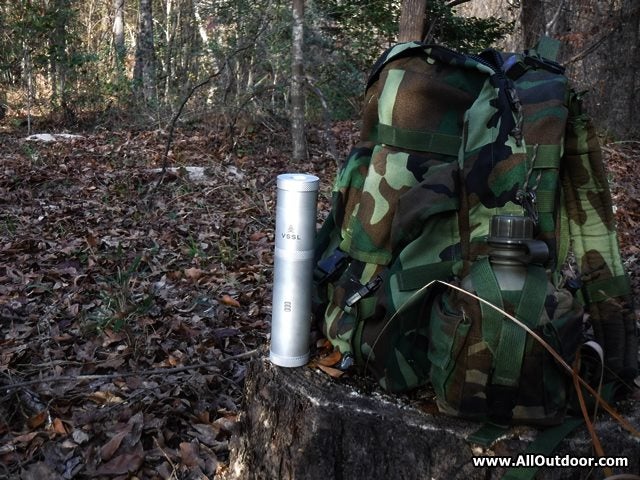 Have you ever wished all your basic survival gear was in a single, self-contained unit? Something that you can grab and go or easily move from pack to pack? Or maybe you want a survival kit for a get-home bag, with essentials that can be kept in the glove box or storage compartment of your vehicle? If you answered yes, VSSL has the solution.
I don't know about the readers, but there are several backpacks in my collection. The length of the trip dictates which pack is brought.  Moving gear from one pack to another can be a time-consuming process.
This is where the VSSL survival tube comes in. VSSL manufactures survival tubes in a range of options, contents and sizes.
Specifications
Taken from my personal testing sample, the VSSL supplies tube.
Length: 9 3/8 inches
Diameter: 2 inches
Weight: 1 pound 1.6 ounces
Length is long enough to fit across the bottom of a military surplus patrol pack, or a Maxpedition Pygmy Falcon II. Which means it is suited to grab, stick in the bottom of a pack, and head out.
On one end of the tube is a flashlight, while on the other end is a compass.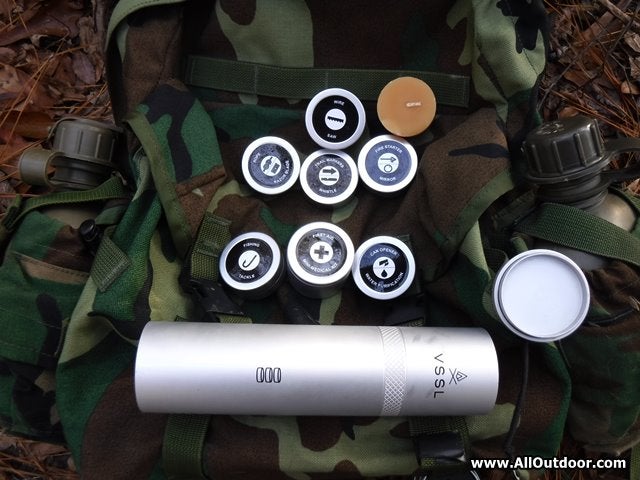 Contents
This list is from the VSSL supplies tube. Other models are available with a variety of contents.
Triple mode LED light/lantern (including SOS mode)
Compass (oil filled)
6 hour pure Canadian beeswax candle
Razor blade
6 Aquatabs® water purification tablets. Purify up to 3 gallons (each tab purifies up to 2 liters, depending on water quality)
Wire saw (high tensile, 60lb working strength with handle straps)
Aluminum beadless emergency whistle
Waterproof matches
Tinder Quik® fire starters
Fishing Gear
Signalling Mirror
25′ of marine grade rope (250lb breaking strength)
Reflective trail markers
P38 military GI Type can opener
First aid supplies
VSSL priorities of survival and instructions
Each item has its own container; and each container has a label that identifies the contents.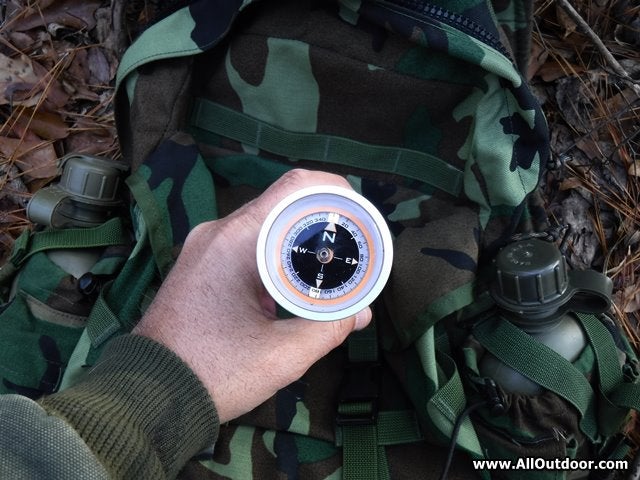 First impressions
LED light – This is one bright light. VSSL did not skimp on the batteries: three Energizer E90 batteries were included. On/off is by holding a button on the side of the flashlight.
Compass – This is the only part of the VSSL survival tube I was not impressed with. For some reason the compass took a little extra time to point north.  Direction was verified with a map compass.
Candle – Is a very nice touch. Besides providing light, it can be used for starting a fire.
Razor blade – Is under the cord and has a piece of cardboard protecting the sharp edge.
Aquatabs – Also known as water purification tablets. The tablets included with my tube have an expiration date of four years. The tube was received at the end of 2016, and the tables expire in September of 2020.
Wire saw – I was expecting one of those microscopic wire saws, and I was wrong.
Whistle – This is not some cheap plastic whistle. It has nice construction and is very loud.
Matches – 10 strike-on-box matches, with the striker under the lid of the container. Why not strike-anywhere matches? Strike-on-box matches last longer in storage.
Quick fire starters – These measure around 1 3/16 inches long, and about 1/2 inch in diameter.
Fishing Gear – If I was going perch fishing, this are exactly the lures I would bring. Kit includes two lures, weights, swivels, and hooks.
Signalling Mirror – Attached to the bottom of the fire starter and mirror container. It measures 1 3/4 in diameter.
Marine grade rope – This is on a wooden spool, and is braided string. Braided string costs more than twisted strand, and is stronger.
Reflective trail markers – Someone may wonder what these are used for. Hunters use them to find the way to a stand in the dark. Markers are red or white, and stand out in the dark when a light is shone on them.
P38 military can opener – Just your standard military can opener. One of these has been part of my gear since 1984.
First aid supplies – Apsirin, antiseptic wipes, and tape. Just enough to take care of minor scrapes and cuts.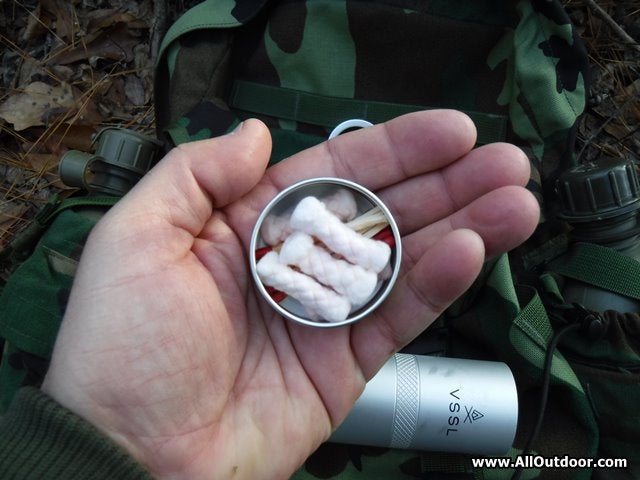 Final Thoughts
Over the decades, I have seen a number of pre-made survival kits. Some were very cheap, some not so cheap. My first experience with survival kits was around 1984 when I bought a hollow-handle Rambo survival knife. The knife came with a survival kit, which included a wire saw and matches. The wire saw broke the first time I used it.
The contents of the VSSL survival tube are some of the best quality I have seen. There is nothing in this kit that screams, "Cheap!"
While reviewing the kit, it was the attention to detail that stood out. Items such as the braided string, complete fishing kit, and energizer batteries put the VSSL survival tube a notch above the competition.