Watch: Beretta M9A3 9mm Pistol Review
Kevin Felts 01.18.18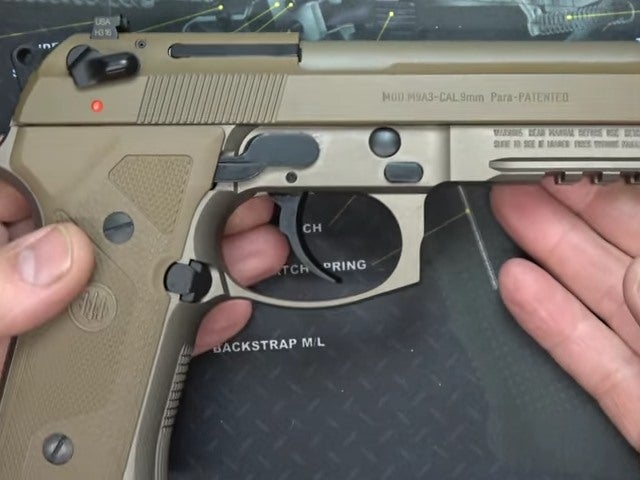 Sootch00 is at it again with another great video. This one is about the Beretta M9A3 9mm pistol. The Beretta M9 has been in military service with the United States since 1985. Since then, Beretta has continued to tweak and upgrade the handgun.
On a personal note, I bought a Beretta 92F in January 1989. That handgun was stolen in 2015, and was replaced in 2016.
Even though the Beretta M9A3 was submitted to the Modular Handgun System trials, it was not even considered, which is a shame. I would love to see how well the M9A3 would do against Sig and Glock.  During the trials in the 1980s, the Sig P226 and Beretta M9 were pretty much tied. It would be nice to see what progress has been made in 30 years.
M9A3 Specifications
From the Beretta website:
Overall height: 5.4 in
Overall width: 1.5 in (1.3 in at grips)
Overall length: 8.7 in
Barrel length: 5.1 in
Sight radius: 6.3 in
Weight unloaded: 33.3 oz
Magazine capacity: 17 rounds
Threaded barrel
Caliber: 9mm
Now for the video.
The M9A3 is a beautiful handgun, and seems to hold true to the Beretta reputation for quality.
It is nice to see a company offering a military-grade handgun to the public. The Glock 19X is not an exact copy of the hand submitted to the MHS trials. The civilian version does not have a manual safety, while the MHS testing sample did.
Want a Sig M17? Sig is releasing a limited number of the M17 clones to the civilian market.
While other handgun companies appear to be stingy with copies of the military handguns, Beretta is putting theirs on the market.
Special thanks to Sootch00 for another excellent video, keep up the great work.