Watch: Ruger AR 556 Multi-Purpose Rifle
Kevin Felts 02.07.18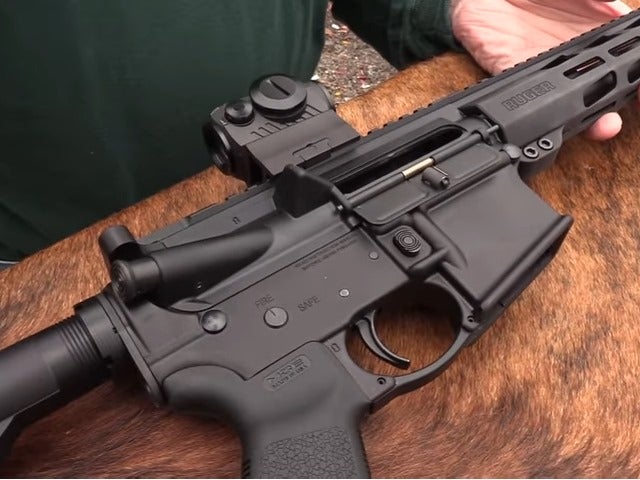 If you were asked to name one company that continued to innovate during The Great Trump Slump of 2017, which company would it be? Is there a chance you named Ruger? If you did name Ruger, your suggestion is perfectly justified.
While other companies were talking about layoffs or posting losses, Ruger was bringing low cost quality firearms to the market. It looks like Ruger is making waves again, this time in the AR-15 market.
While a lot of AR-15 companies are dragging their heels in the rifle length AR market, Ruger is throwing a well rounded and priced right rifle on the market. This rifle is in the form of the Ruger AR 556 Modern Sporting Rifle (MSR).
Specifications
From the Ruger 556 MPR website:
Two-stage trigger that offers a smooth, crisp, 4.5 pound trigger pull.
Rifle-length gas system.
Magpul® M-LOK® accessory rail.
Chrome-plated bolt carrier.
Ruger muzzle brake.
Includes One, 30-round Magpul PMAG.
Cold hammer-forged 4140 chrome-moly steel barrel.
Now for the video.
As of February 27, 2017 going price for a Ruger MPR is around $625.
Opinion
It is about time someone offered an affordable AR-15 with a rifle length gas system. There are rifle length ARs on the market, but some of them are from questionable manufacturers. Other rifle length systems cost a pretty penny. For example, the Colt AR-15 A4 comes in at around $1,200.
With the Ruger AR 556 MPR costing around half that of the Colt AR-15 A4, can we guess who will be getting the sales?
The MPR by Ruger hits the nail on the head. Here we have a rifle length gas system, Ruger two stage trigger, free floating rail, and all from a company who has a reputation for quality.
Only thing left to do is add your accessories.
Special thank you to Hickok45 for the excellent video. Keep up the great work.