Knife Unboxing: The Case Winkler Skinner
Jon Stokes 02.26.18

A while back, we reported on the launch of the first fruits of the collaboration between Case Knives and custom knifemaker Daniel Winkler: the Skinner, named not because it's a skinning blade (thought it would work for that) but because it was designed with input from retired U.S. Army Special Operator and Navy SEAL Kevin "Skinner" Holland.
This knife is clearly supposed to be a "one knife" candidate, a do-it-all kind of blade that could easily be used in everything from self-defense to game prep to woodcraft chores.
Here are the stats:
Flat ground trailing point blade with distal taper
Skeletonized, full tapered tang
Decorative jimping for added flair and improved blade control
Non-glare black oxide Caswell(TM) blade treatment
Three different handle options, each with a lanyard tube
A reinforced leather sheath with reversible belt loop
9.625 in (24.5 cm) in length; AKTI blade length is 5.125 in (13 cm) and is .1875 in (4.8 mm) wide
80crV2 steel
$300 retail
My understanding is that these Case collabs are made like the other Winkler II knives, from bar stock (i.e. by grinding bar stock, instead of forging). But unlike other production makers who do this he grinds the blades first and then heat treats them last. This is because the grinding heats up the blade and can affect the tempering, so it's better to grind first, then heat treat, because you can get more control over the finished product.
I just got one of these in from Winkler, and took some unboxing photos. The fit and finish on this blade are stunning for a production knife. In fact, this knife is very comparable to Dawson Scout I reviewed a while ago — very similar stats and specs, the same steel, and made by bar stock removal. However, the Skinner is almost $100 cheaper, and the sheath is substantially nicer.
The version I have has the sculpted multicam G10 handle, but the other handle options are walnut and black canvas micarta. You can see from the gallery below that the lanyard tube and pins have been sculpted to fit smoothly along with the handle, and that there are no gaps or imperfections in the mating of the handle slabs to the skeletonized tang.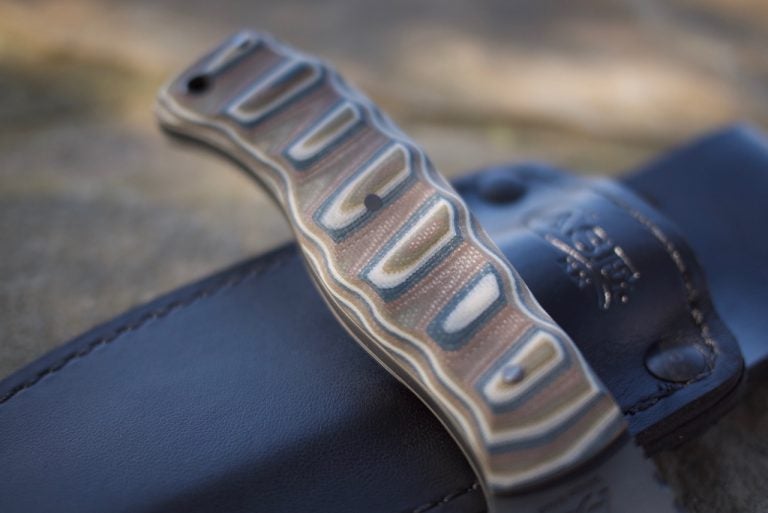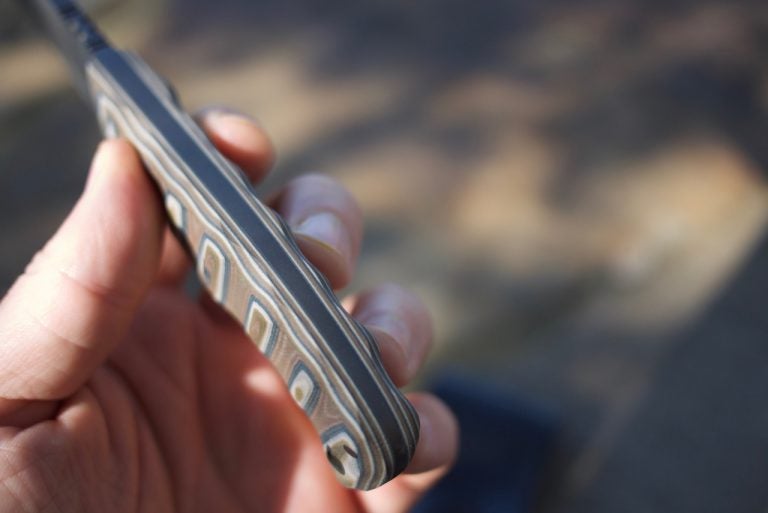 Speaking of the skeletonized tang, this knife is surprisingly light for as large as it is. It's great to see makers taking advantage of the incredible toughness of modern steels like 80crV2 by using less metal while retaining a level of strength that older knives would have to be much thicker to match.
I really like this Caswell finish, but I have no idea how it's going to hold up. I've read good things about it, and it looks like it will patina well.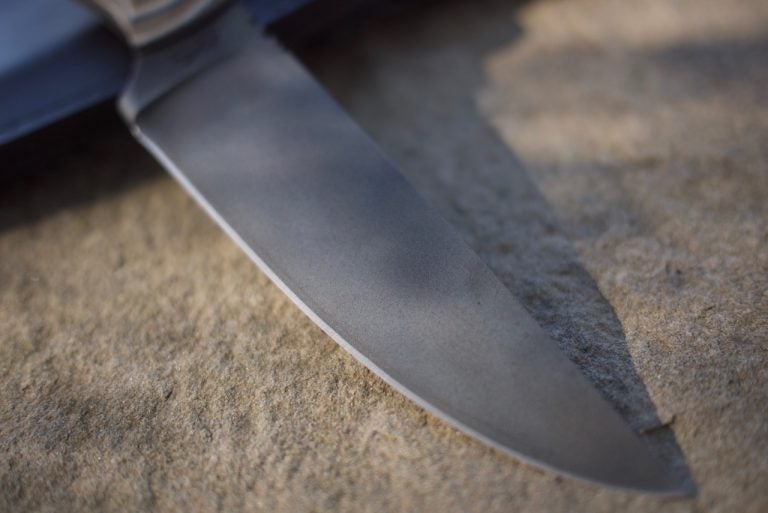 Probably the most insane part of this knife, though, is the sheath, especially for the price. The sheaths on a lot o these higher-end knives are an afterthought, as if they expect you to just have a custom sheath made anyway. But not this one. This is a sturdy, high-quality leather sheath that's reinforced with some kind of sculpted polymer, probably Kydex. So the sheath is stiff and will retain its shape indefinitely.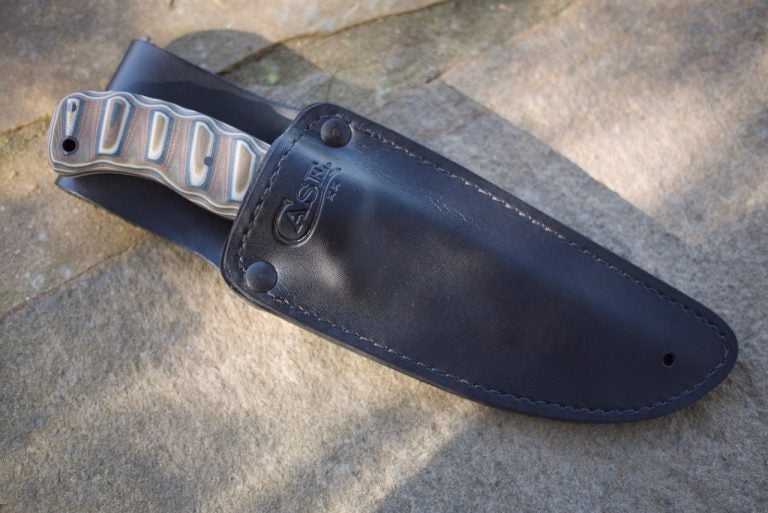 You can see that there's a drain hole in the side, which I've not seen before (usually it's at the bottom) but I like it.
The reversible belt loop is great, and if you wanted to you could actually remove it entirely and stuff this knife inside your waistband for concealed carry. In about the 11 o-clock position it would be perfect for defensive carry. I wish that drain hole were a little lower, so that you could lash it to your belt with some paracord for this type of IWB carry — that way when you draw, the sheath comes out but catches on the anchor and the knife comes free.
You would easily pay well north of $120 for a kydex-reinforced leather sheath like this, making the whole package an incredible value for $310.00 (with the G10 handle shown here). I think the real competitor to this knife is the Southern Grind Jackal, which has a much more rudimentary sheath but comes in at $230 retail. It doesn't have the Winkler lineage, though, nor does it have the Skinner's classic blade shape that harks back to the Case fixed blade knives of my youth.
Enjoy the pics below, and stay tuned for way more on this knife. I'm trying to line up an interview Holland, and need to do some cutting with this thing now that I've photographed it.
Also, I have this knife's sibling, the Recurve, and boy is it a stunner. So look for that soon, too.