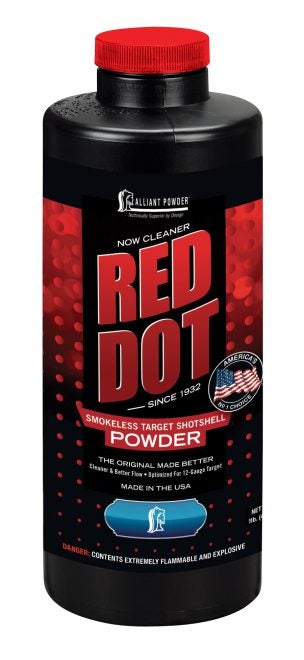 The gunpowder that has been fueling shotgun shooters for many decades has now been re-formulated. Now Alliant Powder has made Red Dot gunpowder even cleaner which is an attribute all shooters can appreciate and get on board with.
As many shotgun shooters gear up for spring clay-pigeon leagues, skeet shooting and even high school leagues which are burgeoning in popularity with out youth, this new Red Dot powder has great timing. A company statement has been provided to give an overview of this newly engineered offering:
The original high-performance clay target powder just got even better. Improved Alliant Powder® Red Dot® now burns significantly cleaner and offers better flow characteristics with the same clay-crushing performance the world's best shooters have trusted since 1932. Red Dot is optimized for 12-gauge target loads, offers Alliant Powder's legendary lot-to-lot consistency and is proudly made in America.
To be making gunpowder for 86 years of a specific type is definitely a track record of longevity. The "Dot series" of gunpowders has a strong following among shotgun shooters depending on what gauge you are specifically utilizing to dust birds. The features and benefits that Alliant Powder is touting for this new formulation of Red Dot is as follows:
Improved Clean-Burning Formulation
Significantly Less Fouling
Better Flow Characteristics
Optimized for 12-Gauge Target Loads
Excellent Lot-to-Lot Consistency
Made in the U.S.A.
A lot of the features listed above are what you would come to expect from Red Dot. The ability to burn cleaner and have better lot-to-lot consistency will definitely entice reloaders who are not currently using Red Dot. Like many gunpowders, you will be able to purchase this new formulation of Red Dot in 3 different sizes:
1 Lbs. Bottle – MSRP $24.99
4 Lbs. Bottle – MSRP $89.99
8 Lbs. Keg – MSRP $169.99
Currently, this new formulation of Red Dot is shipping to brick 'n mortar and online retailers. You should see it available soon in stores or available to order if it is not already in stock.