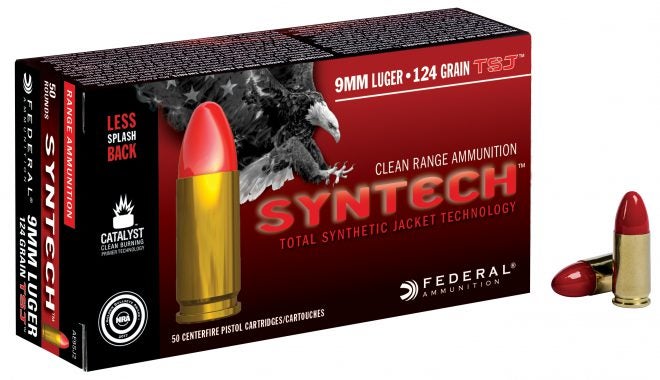 Federal Premium, like many ammunition companies, are looking to the future and where the ammunition industry may be heading. While metal bullets and projectiles will likely not be going out of style any time soon many consumers are looking for cleaner options. Our inherent laziness when it comes to cleaning our firearms (this includes myself at times) has us looking for ammo that has less residue, less fouling and is basically cleaner overall. That is partly what drove Federal to produce their Syntech line of ammunition.
With a "TSJ" bullet, Total Synthetic Jacket, Federal Premium's American Eagle Syntech boasts many of the attributes that we previously mentioned.
2017 NRA Golden Bullseye Award winner
Polymer-Encapsulated Syntech Bullet prevents Metal-on-Metal Contact in the Bore, eliminating Copper & Lead Fouling, while Extending Barrel Life
Exclusive Primer Formulation provides Reliable, Consistent Ignition
Clean-Burning Propellants Minimize Residue & Fouling
Significantly Reduces the required Frequency of Cleaning
Absence of a Copper Jacket minimizes Splash-Back on Steel Targets
Less Perceived Recoil
Up until now, Federal Premium only had 3 offerings covering your standard calibers of 9mm, .40 S&W and .45 ACP. They have now added in a heavier grain weight of 9mm to satisfy the segment of shooters who prefer their 9mm to be 124 Grain.
9mm 115 Grain | 1,130 FPS
9mm 124 Grain | 1,050 FPS | NEW
.40 S&W 165 Grain | 1,050 FPS
.45 ACP 230 Grain | 830 FPS
The MSRP of the new 9mm 124 Grain offering is $18.95 and that is roughly where the other options retail for as well. This new ammo should be available at retailers, or at least available to order if you are so inclined to send some down range.
For our readers out there, have you shot any of Federal Premium's new American Eagle Syntech ammunition? If you have, we would love to hear your input, constructive criticism, experiences and general thoughts about the ammunition in the comments below.