Springfield Armory is very excited for NRA Show 2018 as they introduced their 2nd new firearm leading into the event. After listening to consumer feedback and requests, they now have produced a SAINT AR-15 Pistol in .300 Blackout!
The SAINT AR-15 Pistol in a larger cartridge like the .300 Blackout offers a lot of utility for consumers. It can be deployed as a home defense pistol, used for recreational shooting leagues, utilized for hunting and has the ability to easily shoot sub-sonic ammunition and have a silencer added.


The ability to shoot such a wide range of ammo, roughly 110 Grain to 220 Grain bullets, gives consumers a lot of wiggle room for both utility and fun. While many people were pleased with the original SAINT AR-15 Pistol in 5.56 NATO, this new caliber should fill that void of recreation and usefulness even better.
Much of the make-up of this rifle is from proprietary parts made in-house by Springfield Armory. Everything from the upper receiver, lower receiver, trigger and receiver extension. The few additional components are from Bravo Company providing the user with a desirable, mainstream brand of furniture. The complete specification list as provided by Springfield Armory can be read below:
Upper Receiver: 

SA Forged Type III Hard Coat Anodized Aircraft Grade 7075 T6 Aluminum w/ Forward Assist

Lower Receiver: 

SA Forged Type III Hard Coat Anodized Aircraft Grade 7075 T6 Aluminum w/ Accu-Tite™ Tension System

Barrel: 

9″ CMV .300 Blackout w/ Melonite® Treatment & 1:7″ Twist Rate

Gas System: 

Direct Impingement Pistol-Length Gas Port w/ Adjustable Gas Block

Trigger: SA Proprietary, Nickel Boron Coated GI Style
Trigger Guard: 

Bravo Company

Pistol Grip: Bravo Company Mod.3
Handguard: 

M-Lok Aluminum SA Proprietary T6 Type III Hard Anodized Aluminum

Forearm Brace: 

SB Tactical SBX-K

Buffer Assembly: 

Carbine "H" Heavy Tungsten Buffer

Receiver Extension: 

SA Pistol T6 Type III Hard Coat Anodized Aluminum

Bolt-Carrier Group: 

Enhanced M16 Melonite® Finish, MPT, 9310 Steel Bolt

Charging Handle: 

GI Style

Overall Length: 

27.75″

Weight: 

5 Lbs. 9 Oz.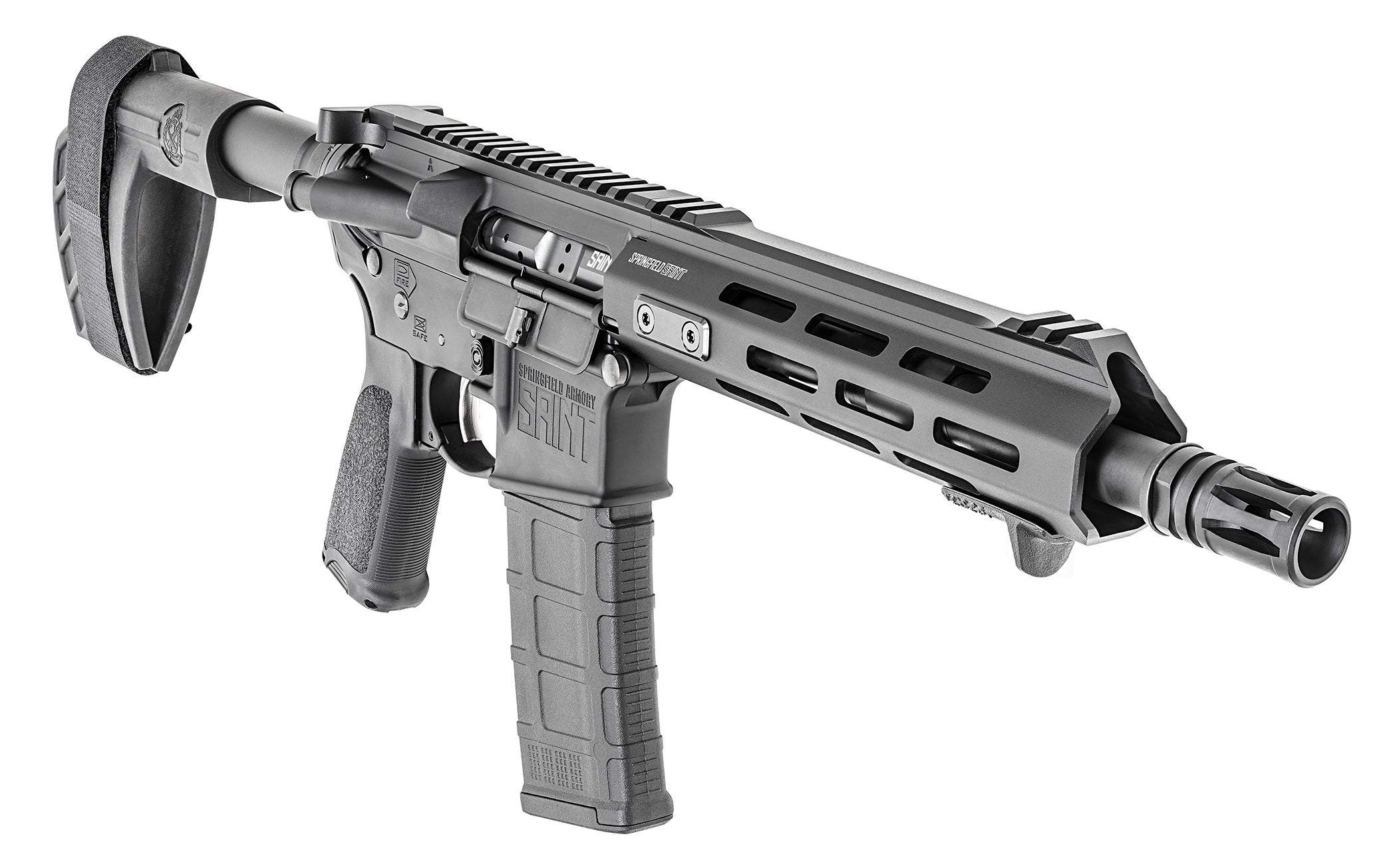 The Springfield Armory SAINT AR-15 Pistol in .300 Blackout currently has an MSRP of $989. We should see these become available through retailers within the coming weeks. Hopefully we also see a lot more cool, new products from Springfield Armory in the coming days!
---
Also, as a point of information this is a pistol. We are not trying to insult anyone's intelligence because we have stated this several times, but this a traditional firearm; not an NFA item. Also, you can legally shoulder this pistol with the attached brace if you so desire.