Otterbox Trooper 20 Soft-Side Cooler Review
Russ Chastain 10.09.18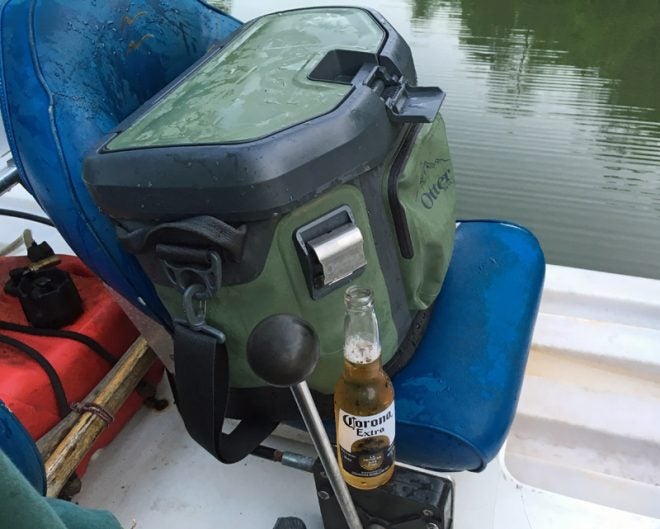 Earlier this year, I told y'all about the new soft-side coolers from Otterbox. Well, I've been using one of them for several months now, and it's served me well. And now the time has come to write a review of the Otterbox Trooper 20 Cooler.
I'll start with some of the manufacturer's specs, and add my comments to each:
20-quart capacity with food-grade liner
I didn't measure the capacity, but the liner is tough and robust.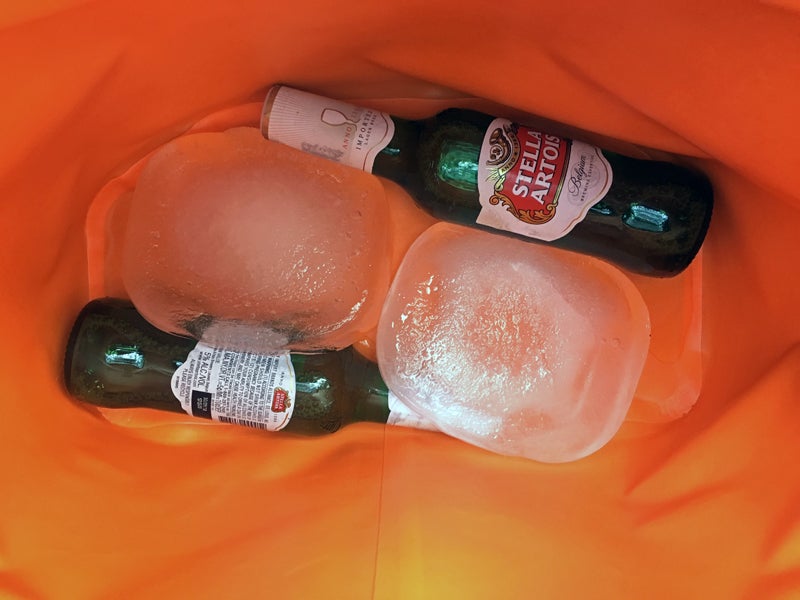 Wide opening for easy access
Pretty much. The opening is a bit smaller than the interior, but not by much.
Lid opens easily with one hand
This is true — once you figure out how to use the latch, and if the cooler is not empty. Some weight in the cooler is useful for one-handed opening. But it is MUCH better than fighting a zipper every time you want to open and close your cooler.
The lid is rigid plastic with hinges, but has a soft top. The lid closes into a hard plastic frame which has a rubber gasket to seal it when shut.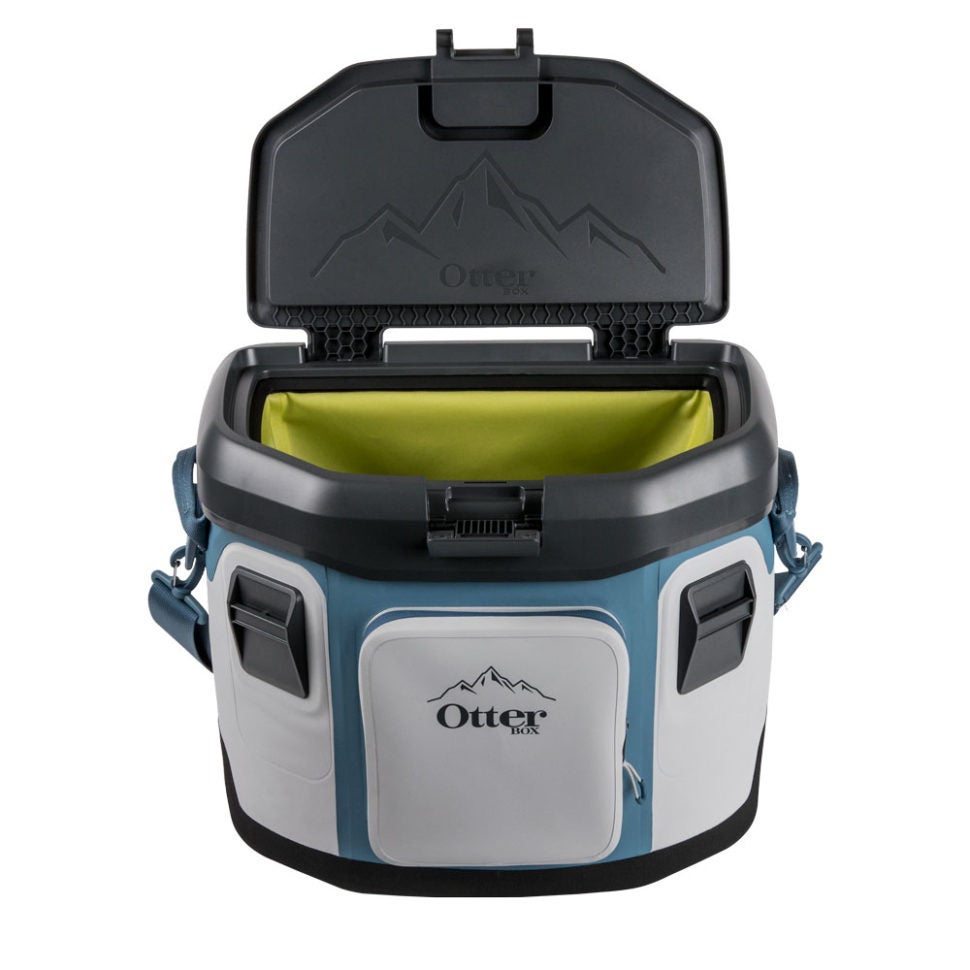 Leakproof seal secures contents
Even after the ice melted, I didn't have any water sloshing out of the cooler's lid.
Accessory mounting system with Bottle Opener accessory included
Yep — and mine also included a lanyard do-hickey where you could attach your [whatever]. The bottle opener works fine.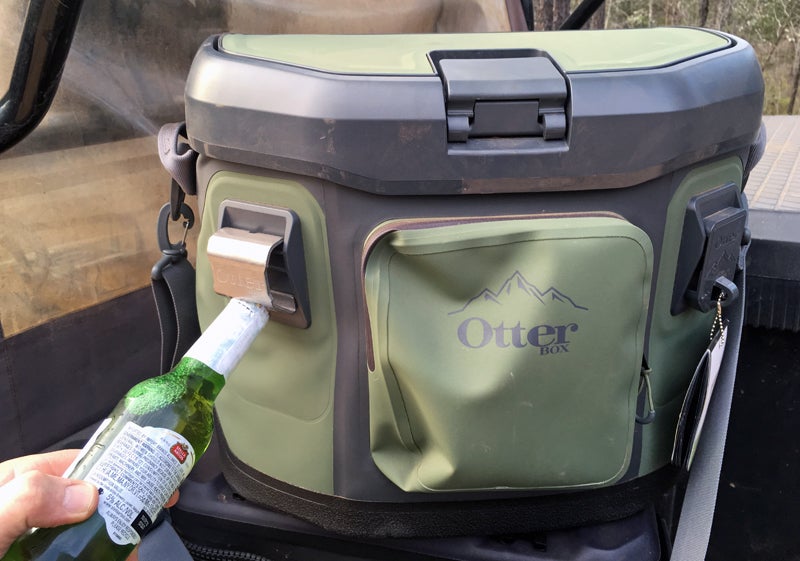 Water-resistant exterior pocket
This zipper pocket on the front is fairly roomy, 7.5″ x 7.5″ by about 1″ to 1.5″ deep.
2″ wide padded carrying strap
It's a good strap — and the attachment points are high enough on the cooler that it doesn't want to flip over when you carry it by the strap. I tested another brand on which the straps attach lower, and it tends to flip over when I shoulder the strap.
This is also a good time to mention the side handles, which unfortunately are not great. They're plenty tough, but they're difficult to grab because they're small — and the shoulder strap can interfere with getting your hands on them.
Premium grade thermal insulation, keeps ice up to 3+ days
I found this to be true. I was greatly impressed by this cooler's ability to retain ice and keep my stuff cold.
The base is flexible — don't be misled by the use of the word "solid" — but it's also tough and durable. And although soft, the base and sides have enough structure to support the rigid lid assembly up top.
The back is made of the same tough material as the base (see photo below), and has a heavy-duty stitched-on strap for attaching stuff.
Used and Abused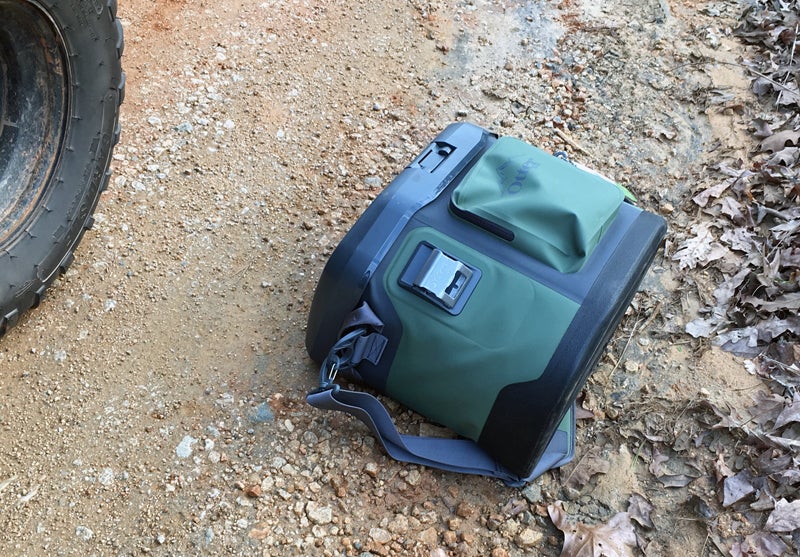 I didn't mean to treat the Trooper 20 as badly as I did, but when I drove off with it perched on the edge of my UTV's bed, it had to take a tumble… and in this case, it landed on a rough gravel road.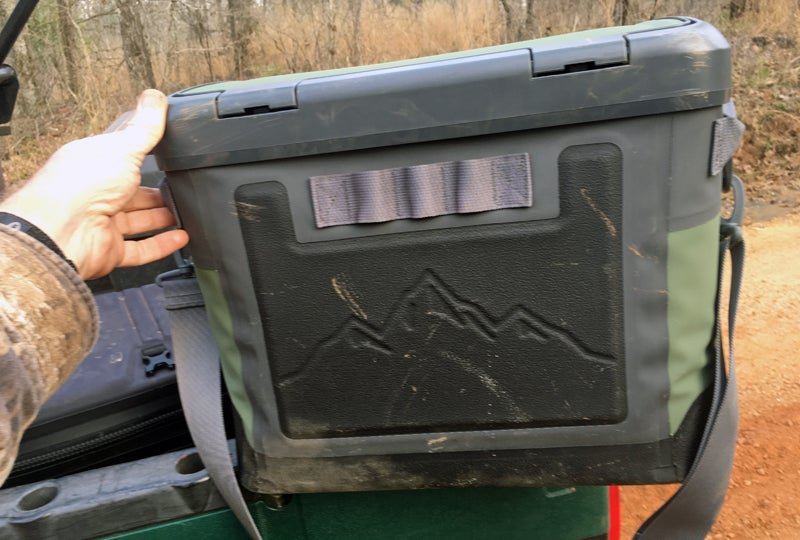 The base and lid frame took the brunt of the fall, but there was no damage other than a few scratches. Nice!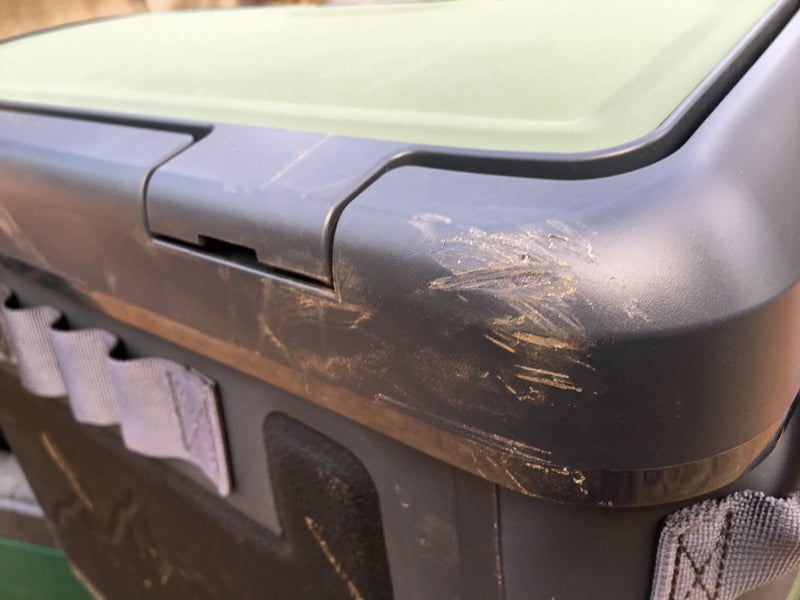 Things to Love About the Otterbox Trooper 20
Durable — I did not baby this cooler and it took a few spills without taking any damage.
Great shoulder strap — wide, tough, attached in the right place, and easy to remove.
Excellent ice retention.
One-handed opening (even if you use two hands it's easier than a big zipper).
Included bottle opener mounts to the outside and is easily accessible.
Front zipper pocket is roomy, water-resistant, and easy to open & close.
Brightly-colored interior helps you see the contents easily.
Things You Might Not Love
Side handles (nylon straps) are a little small so they're not easy to grab, especially with your whole hand.
When it's full, it's full — and the lid goes down in a little bit. Sometimes I wished I could fit in a little more.
The price: $250
Moot Complaints
In reading user reviews of the Otterbox Trooper 20, I ran across some criticisms which I feel are less-than-valid (or simply moot), and which deserve to be mentioned here.
This is true… but it's not a big deal. If you need to drain water, simply crack the lid open a little and carefully tip the cooler to drain out all or some of the water. Then top off the ice and rock on. No need to remove the cooler contents.
Lid is a little "sticky" to open.
You have to pull up on the lid a bit to open it. This is because it seals with that rubber gasket I mentioned above. This is a good thing! Without that seal, your ice would melt a lot faster, and water would slosh out of the cooler lid.
Top of lid may delaminate or peel up.
Mine has not done this, but some of the early ones did. Otterbox is aware of this and is willing to make it right — after all, they back their products with a lifetime warranty.
Conclusion
When I first got it, I felt that this cooler was a bit larger than I needed it to be. Turns out, it's just about right — and it's even replaced a 48-quart hard cooler for some of my shorter ventures. Sometimes I wish it was a bit larger — but for that, you can try the larger Trooper LT 30.
All in all, this seems to be about the best small soft cooler around, especially in terms of easily accessing your stuff… and that's pretty important.
It keeps ice for days, especially if I pre-cool it. I keep one or two large jugs of frozen water in my freezer for this purpose. Hours before I will need the cooler, I slip one of these jugs into the cooler and close it. When it's time to pack the cooler, I swap the jug out for drinks and ice… and the ice always lasts a surprisingly long time.
I can definitely recommend the Otterbox Trooper 20 as a tough and useful cooler.
Disclosure: A review sample was provided by the manufacturer, but this review is unbiased.