NEW Springfield Armory XDM 10mm has Finally Arrived!
Adam Scepaniak 10.10.18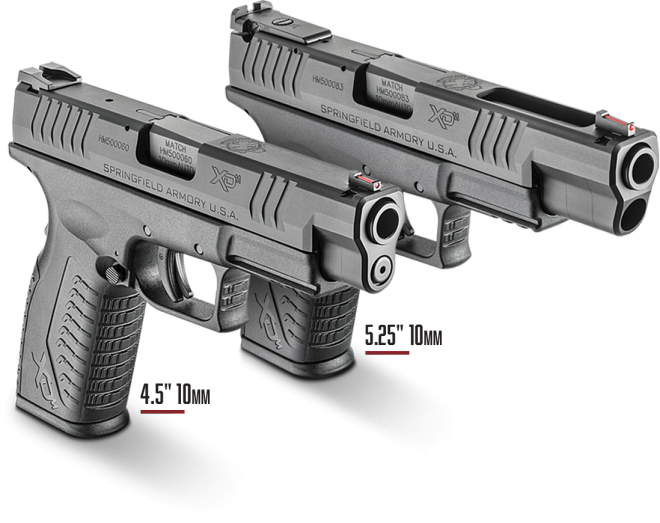 Springfield Armory has been receiving longing requests for an XDM 10mm for quite some time and now shooters can rejoice because it is here! On the extremely fitting day of October 10th (10/10/2018) Springfield Armory has announced the XDM 10mm in 2 different models: 4.5″ standard and 5.25″ competition. Both of these models deploy the same 15 round magazines and same frame size. What varies between them are smaller things such as the sight picture, barrel length and amount of magazines you receive from the factory.
The complete specification listing for the NEW Springfield Armory XDM 10mm can be read below as presented by Springfield:
Magazines: Two 15+1 Mags – XDM 4.5" | Three 15+1 Mags – XDM 5.25"
Barrel: Hammer-Forged Steel, Melonite Finish w/ 1:16" Right-Hand Twist
Front Sights: Fiber Optic
Rear Sights: Low-Profile, Combat – XDM 4.5" | Fully Adjustable, Target – XDM 5.25"
Frame: Black Polymer w/ Interchangeable Backstraps
Slide: Forged Steel, Melonite Finish
Recoil System: One-Piece Full-Length Guide Rod
Length: 7.7" Overall – XDM 4.5" | 8.4" Overall – XDM 5.25"
Height: 5.75" Overall
Grip Width: 1.2" Overall
Weight w/ Empty Mag: 31.2 Ounces
This pistol boasts a Match-Grade quality barrel in both configurations for tremendous accuracy. The full-frame design also tames down the recoil even while shooting full power loads of 10mm as the cartridge was always intended. These new XDM 10mm pistols also harbor a trove of safety features like all XDM models. You have a trigger safety to prevent accidental discharges. There is a loaded chamber indicator on the top of the slide to provide a visible and tactile acknowledgement as to whether the gun is loaded or not. A striker status indicator also lets the shooter know whether the striker is loaded (capable of firing) or if it is unloaded and could not strike a cartridge at the moment.
All of these elements culminate to create a well-rounded pistol for hunting, defense or simply recreation. Springfield Armory's President, Steve McKelvain, shared these excited words about finally bringing an XDM 10mm to market which so many people have been asking for:
Our customers have been very vocal about their excitement at the prospect of an XD(M) chambered in 10mm. We are thrilled to now offer them exactly what many of them have been asking for: the power and velocity of the 10mm round delivered in the reliability of the XD(M) platform, proven through our 10,000 round torture test documented on video.
As you can see from the 10,000 Round Torture Test video from above this pistol is built to endure. Many firearm owners will never shoot 10K rounds through any pistol they own in the entirety of their ownership of the firearm; let alone in one range session. So this truly speaks to the quality and durability of the XDM 10mm pistol.
With the 4.5″ standard XDM 10mm we are looking at an MSRP of $652 while the 5.25″ competition XDM punches in at $779. These appear to be very fair price-points for what looks to be an accurate, durable and high capacity 10mm sidearm.
The biggest question is though, what do all of you think? Is this something that you are going to need to add to your arsenal? Or will you take a hard pass on it? Let us know your thoughts in the Comments below! We always appreciate your feedback.