Dick's Sporting Goods Sued for Market Manipulation
Russ Chastain 10.29.18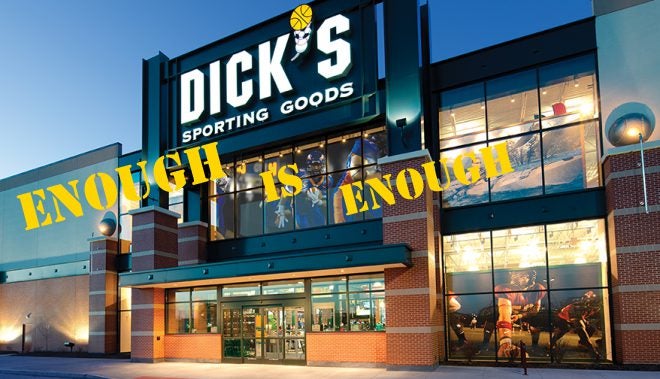 In yet another move that lives up to its name, Dick's Sporting Goods has reportedly hosed Battle Born Munitions (BBM), costing them quite a lot of money — as well as an opportunity to make $5 million bucks selling helicopters to Lebanon. And in the resulting lawsuit, BBM is alleging that the root cause of the damaging delay was greed and a desire to cash in on post-election 2016 price hikes, which never did come to light.
The 11-page lawsuit filed Tuesday in a Pennsylvania federal court details that the two companies entered into an agreement in January 2016 to supply ammo packaged with Dick's trademarked Field & Stream packaging. Acting on the contract, BBM paid two ammo manufacturers — Bosnian-based Igman and Hungarian-based RUAG — a total of $4.5 million for the product and made the munitions available to Dick's by November of the same year, a delivery timeline stipulated by the contract. However, BBM says Dick's then left them holding the bag for almost a year, refusing to pay them or take delivery of the ammo.

The house-branded ammo, which could not be repacked and sold to another retailer due to the Field & Stream headstamp on the cartridges, was eventually accepted by Dick's but the intervening storage, at BBM's expense, cost the ammo distributor $200,000. Further, since BBM's cash was tied up in the stalled deal, they could not fill a contract with Lebanon for a batch of Bell helicopters, losing out on an additional $5 million, which they are seeking to recoup from Dick's.
By failing to take delivery — and thus paying for — the contracted-for ammunition, Dick's allegedly left BBM holding the bag for $3,071,910 — plus another $200,000 for storing the ammo until Dick's finally did take possession of it.
The plaintiffs wager that the controversial sporting goods retailer was banking on a significant hike in the retail price of ammunition in late 2016 — due to the presidential election — that in the end did not materialize. Further, they argue that by stipulating the use of Dick's house brand, ammo vendors such as BBM "had no option but to involuntarily warehouse the ammunition on Dick's behalf until such time as Dick's determined that demand was sufficiently high for it to manipulate retail prices."

BBM argues Dick's never intended to take possession of the ammo in November 2016, but rather planned to hoard their unique ammunition inventories in the warehouses of its vendors until the price and the time was right. While the Field & Stream ammo sat in BBM's warehouse it was not counted on Dick's inventory, therefore making it more attractive to investors, it was readily available — and warehoused at BBM's expense — should Dick's suddenly need it.

The ammo supplier further says Dicks failed to advertise the house-branded [ammo], even over peak holiday-season sales periods, thus stalling a demand for them.
I never did like Dick's Sporting Goods, even before they embarked on a series of moves designed to alienate gun owners. After calling for increased gun control and then doubling down on that, the company announced they would destroy AR-style rifles rather than selling them. This prompted companies like Mossberg, Springfield Armory, HI-Point and Inland Manufacturing to cease doing business with Dick's.
And now this, which appears to be blatant (and provable) abuse of an established member of the firearms industry… and which was going on prior to the latest kerfuffle.
You can read BBM's full complaint here.