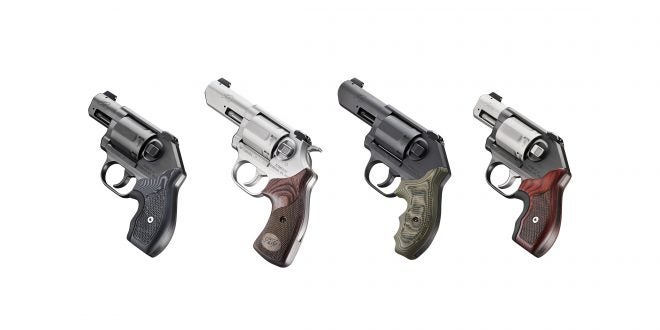 Kimber has been announcing a flurry of new products leading into 2019 and the excitement that surrounds SHOT Show. This includes 4 new models of K6s revolvers with 6 variations of them total. The most exciting new model is the K6s DASA (Double-Action, Single-Action) because it is the 1st revolver Kimber has offered with a single-action trigger pull. The other models are a DC (Deep Cover) and CDP (Custom Defense Package) with a Crimson Trace lasergrip as well as a TLE finished offering. Kimber is expanding their portfolio of wheelguns pretty substantially to the delight of revolver fans. Let's take a short dive into each of the new models!
kimber k6s dasa .357 magnum (double-action, single-action)
The K6s DASA .357 Magnum is the 1st exposed hammer revolver Kimber has ever produced, and the 1st one to offer a single-action trigger pull as well. The K6s DASA will be offered in a 2″ and 3″ variation with a brushed stainless finish and walnut laminate checkered grips. The single-action trigger pull comes in at 3 – 3 1/2 Lbs while the double-action pull is a smooth, non-stacking 9 1/2 – 10 Lbs in pressure to break. Finally, the K6s is topped off with white 3-dot sights and a knurled hammer spur. This model has an MSRP of $970 for both barrel lengths.

kimber k6s tle .357 magnum (Tactical/law enforcement)
The K6s TLE displays a finish we have all seen before on their 1911 models, but never before on a revolver. The highlights of the TLE appearance are the low-glare matte black finish paired with the green and black G10 boot grips. This model like the K6s DASA will be offered in 2019 in a 2″ or 3″ variant for shooters. It also has tritium night sights and a standard 6-round cylinder. The K6s TLE will be benchmarked at $1,020 for either barrel option.

kimber k6s dc (LG) & CDP (LG) .357 Magnum
Both of these new models are simply iterations we have seen from previous years, but with a Crimson Trace lasergrip applied to the handle. This additional value comes with a fairly significant cost increase to the consumer though. The retail price for the DC (LG) is $1,485 while the CDP (LG) punches in at $1,510. Both of these models retain their original aesthetic and utilitarian traits of tritium night sights, a DLC finish, and their own unique curb appeal.


So with all of these new finishes, names, and sultry product photos that Kimber has revealed to us, which one of these do you want to buy first? Do actually none of them appeal to you? Let us know your thoughts in the Comments below! We always appreciate your feedback.