NEW Range Officer 10mm! Springfield Armory RO Elite Operator
Adam Scepaniak 11.26.18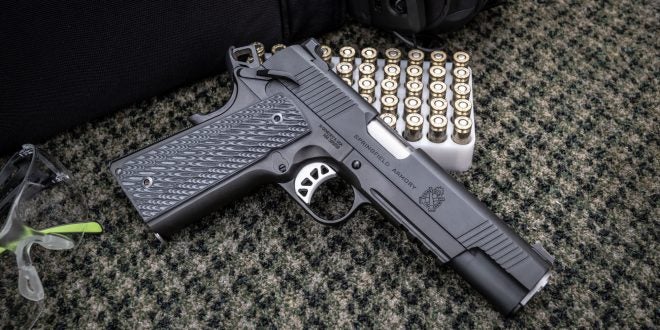 Every year it seems there is a new favorite caliber for firearm owners. The most recent hot flavor for handgun owners which is continually gaining momentum is the 10mm cartridge. Springfield Armory introduced a pair of XD(M) models just back in September in 10mm, and now they have a NEW 1911 to unveil to the world. Back on November 19th, Springfield Armory announced their newest Range Officer – the RO Elite Operator 10mm!
The New RO Elite Operator 10mm falls right into succession with their other RO Elite models by offering a Match-Grade barrel, thin G10 grips, and the same stylish aesthetic for shooters. The complete specification listing for this pistol can be read below, as presented by Springfield Armory:
Caliber: 10mm
Magazines: Two (2) – 8 Round Stainless Steel
Barrel: 5" S/S, Match-Grade w/ Fully-Supported Ramp; S/S Bushing;1:16" LH Twist w/ 6-Groove Rifling
Sights: Fiber Optic Front &Tactical Rack White Dot Rear
Trigger: SA Gen 2, 4-Window Speed Trigger
Grips: Thin-Line Black/Gray G10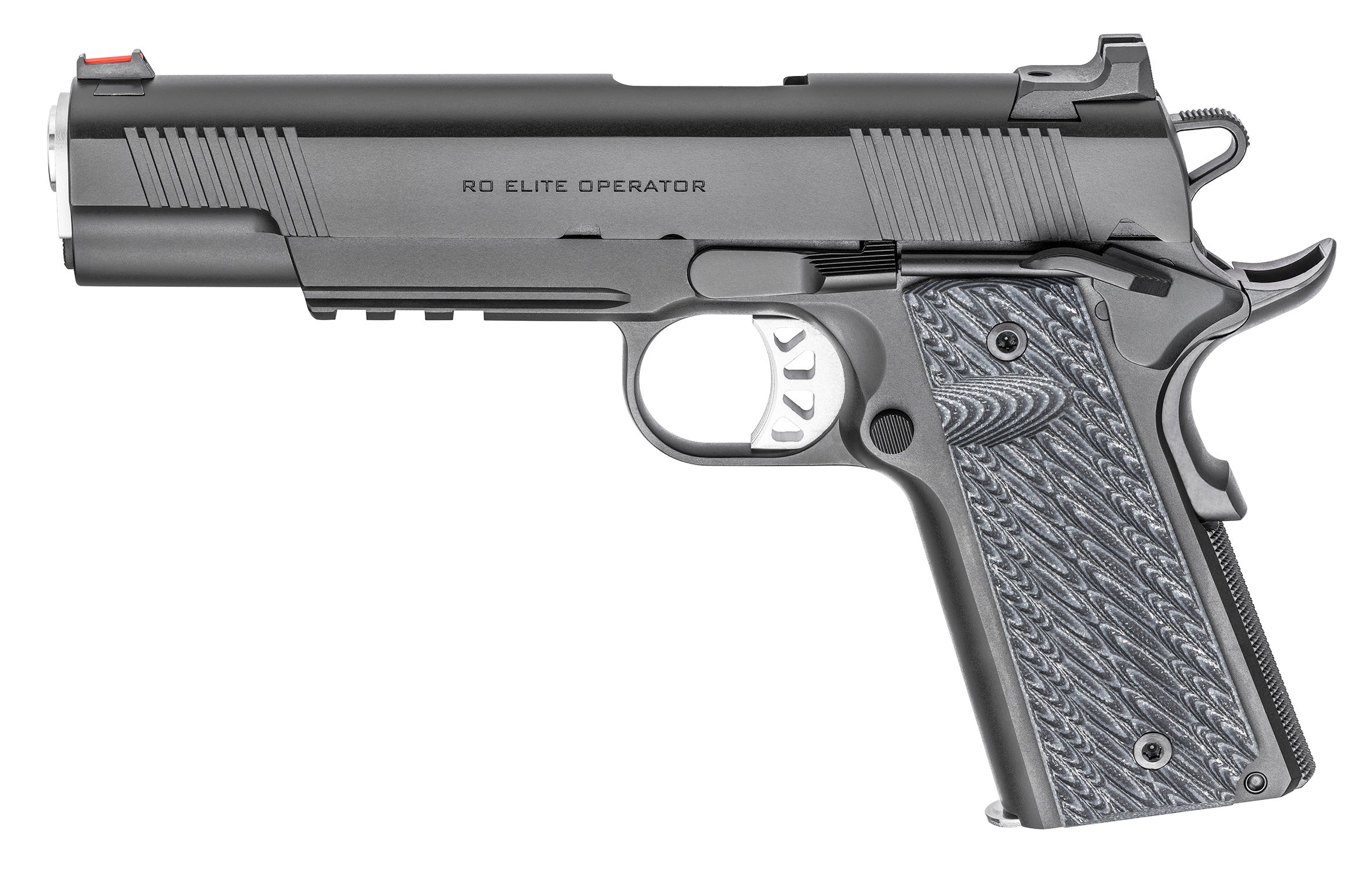 Frame: Forged Steel, Black-T® Finish, Ambi Thumb Safety & Accessory Rail
Slide: Forged Steel, Black-T® Finish w/ Ball Cut & Front Serrations
Recoil System: 18 ½ Lbs, G.I. Style
Height: 5 ½"
Length: 8.6"
Weight (Empty Magazine): 41 Ounces
MSRP: $1,145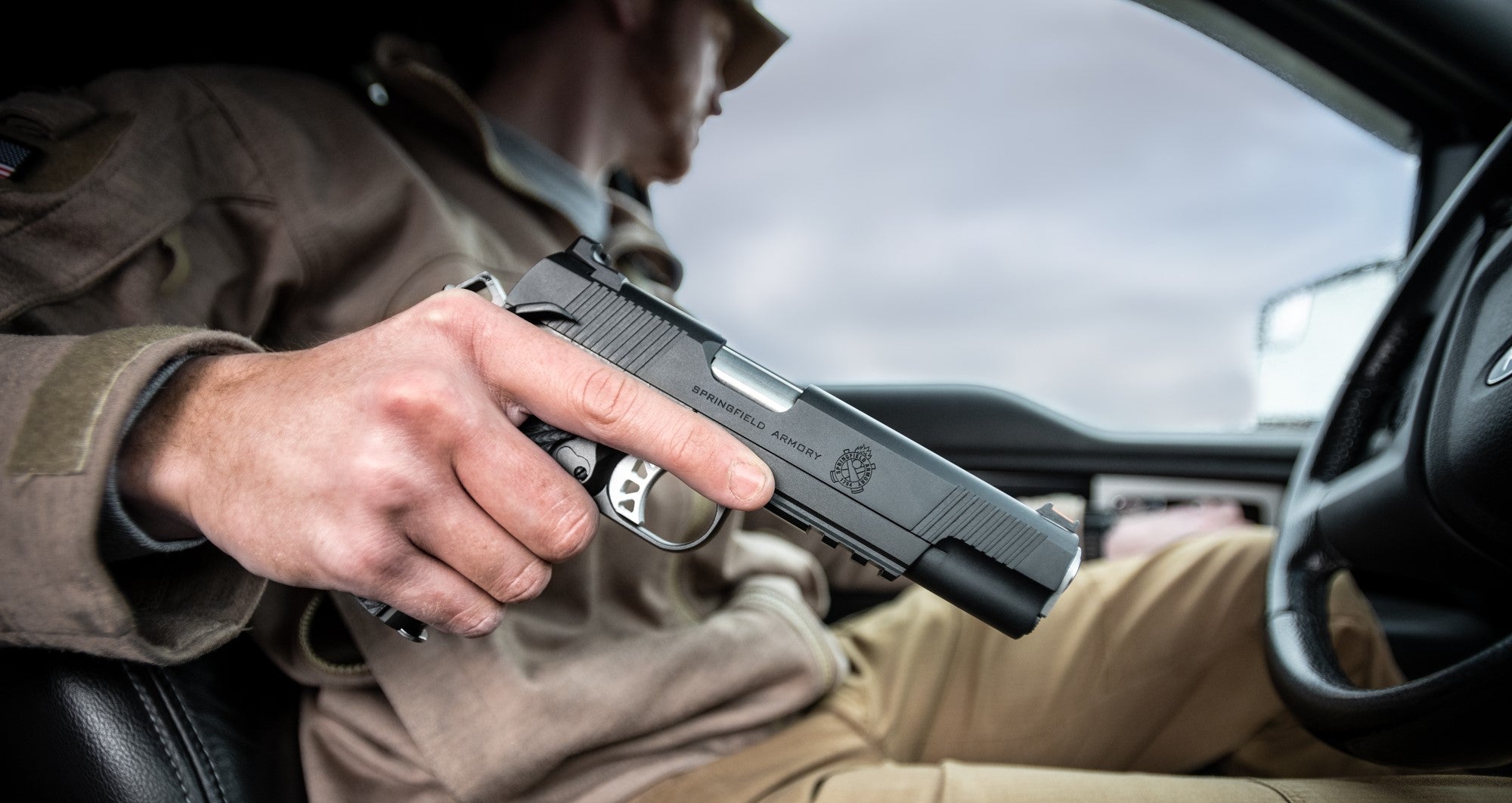 The MSRP for the RO Elite Operator is $1,145 which might be high to some consumers, but if you meticulously comb over all of the features, materials, and inherent quality in this pistol it begins to make more sense. To further sell this new 10mm addition to the Springfield Armory line-up of Range Officers, they offered this elated public statement for the new model:
GENESEO, ILL. (11/19/18) – The Springfield Armory RO® Elite series ups the ante in power with the introduction of its newest model in 10mm.

New for Fall 2018, the RO Elite features premium upgrades in the popular 10mm caliber for shooters interested in competition, hunting or personal defense use. It features a 5-inch match grade stainless steel barrel with a fully supported chamber and a forged steel frame and slide that are precision-fit for fluid-smooth function. Coated in Black-T®, this highly corrosion resistant self-lubricating treatment is built to withstand the most punishing conditions, and is the same treatment specified on Springfield Armory 1911s built for the FBI's SWAT and Hostage Rescue Teams. Equipped with an 18.5 lb. recoil spring, the RO Elite 10mm is well-balanced and soft shooting, taming the power of the hottest 10mm loads. A Picatinny rail allows operators to attach accessories, and slanted serrations on the front and the rear of the slide encourage easy manipulation of the slide.

The forged slide and frame, the heart and soul of Springfield Armory 1911s, sets this gun apart from competitors cast models on the market by surpassing them in both strength and durability. Early attempts in the firearms industry to make a 10mm pistol fell short due to these firearms inability to endure the abuse from the pressure of this cartridge. Springfield Armory engineers specifically designed the RO Elite 10mm to offer superior performance in the face of repeated recoil and have built an incredibly strong 1911 that will last lifetimes.
A tactical rack white-dot rear sight allows for single-handed operation of the slide should the need arise.  The fiber optic front sight provides quick and effortless target acquisition.

Springfield Armory's crisp Gen 2 trigger, ambidextrous thumb safety, and custom thin-line G-10 grips were designed specifically for the RO series and add premium features to the time tested 1911 platform.

The RO Elite 10mm – Springfield Armory craftsmanship, power and performance that dominates the competition.
So what do you guys and gals think? Are you ready to jump on the 10mm train with the RO Elite Operator and join the bandwagon? Or are you going to let this one pass on by and wait for another train to come into the station? .45 ACP? 9mm?… Let us know your thoughts in the Comments below! We always appreciate your feedback.