What is the best knife for a grab and go bag?  Right off the bat we start with a  misnomer by implying there is a best all around knife, which simply does not exist.  Rather than picking a knife which may be too bulky, or too small, let's examine various desirable knife features.
Keep in mind this is for a grab and go bag.  So let's start off by defining the context in which such a bag may be used.
A grab and go bag is a lightweight pack which contains various items for hunting, or a day hike.  In a previous article we talked about Six Items Every Backpack Should Have.  The list included stuff such as toilet paper, compass, cord, rain poncho… etc.
For the sake of this article let's talk about picking a knife for your grab and go bag.
Fixed blade
Years ago one of the selling points of a fixed blade knife was strength.  Not that good quality pocket knives had a habit of breaking.   Just having a fixed blade knife meant there was one less part that could possibly break.
A fixed blade also removes the possibility of the blade closing on the fingers.   A lot of young people learned the hard way on this topic.  Chances are when the pocket knife closed on your finger, there was a dad nearby who said something like, "I bet you won't do that again."  It became a learning experience, kind of like touching a hot stove.
We could also say a fixed blade is easier to use when the hands are covered in mud, sweat, water, or the blood of a game animal.
I am sure a lot of readers will say, "Just get an assisted opening knife."  Let's keep in mind those types of knives are not always legal.  Up until just a few years ago even the glorious state of Texas restricted assisted knives.  However, that law has been changed.
Size
Let's look for something compact enough to skin small game, but hefty enough to use around the camp.
Let's pick something with a knife blade around two – four inches long.  Some people may consider a two inch blade too small to do anything with, and that simply is not true.  Shorter blades are easier to skin small game than larger blades.
Using a long heavy blade to skin game typically results in sloppy cuts and wrist fatigue.  Because of that, let's pick a short and light knife blade.
Hollow handle
Perhaps we can justify a hollow handle to store small survival items in.  However, we sacrifice blade strength.  Hollow handle knives have a weak point where the blade attaches to the edge of the handle.  No amount of justification will overcome a design flaw.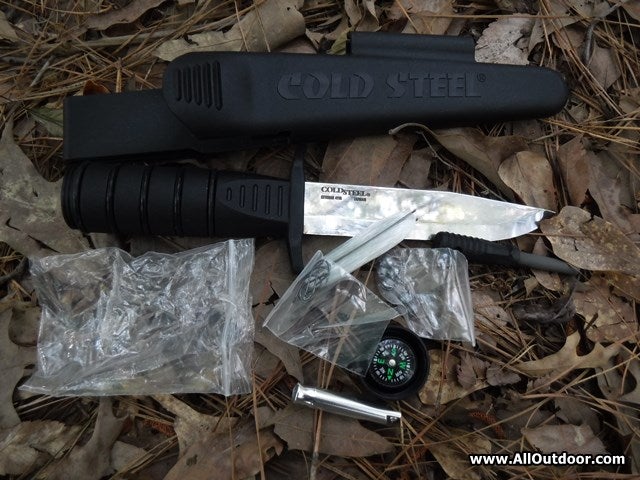 Knives are not pry bars, nor should they be used as one.  Because things happen, let's consider knives with at least a 3/4, or full tang.
It would be easy to go to Amazon, or Ebay, and buy the cheapest hollow handle survival knife they have.  Let's avoid doing that, please.
Final Thoughts
The good news there are dozens if not hundreds or knifes that meet our needs.  This is everything from the Rat-3 to the Morakniv 511 Basic.
Let's be honest, price is a factor.  If someone is outfitting several packs with basic gear, they probably do not want to spend $100 for a single knife.
The reader may be wondering what knife I am outfitting my brag and go packs with.  There are two knives I am using for my basic load out:
Morakniv 511 Basic
Morakniv Robust
Morakniv Craftline 746
The 511 and Robust have a carbon blade, while the Craftline 746 has a stainless blade. The knives cost anywhere from $10 – $20 each. For example, I recently found two Morakniv 511 Basic knives on sale for $16. $8 for a pack knife with the reputation of Morakniv is difficult to beat.