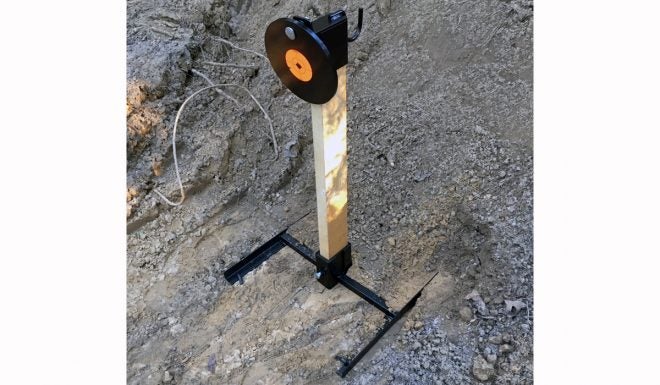 I've reviewed several targets in the past, and when I got the chance to try out some steel target products from Birchwood Casey (BC), I gladly accepted. They have a cool setup that allows you to use a 2×4 board to support a steel target. Sounds good, right? So let's see how well it works in the real world.
The Products
I found myself with a total of four items, consisting of three different BC products:
It's a nice setup that works well together.
Birchwood Casey 2×4 Steel Target Stand
The steel target stand retails for $49.99, and is made in China. It consists of two steel assemblies, one bolt, and two steel stakes. When you unbox it, you'll find the two assemblies nested together to save space, held together by the bolt. The two stakes were wrapped together.
Nested steel target stand for hanging steel target gongs
Requires no tools to assemble
Parts nest into each other for storage and portability
Requires one 2″ x 4″ board (not included)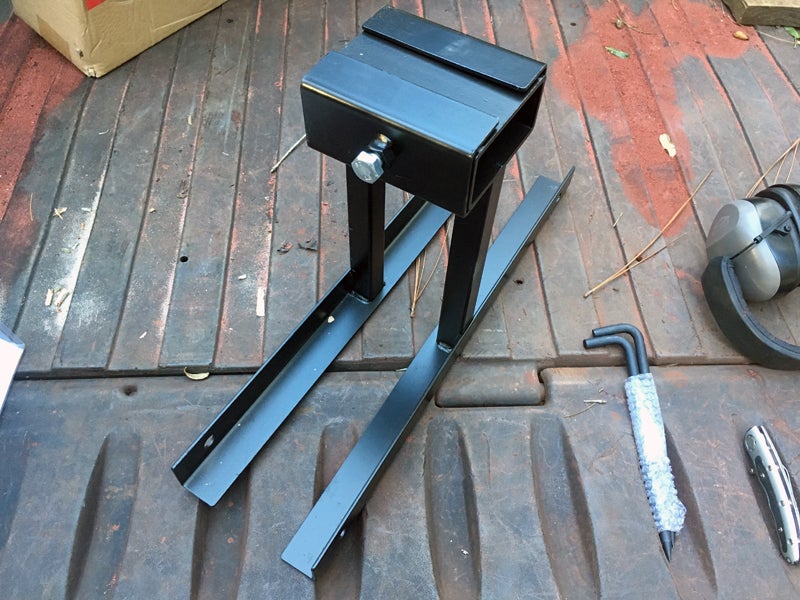 The two parts of the stand look like this.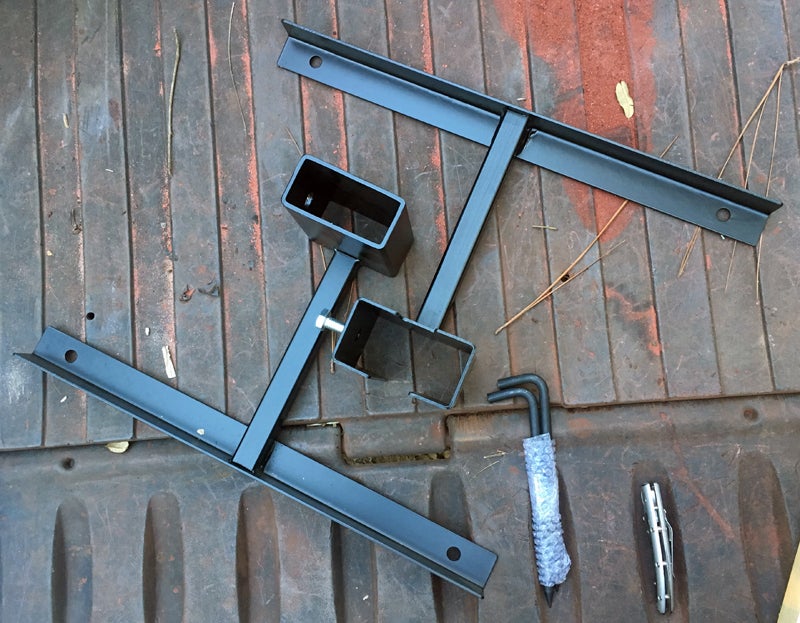 I usually have a few 2x4s lying around. After slipping the two parts of the stand together, I added the board and tightened the bolt by hand.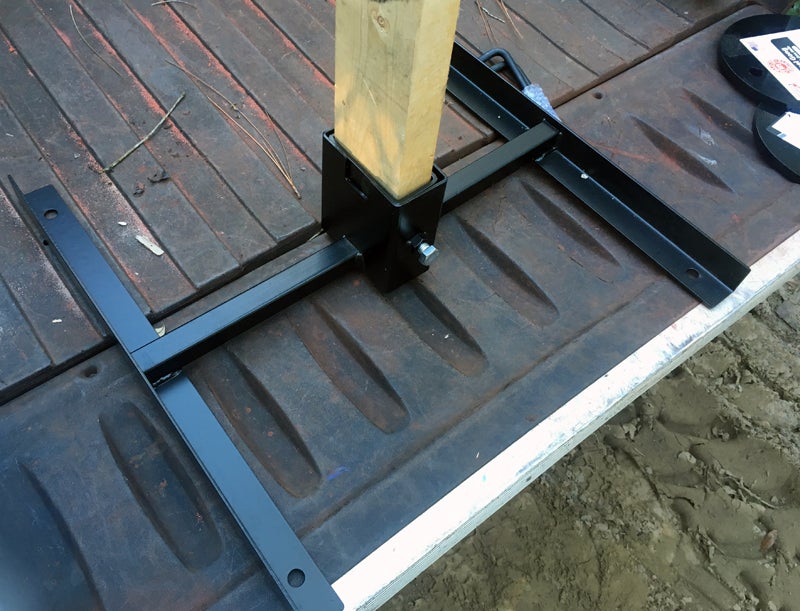 The bolt holds the two halves of the stand together and also acts as a set screw against the 2×4. There are holes in the bottom of the stand for the stakes.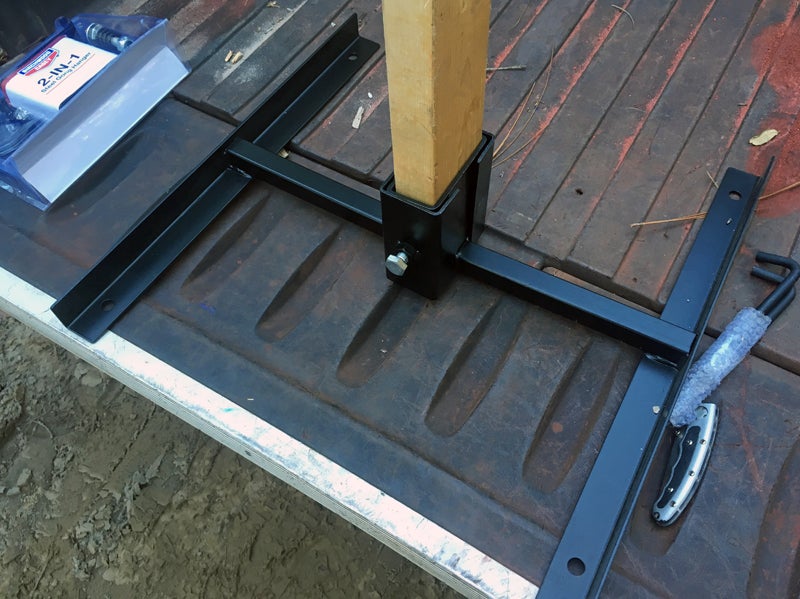 The base is partially buried because of the way the dirt backstop is sloped. I used the stakes in the front to keep it from tipping back when hit.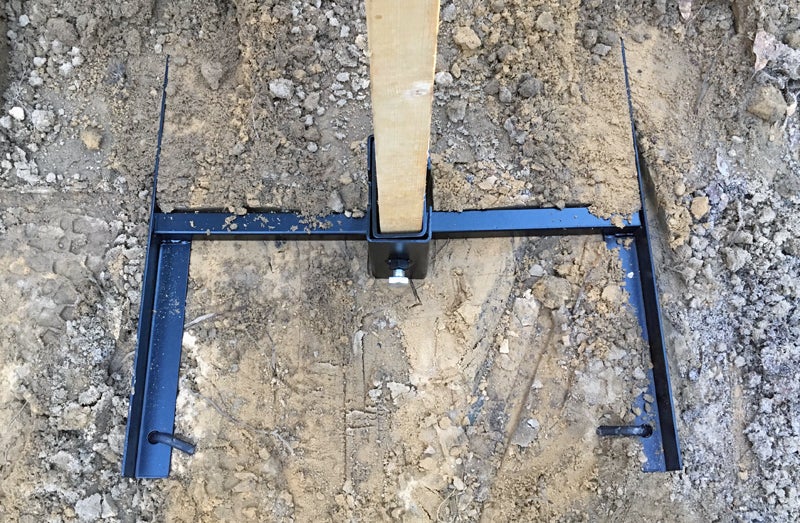 The stand works well and I had no trouble with the base moving around.
Birchwood Casey 2-in-1 Steel Gong Hanger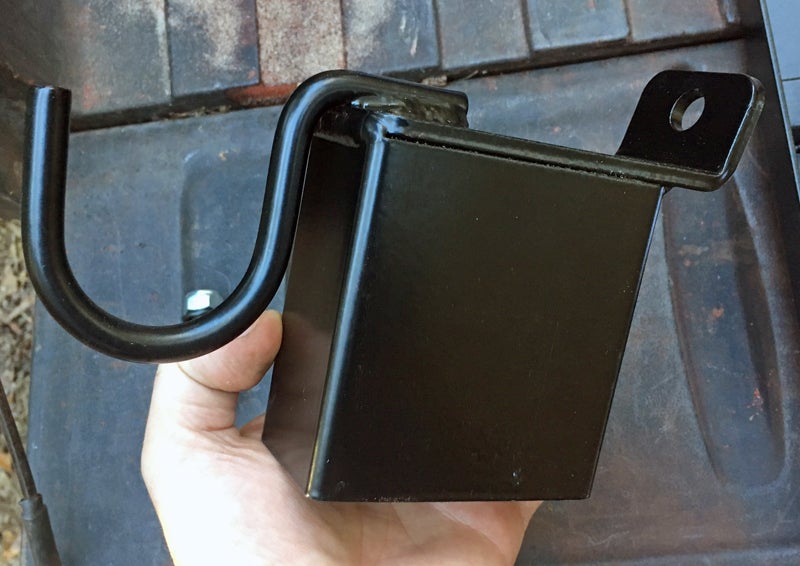 The steel gong hanger is a simple affair. Basically a short piece of rectangular steel tubing that's sized to slip over a wood 2×4. MSRP is $19.99.
Universal 2-in-1 gong hanger
Fits on standard 2 x 4 lumber (not included)
Hardened steel hook
Heavy duty powder coated finish
Includes spring with bolt & nut
Large hook to hang a steel gong
Other side can mount a steel gong with the included spring and bolt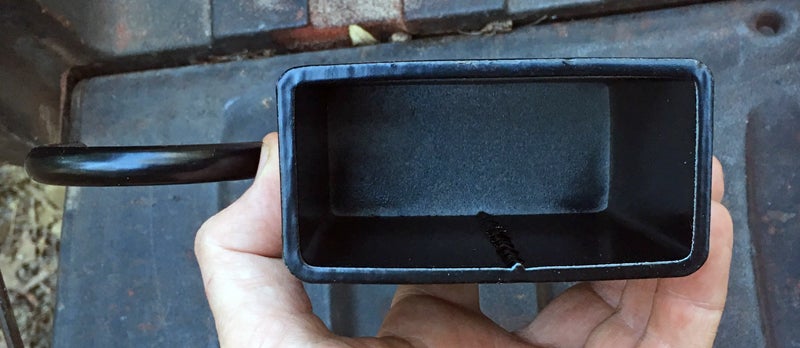 Gravity holds it onto the 2×4… no screws or bolts are necessary. One side has a steel rod bent as a hook, and the other side has an angled steel tab to use with the included bolt, nut, and spring.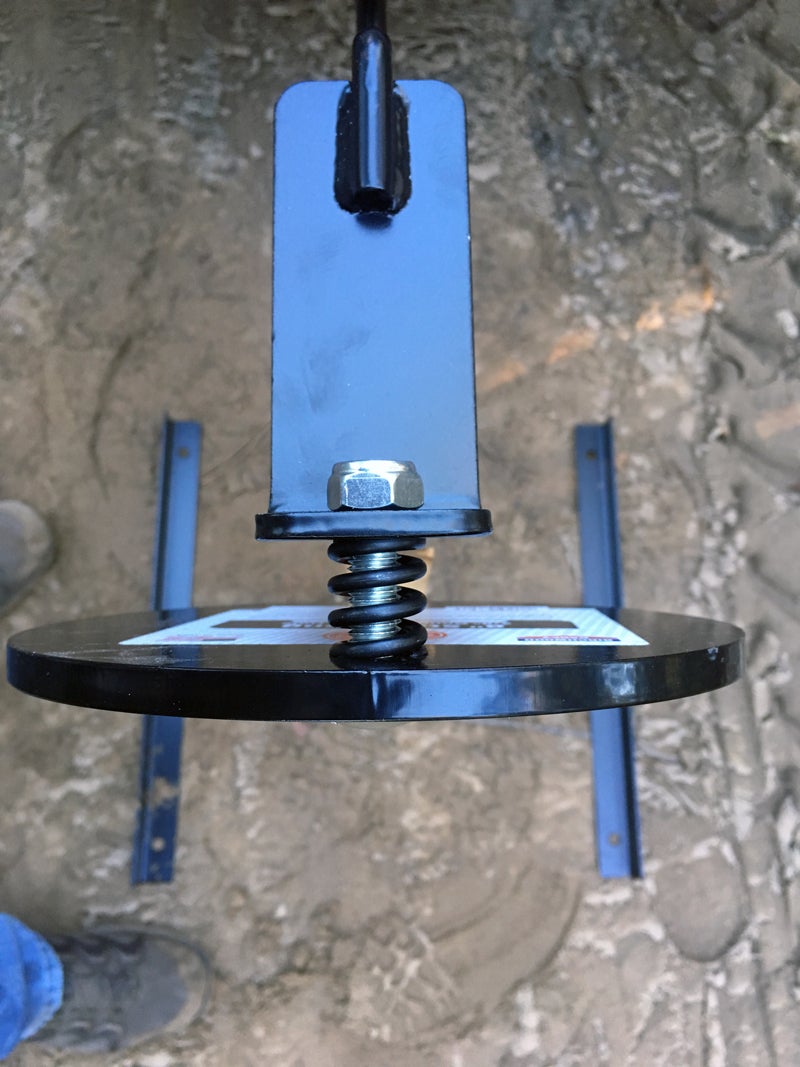 I prefer the bolt & spring setup, because it allows the gong to have some "give" so it can move when it's hit by a bullet, but it maintains the steel target at a slight angle, to deflect bullet splatter downward — never towards the shooter.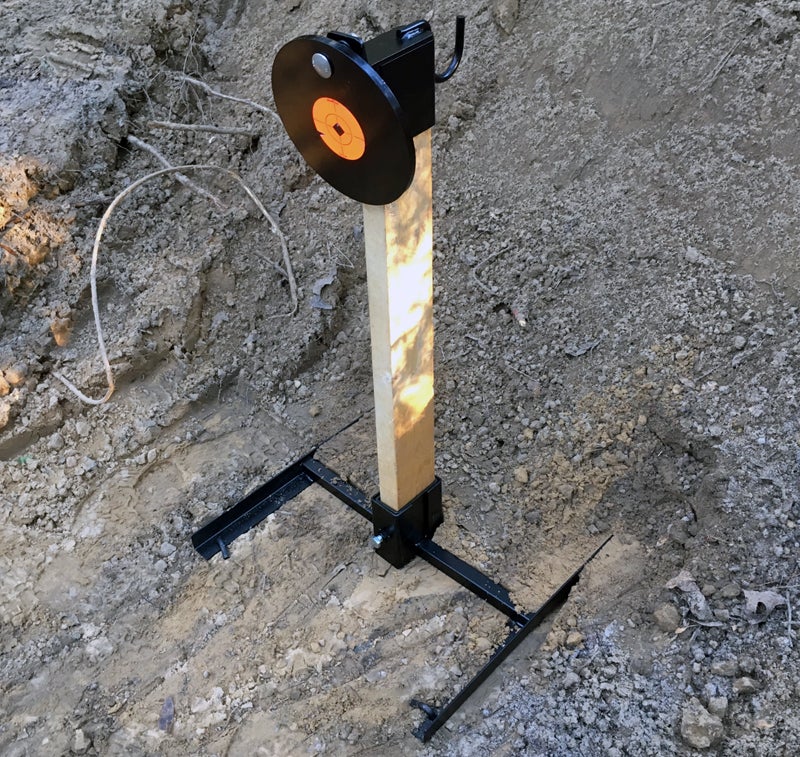 The hook is way easy to use, but I'm not sure why it's included. Why not just the bolt? It's not like you can use both gongs at the same time, and both setups provide similar audible feedback when they're hit.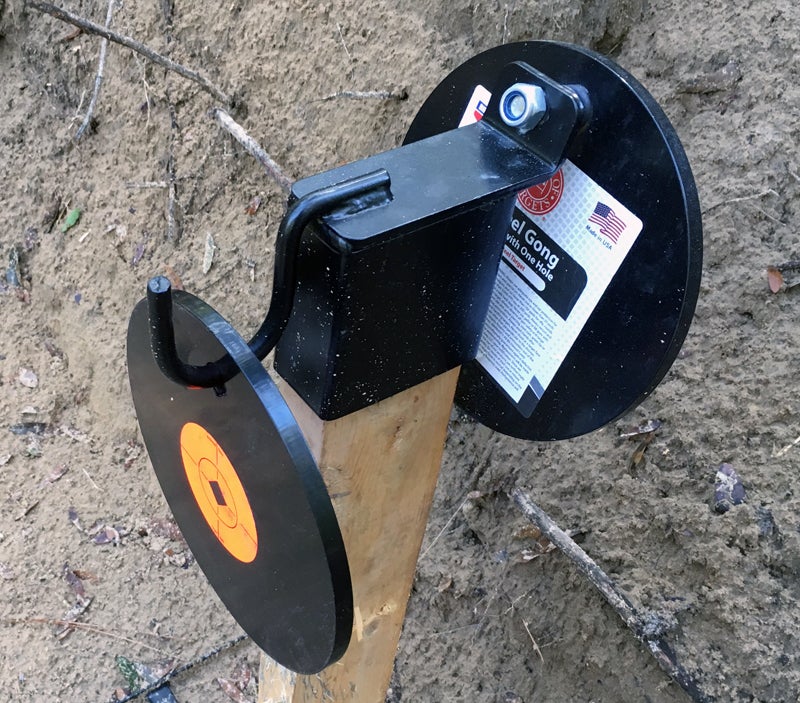 The black powder coating stands up well.
Birchwood Casey World of Targets 8″ Round 3/8″ AR500 Steel Gong
What can I say about the steel gongs? They are round, steel, and hard. Oh, and they're made in the USA! MRSP is $29.99.
3/8 inch AR500 steel target
8 inch diameter
Includes 3 inch target spot®
Centerfire rifle and handgun compatible
Made in USA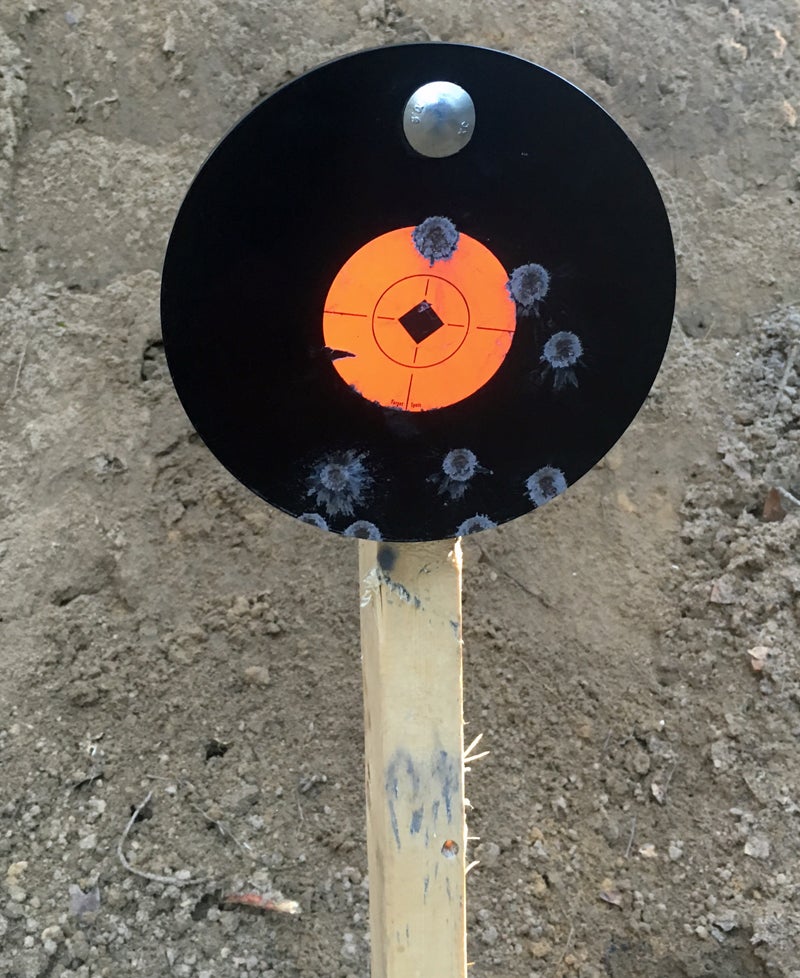 One side has a product label sticker, and the other side has an orange bullseye target sticker.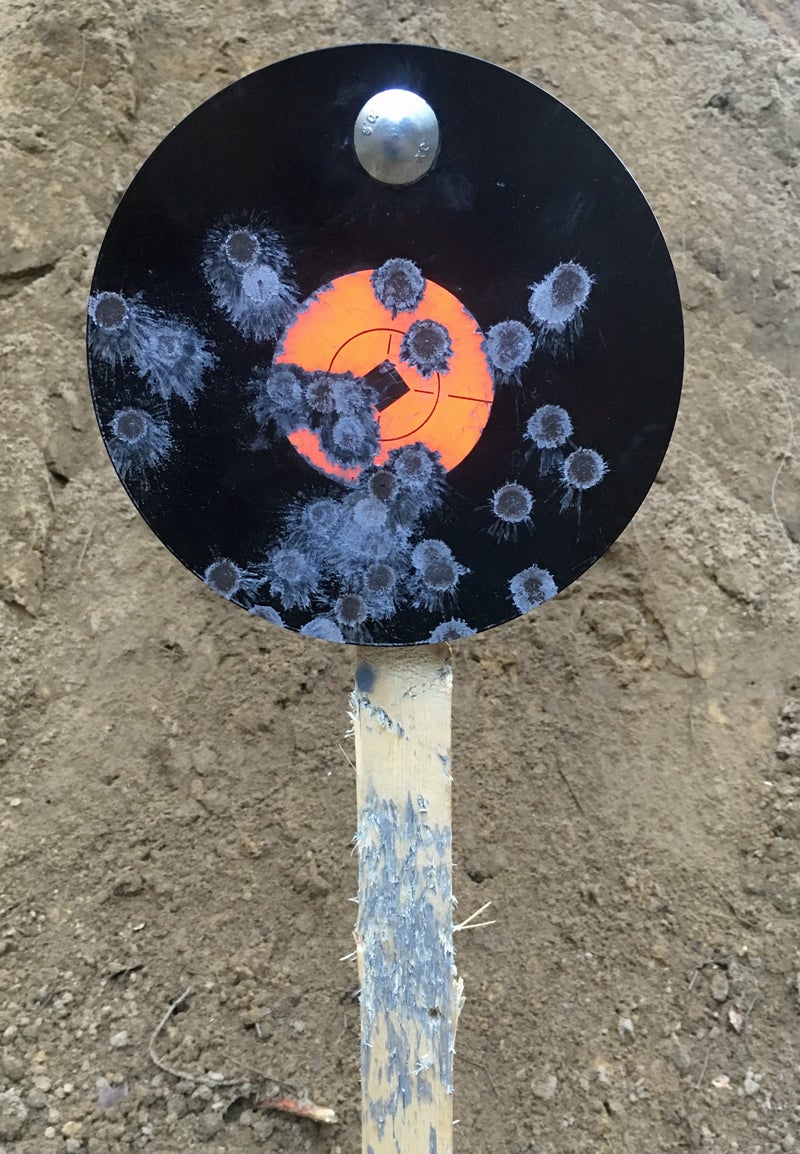 They stood up just fine to 22 LR, 9mm Luger, and 45 ACP ammo. As you can see, a fair bit of the lead splatter hit the front of the 2×4. This is not a problem.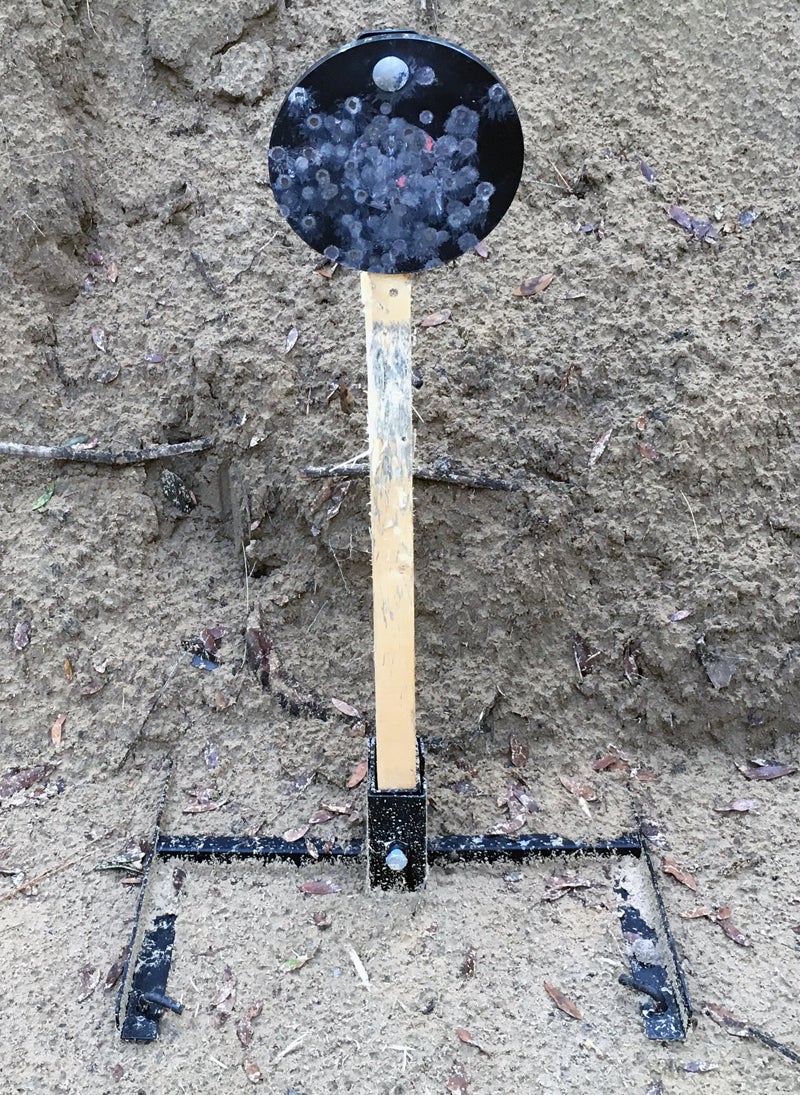 Wood 2x4s are easy to get and are fairly cheap — and they won't deflect a bullet back to the shooter when he misses the gong.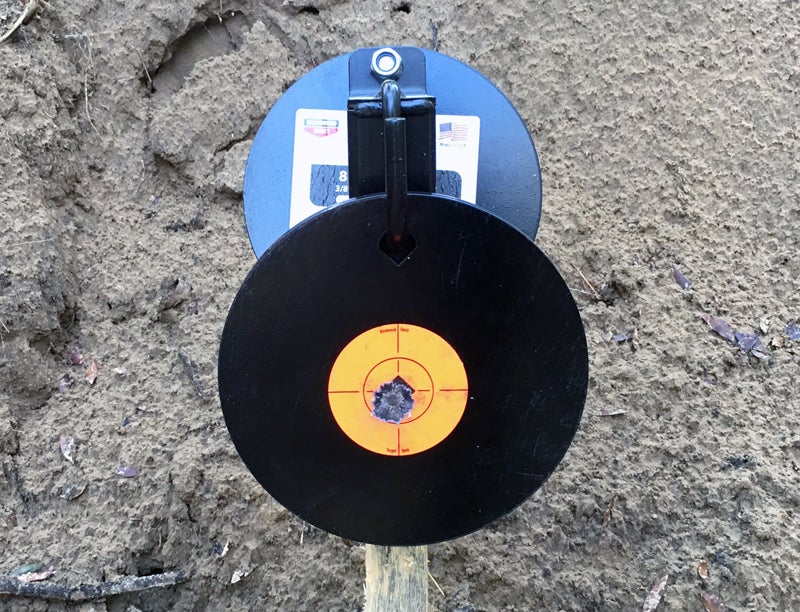 The bullseye stickers provide a nice aiming point in the center of the gong.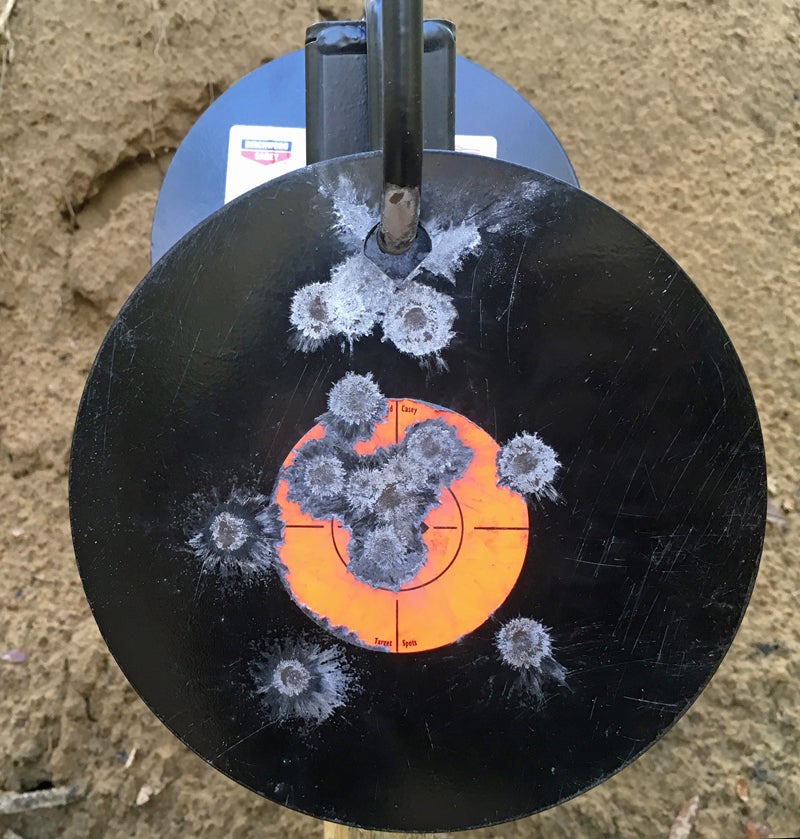 Of course, the bullseyes will wear off. To refresh, slap on a new sticker or apply a small spot of spray paint.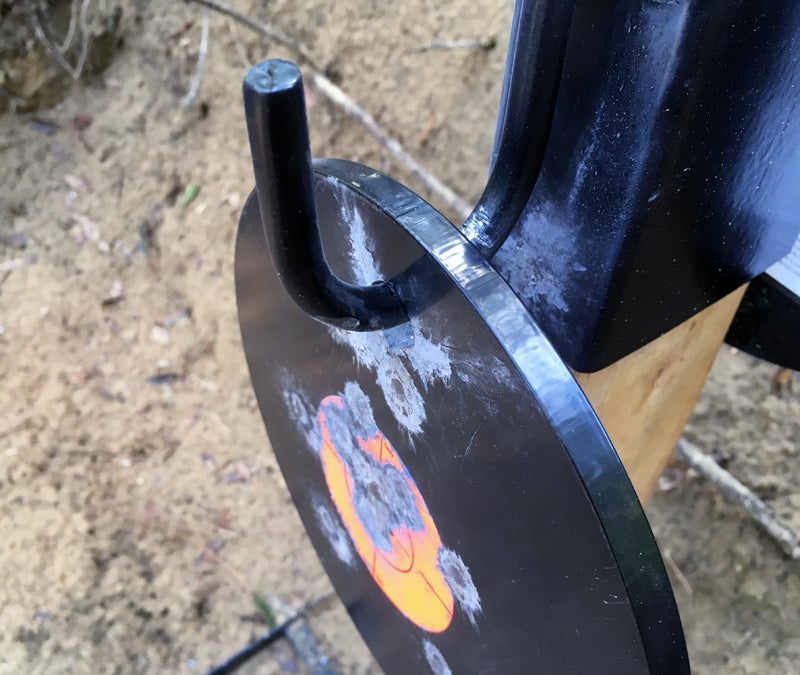 These steel gong targets will probably last the average shooter for a lifetime if they're not abused (by firing the wrong ammo at them, for example).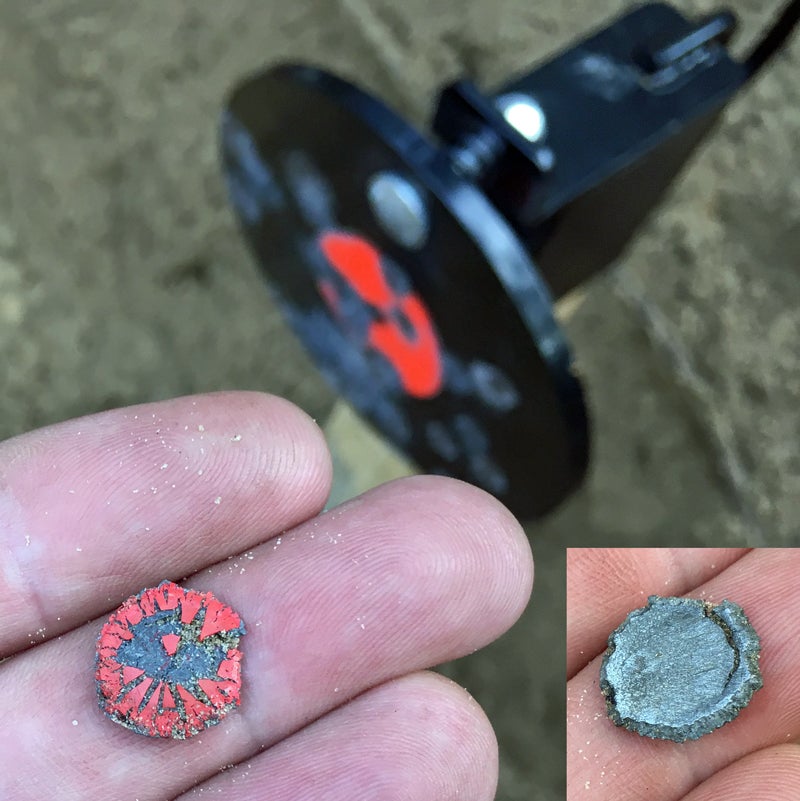 Putting The Target to Work
Assembly of these components was fast and easy, and I didn't even have to cut a 2×4 for the job because I had a leftover scrap just the right length. There's something to be said for being a packrat!
I was pinging steel in no time. Well, sort of. The steel gongs specifically instruct you not to shoot handguns closer than 25 yards, and at the time I was testing a Springfield Armory XD-S Mod.2 3.3 9mm pistol, and hitting within 8 inches offhand with that little rascal took some practice. I confess I moved closer and did most of my shooting at 15 yards — knowing that I did so at my own risk. I had no problems.
Most of my shooting was at the spring-mounted gong. I prefer that because it directs the bullet splatter downward, never towards the shooter. When I fired at a gong hanging on the hook, at first I thought the audible 'clang' of the steel was a bit louder — but then I turned the target hanger around (super fast and easy to do) and in the end both sounded about the same to me.
We used 9mm, 22 LR, and 45 ACP ammo on this target with no trouble whatsoever. Having instant feedback to let me know of a hit is pretty great, and I'll probably do most of my handgun practicing on steel from now on.
I'd like to thank Federal Ammunition for providing a variety of 9mm ammo to use in testing the Springfield pistol and this target. Check out the pistol review for more info on the ammunition.
Rifles Are Okay Too
The steel gong is rated for rifle ammo, but specifies a minimum range of 100 yards for all rifle ammo — and a whopping 200 yards if it has a muzzle velocity exceeding 1,000 FPS (which most rifles do). I did not test it with rifle ammo.
Conclusion
This steel target setup is hard to beat. It's easy to break down for transport and just as easy to set up. When the 2×4 gets shot up, chuck it in the fire pit and replace it. That only requires you to loosen one bolt.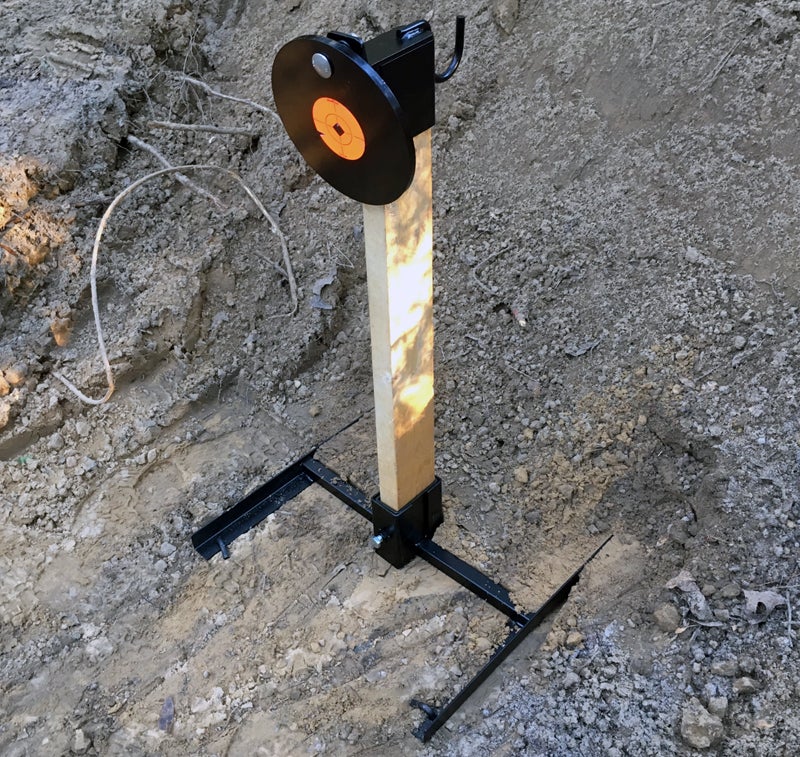 I highly recommend this Birchwood Casey steel target setup. About the only thing I'd like to see would be to include the gong hanger with the stand as a combo that would likely bring the price down a little. As it is, the nested stand, gong hanger, and one gong will run you about $100. That might sound steep for one target, but it's a well-made target that should last for years, if not decades.
I can definitely say this is now my go-to handgun target. And what's better than investing in precious metal… such as lead bullets and quality steel targets?