Review of Avian-X Rundown Sling Pack Turkey Hunting Pack
Russ Chastain 05.21.19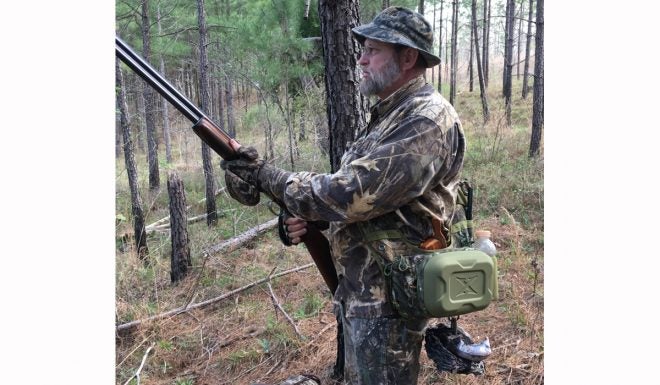 When I started turkey hunting all those years ago, I didn't take much with me. A shotgun, an old box call, and some ammo. Maybe a folding stool. But as time went on, my list of turkey hunting "essentials" just kept growing. I began wearing a camo bird hunting vest loaded with gear, later graduating to a full-blown Primos turkey vest that weighed in at more than 10 pounds when fully loaded. This too was not ideal.
So when I learned about the Rundown Sling Pack from Avian-X, I knew I wanted to give it a try. It's a satchel with a simple strap that allows you to quickly put it on or take it off, and can be carried wherever you feel it's most comfortable — on the side, around back, or whatever.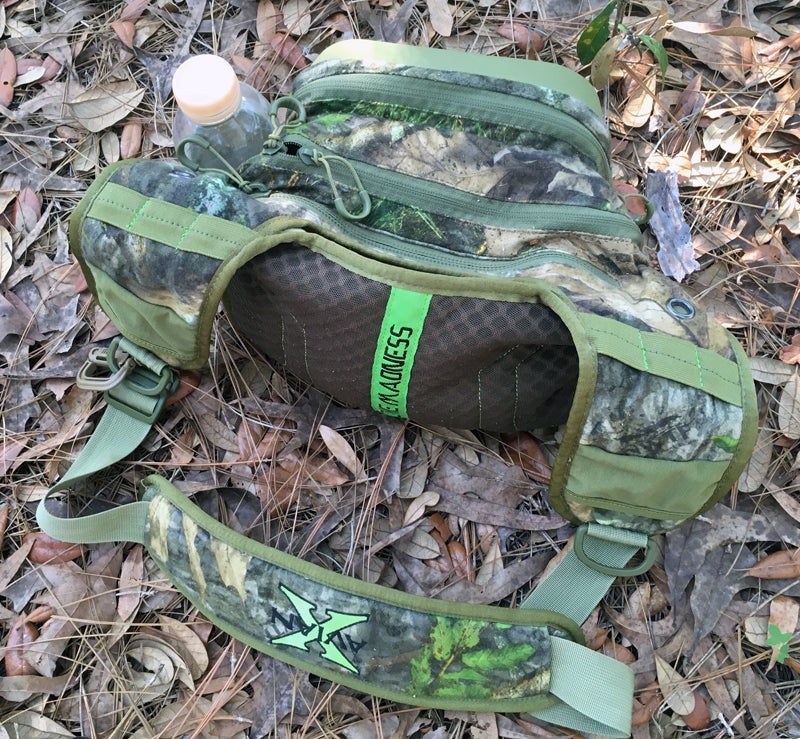 Manufacturer Specs
Highly mobile turkey pack for running and gunning
Specially-sized pockets for all turkey call styles
EVA molded front pocket folds down into shelf
Breathable fabric keeps loads light and cool during hot hunts
Detachable elastic box call holder
Fleece-lined pocket for cell phone and other electronics
Multiple D-rings to attach additional gear
Easily slides from side to front for quick access
Comfortable, ergonomic fit
Adjustable padded shoulder strap
3 large zippered main compartments
6 external striker slip pockets
2 external diaphragm slip pockets
1 external water bottle pocket
1 external electronics pocket
4 internal pot call slip pockets
2 internal zippered accessory pockets
3 internal striker bands
2 internal diaphragm slip pockets
Mossy Oak® Obsession camouflage
MSRP: $99.99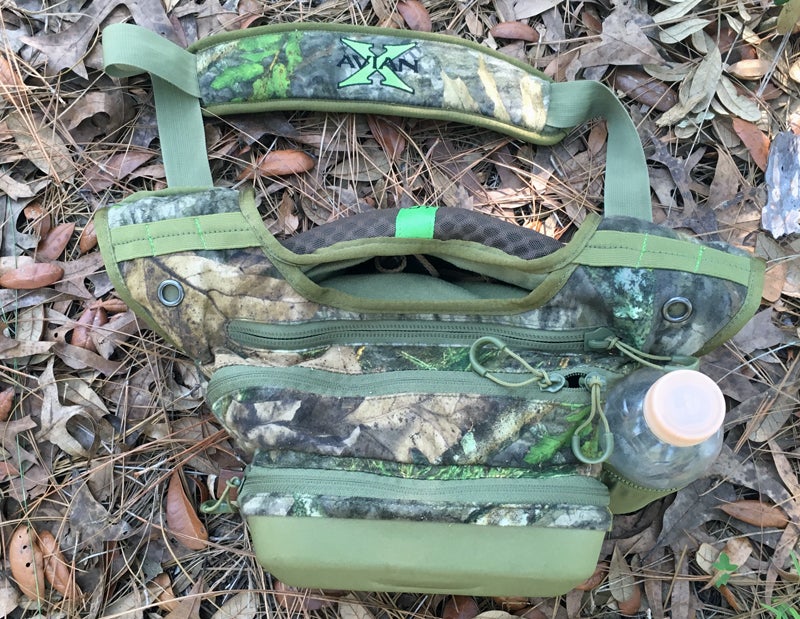 See those two metal grommets at the base of each strap? The hang tag calls those "striker conditioning pads," but there's nothing in there to condition your striker, just green water-resistant fabric. Perhaps you're supposed to put your own material in there to quickly rough up your strikers? The world may never know.
Starting Off
I've got to admit, it was tough at first to give up my huge, heavy, unwieldy turkey vest. I'm a guy who likes stuff, and I like to have what I need when I need it. It's tough for me to pare down the load in my deer hunting pack, and turkey hunting is much the same. So after a few days of toting a full load in the vest to reacquaint myself with it, I whittled down my gear to the stuff I figured was the most essential and headed to the woods with the Avian-X Rundown Sling Pack.
I immediately enjoyed carrying less weight around. My turkey vest is crazy heavy, weighing 5.5 pounds empty! This sling pack weighs less than 5 pounds loaded — and I mean loaded.
What wasn't so great was the uneven distribution of weight on my shoulders. I was toting the pack, a folding seat, and a large camo cushion in addition to my shotgun. It was tough trying to find a way to hang the three peripherals from my body without feeling uneven. Or worse, some of the gear wanting to swing around in front when I wanted it in the back. But of them all, the Rundown pack was the best-behaved and did the best job of staying where I wanted it.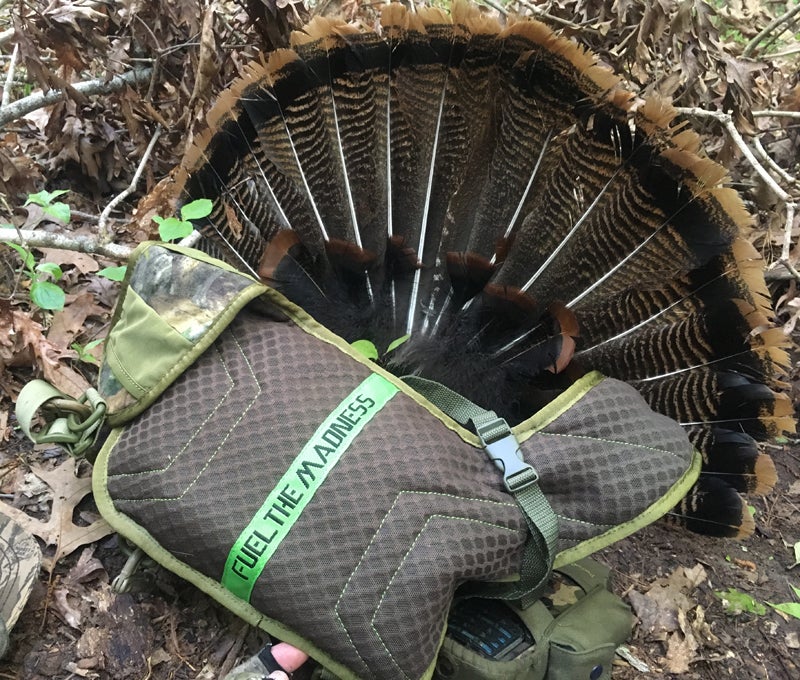 The padded cushion on the shoulder strap is nice and wide, and can move on the strap. The strap itself is 1.5″ wide, so it's no narrow shoulder-cutter. My only complaint about the strap is that it needs to be a few inches longer. I made the strap as long as I could and it was JUST long enough to hang the pack diagonally across my body, and it was sometimes an aggravation to get my head and one arm through the strap so I could hang it that way, which is the most secure and comfortable method of carry. Another six to eight inches of strap length would surely be welcome.
The Load
Speaking of field use, just how much can you realistically carry in the Rundown? Quite a bit, actually. Here's a photo of the gear that was in my Rundown at the end of turkey season.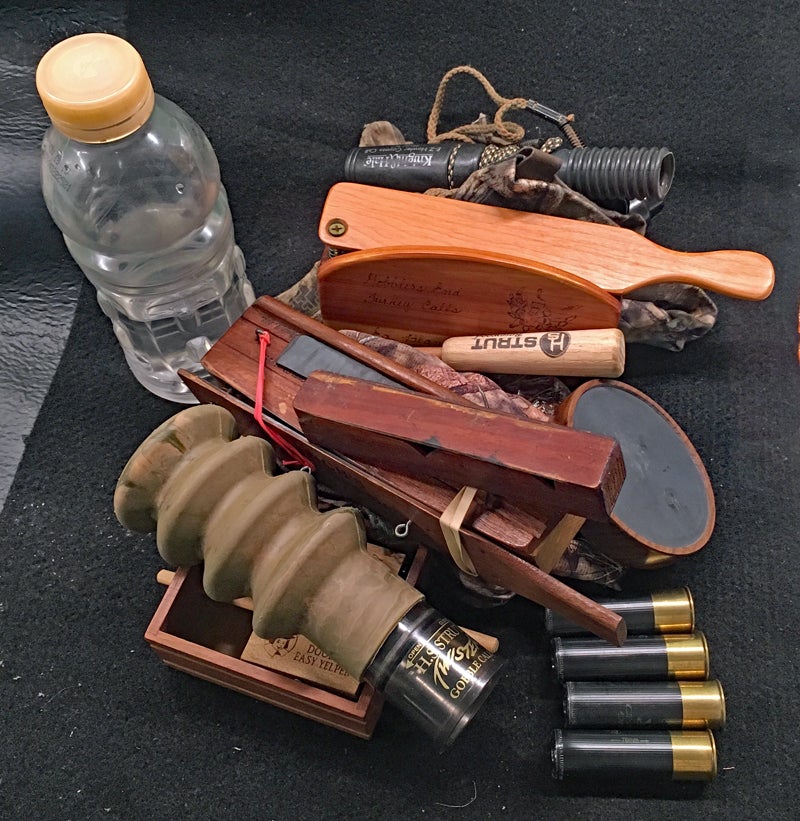 Contents include:
Water bottle
Camo gloves
Owl call
Crow call
Coyote howler
Gobbler's End box call
Slate call & striker
Elastic camo arm covers/sleeves
Camo mask
Spare shotgun shells
Push-pull box call
Shaker-type gobble call
Lynch box call with extra rubber bands & chalk
Old homemade family heirloom box call & striker
Mangled oatmeal creme pie
I didn't use all of this stuff on every hunt, but I like having it all with me — and I used all of it at some point during the season. Except the oatmeal pie…
The Pockets
It's often the pockets that make or break a pack, so let's take a look at what's inside the Avian-X Rundown. The first pocket is the molded one that can double as a shelf when opened. I prefer this pocket for my old Lynch box call, because it provides a bit of hard-shell protection. The downside? The tip of the handle has to poke out because it doesn't quite fit.
The exterior zipper is dual-pull, so it can be opened or closed from either direction, and it extends along the top and both sides to allow the EVA-molded portion to fold out as a supported shelf of sorts. Inside the molded pocket are a pair of elastic-top mesh pockets and behind those, a pair of zipper-top mesh pockets.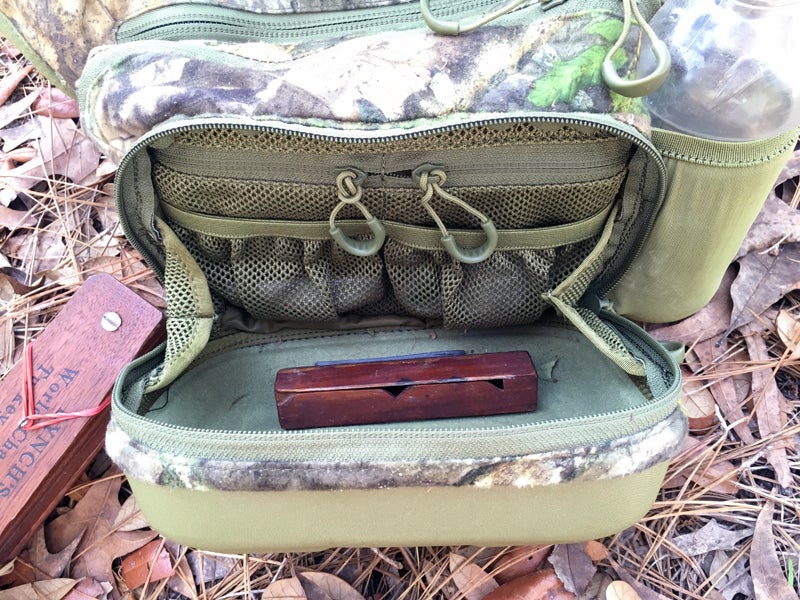 The next pocket has a top zipper with dual pulls. Inside on the front are two elastic-top mesh pockets. Inside on the rear are two narrow elastic-top mesh pockets perfect for holding two shotgun shells apiece, and between those a trio of elastic bands for storing strikers. This is the roomiest pocket of them all.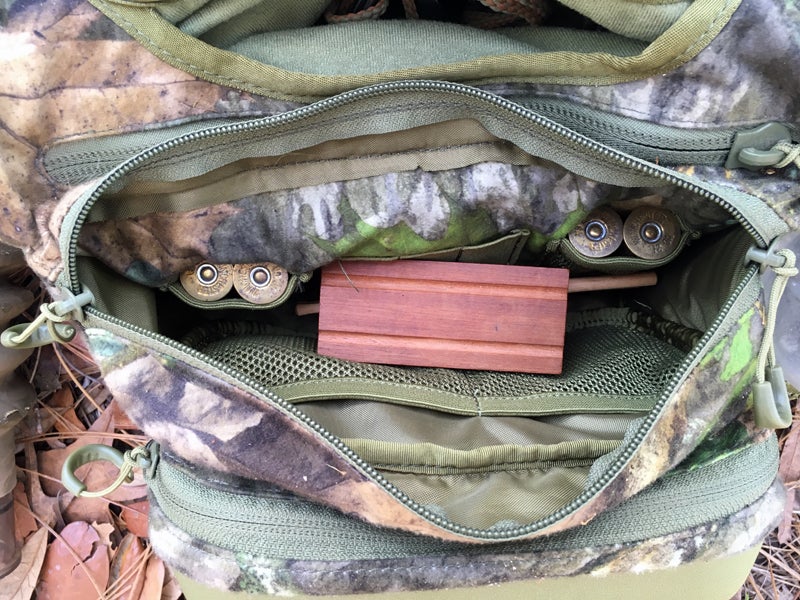 The third pocket on the Rundown has a single zipper pull and no interior pockets. It's lined with a slick green fabric that looks easy to clean.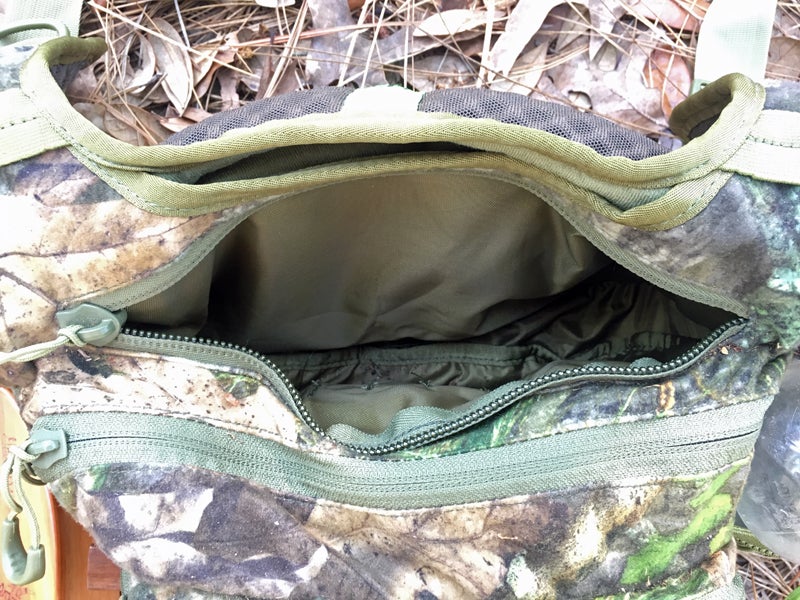 Pocket 4 is a simple open-top pocket that's roomier than it appears. This is the fleece-lined pocket suitable for electronics and it has no interior pockets or dividers.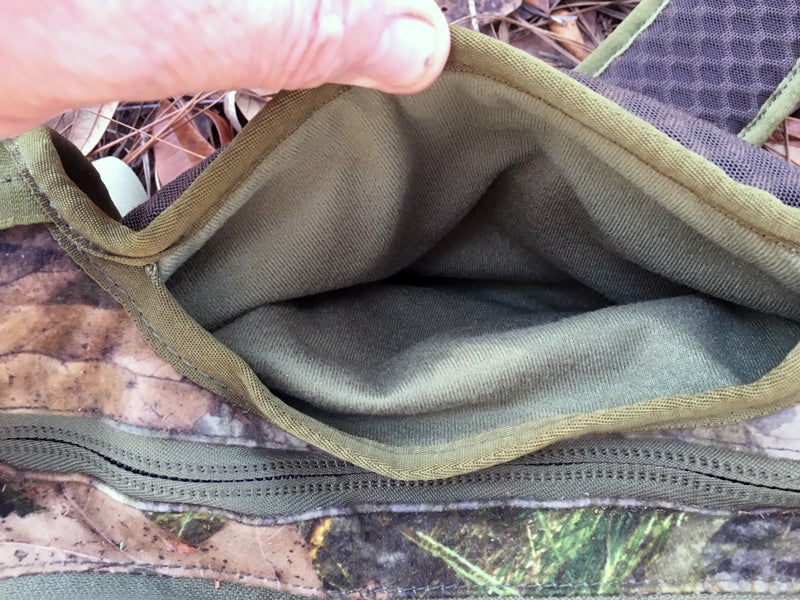 Each strap has an elastic-top mesh pocket meant for mouth calls, plus three striker pockets. While the striker holders will probably work pretty well, I don't recommend storing anything you care about in these small mesh pockets… that's how I lost my only mouth call.
There's a plastic D-ring on each strap… I added the brown clip you see in the photo.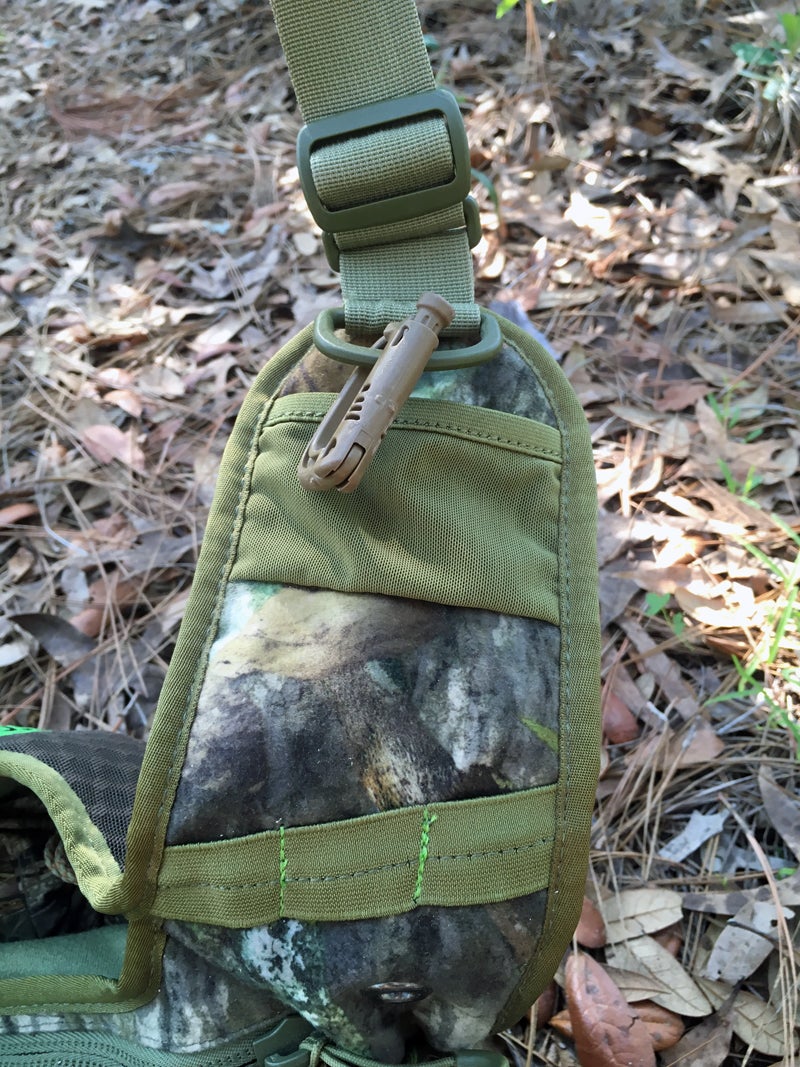 The Rundown's water bottle holder is an elastic mesh pocket that's crazy tight. It's a chore to cram this plastic bottle into it… imagine shoving an elephant's leg into some heavy-duty pantyhose. For this reason, you do not want to use a flimsy water bottle… but you probably won't ever lose a bottle out of this thing because it's so tight.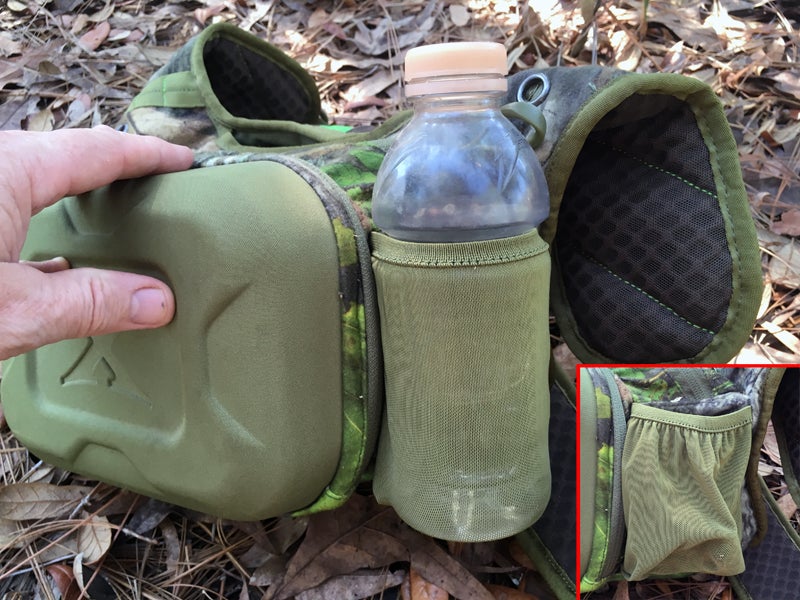 Other Features
On the bottom of the pack are a pair of plastic D-rings. I added a couple locking plastic clips so I could hang stuff from the pack… decoys or whatever.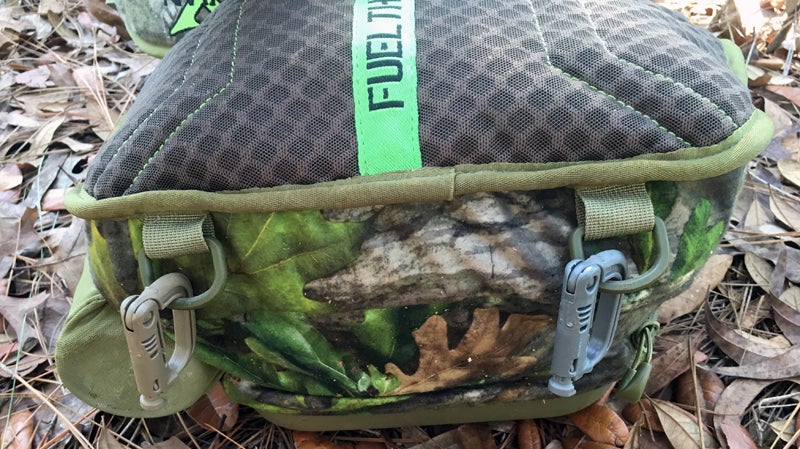 The Rundown comes with a detachable box call sleeve, which frankly seems like an afterthought. Who wants their box call flopping around outside their pack while hiking? It also offers little protection to your calls, so I would never use anything other than a very rugged call like the HS Strut Undertaker box call in the photo below.
Like the bottle holder, it was really tight… which is good for keeping a box call quiet during hikes, but not so great when you need to get your call out in a hurry. I gave it a fair shake and carried it early on but in the end I left this thing at camp and didn't miss it. In fact, I'd forgotten it existed until I sat down to write this review.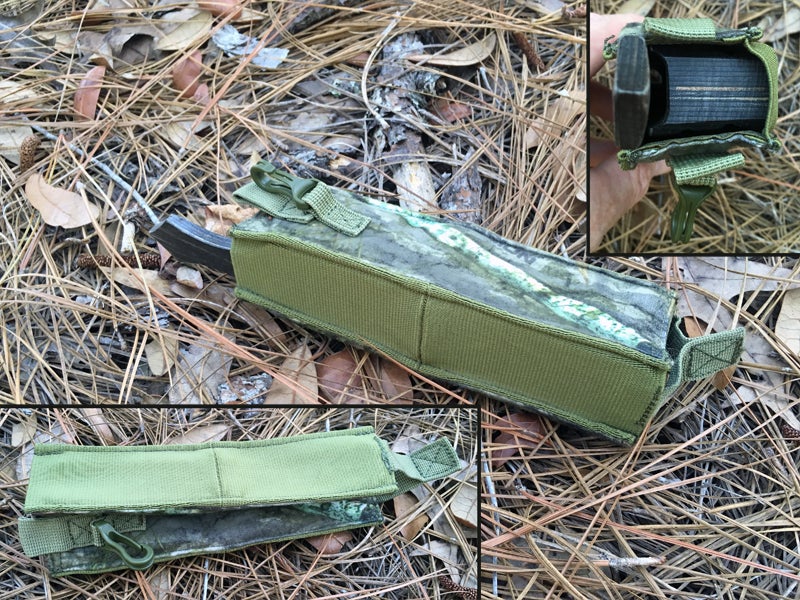 I Will Keep Using the Rundown
Although it took a little getting used to and at times I missed the even weight distribution of a vest, I came to love hunting gobblers with the Rundown and as I'm a creature of habit, I usually deployed my stuff in roughly the same way… with the pack lying on the ground nearby with pockets open and calls easy to grab… but also easy to quickly close up again should it start raining.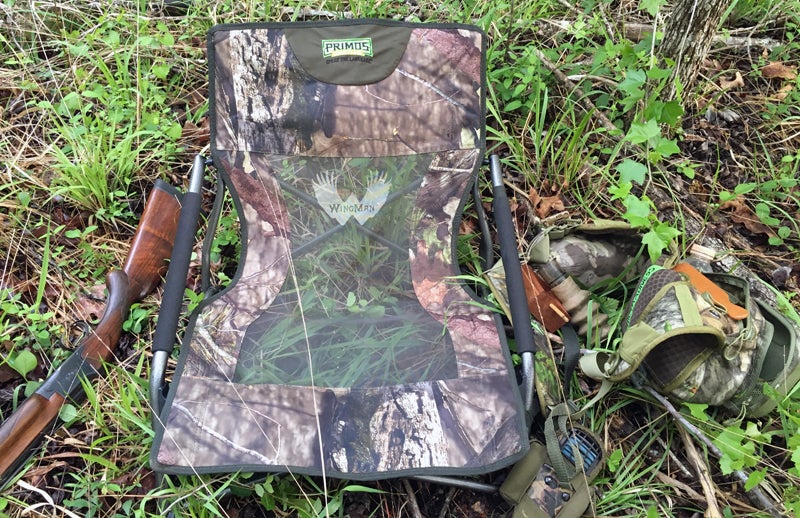 The Avian-X Rundown is well-made and tough, and after hard use shows no signs of giving out or tearing. All stitching remains intact, without any frazzled threads hanging here & there. It has become part of my "permanent" turkey hunting gear… and I put that in quotes because we all know nothing is 100% permanent except maybe the gun we choose to use.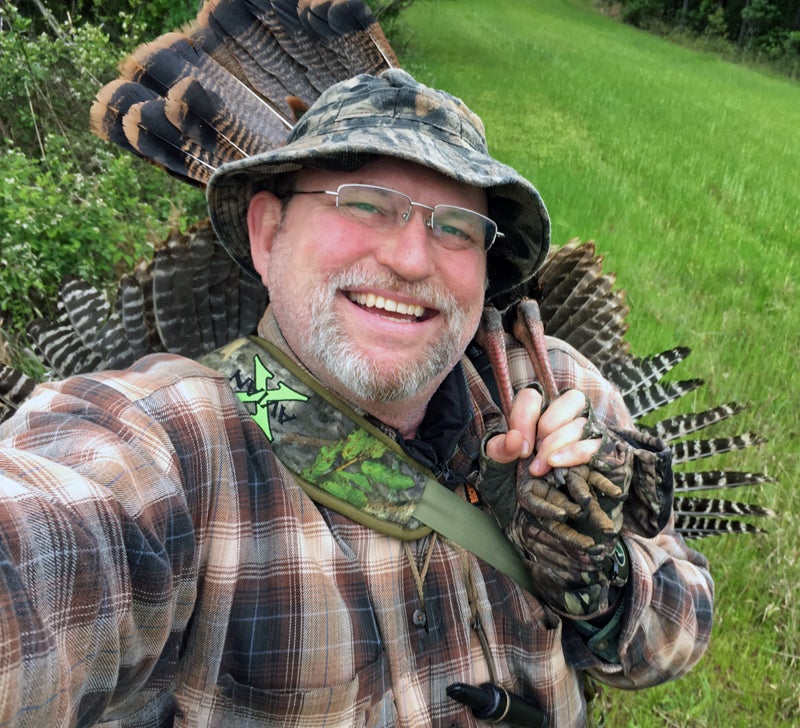 I didn't aim to take a photo that seems to wholeheartedly endorse the Avian-X Rundown Sling Pack… it just worked out that way.
I'm publishing the photo here because I do (endorse it).
At the time I'm writing this you can order a Rundown Sling Pack for a little more than $83 shipped. Chances are, you will not regret it if you do.