October 2019 Dunstan Chestnut Food Plot Trees
Russ Chastain 10.23.19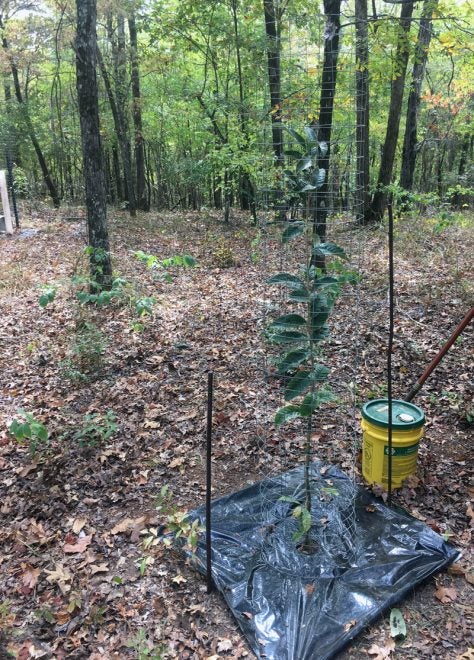 When I checked on my Chestnut trees in September, I gave them protection in the form of wire cages and weed barriers on the ground, and finagled a way to set water buckets out to water them slowly.
Because two of my four trees had died of thirst and one of the survivors was pretty sad-looking, I'd stopped by Chestnut Hill Outdoors on my way home and picked up a couple new trees as replacements. Happily, these trees were already taller than I am when I picked them up. After a few weeks at home, they went to deer camp with me for a muzzleloader hunt.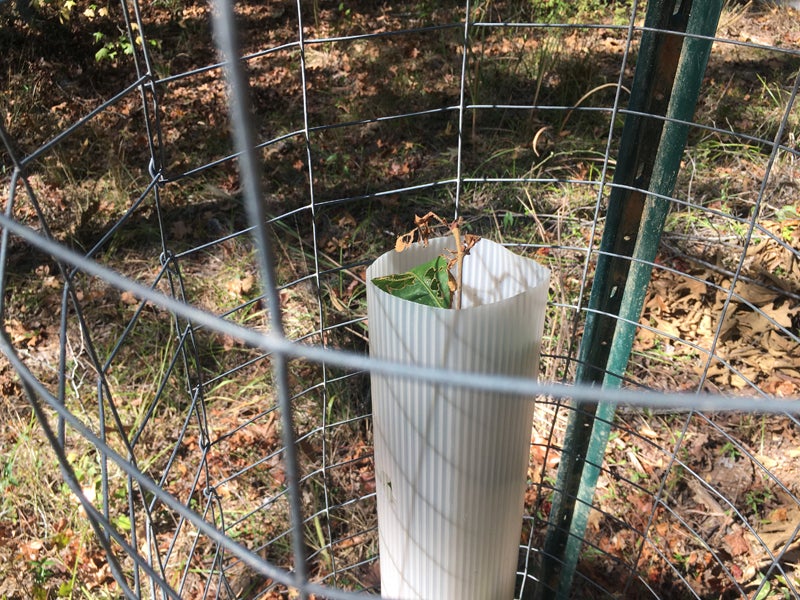 Tree 3, the one that was almost leafless after the long hot summer, looks about the same. But tree 2 (photo above) has lost some ground, with something apparently having eaten the leaves that ventured to poke up out of the grow tube.
It had been a dry couple of weeks, but I got some water on the old trees and a few days later I was able to get the new ones in the ground.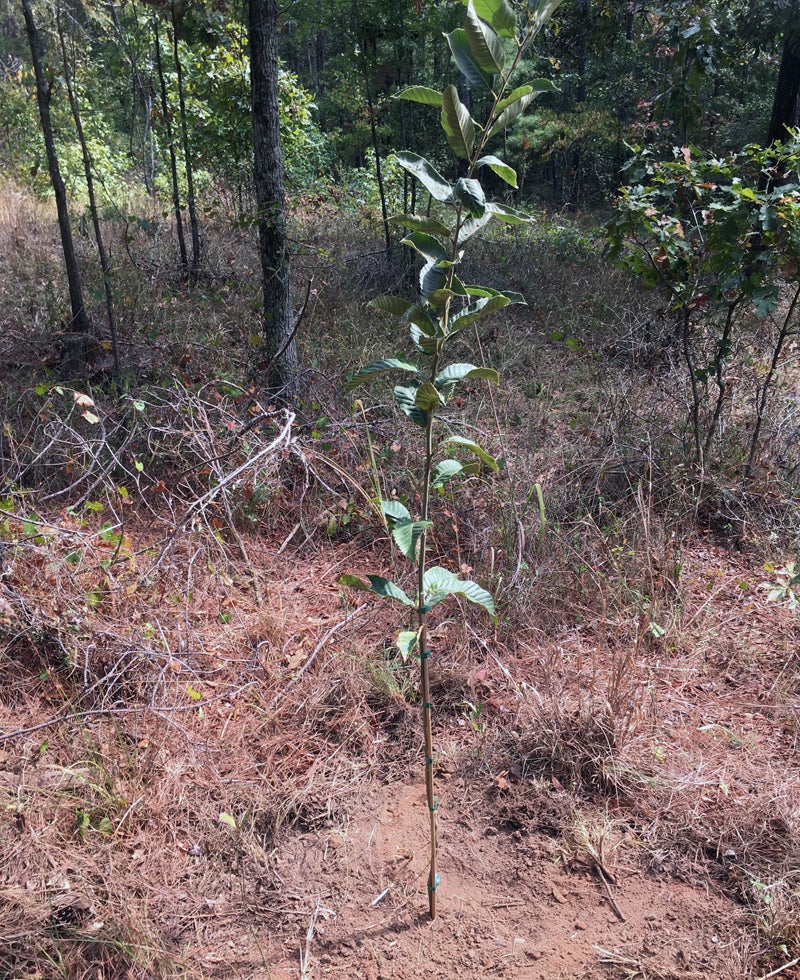 This is the first of two new Dunstan chestnut trees to replace the dead ones. I planted it more or less where tree 1 had been.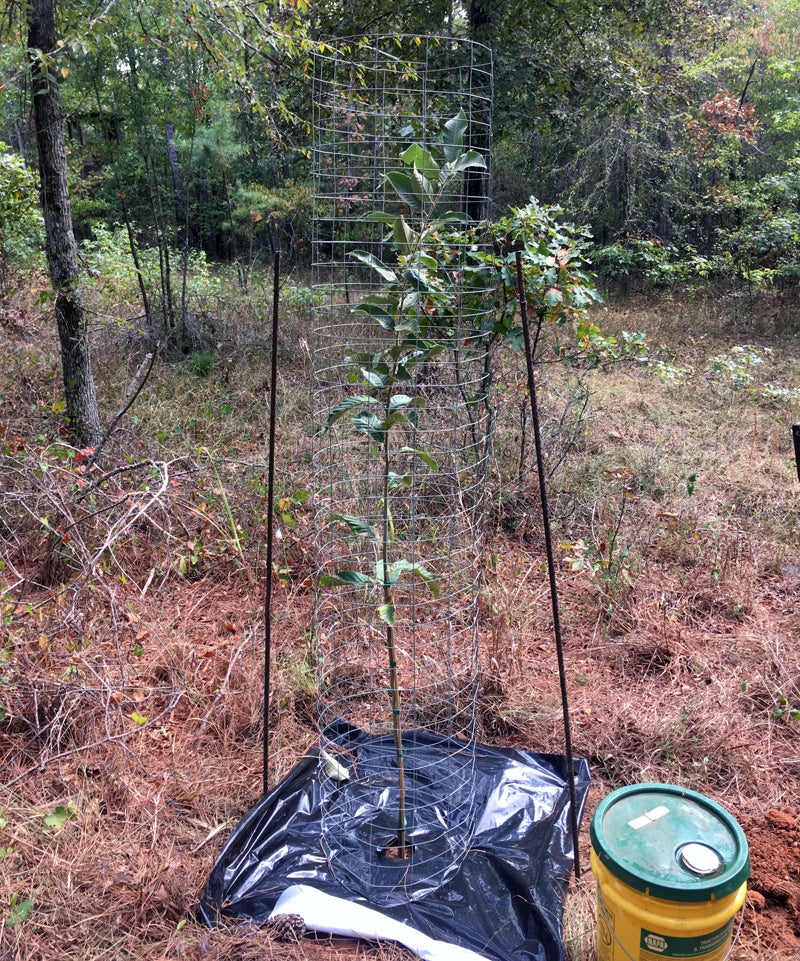 I used up the last of my fence wire making a pair of cages to protect my two new trees. With any luck, this will be sufficient to get them established and producing chestnuts to attract more deer.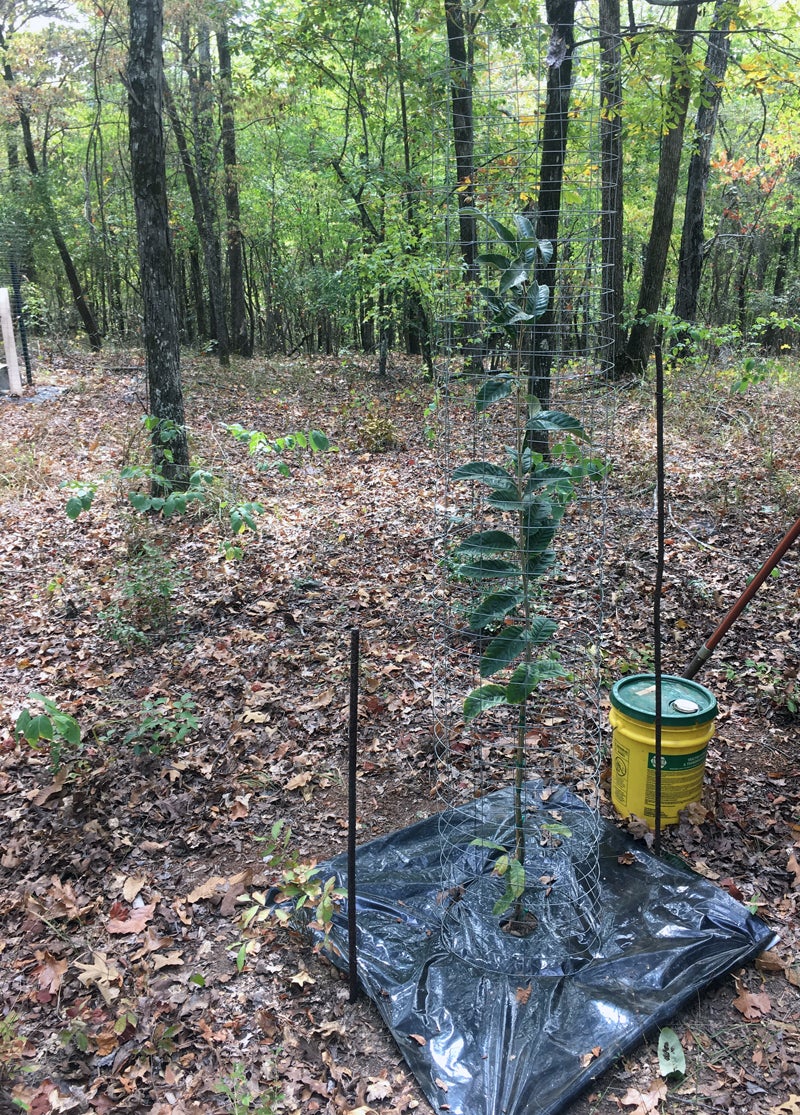 Tree 6 went in the same hole tree 4 was in, but already has a head start because it's larger and is well-protected by a wire cage.
These trees are amazing in that they are about 7 feet tall, but their roots were fully contained in a small one-gallon pot. The notion is that those roots will grow out into the ground and establish themselves over the winter, and when spring comes they'll be ready to spring on up. And as long as I can keep water on them, I have no doubt that's what they'll do.
By the time my hunting trip was over, they'd already gotten two good rains. Here's hoping that continues throughout the fall and winter.
Stay tuned, and happy hunting.