Phoenix and Beyond: Muzzleloader Hunting With New and Old Rifles
Russ Chastain 10.24.19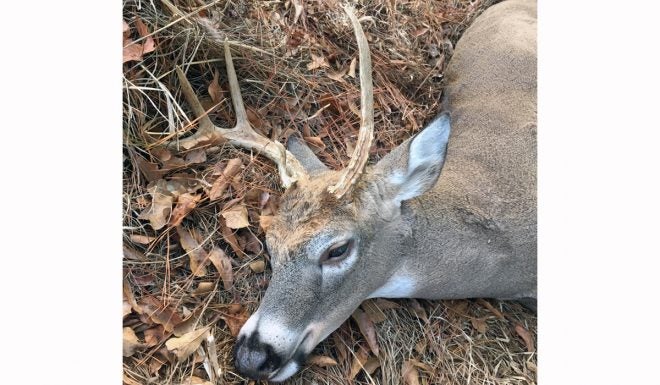 In years past, I've hit the deer woods as early as possible, no matter the weather. But where I do most of my deer hunting in middle Georgia, archery season usually kicks off the weekend after Labor Day, when it's hot and humid and the deer are smart enough not to move much during daylight hours. So maybe I'm showing my age, but this year I held out until muzzleloader season before I took to the trees in search of a venison supper.
The trip began on a somber note, as I was traveling on the day of a friend's funeral. And in keeping with the theme of old friends, I started out the hunt with my father's old sidelock muzzleloader he'd salvaged from the junk pile and christened "Phoenix." It's a .50-caliber smokepole that was in rough shape when Dad got it, but its chrome-lined bore had saved it from total destruction. Dad overhauled it, took it to the woods, and killed a buck or two with it. And now it's mine.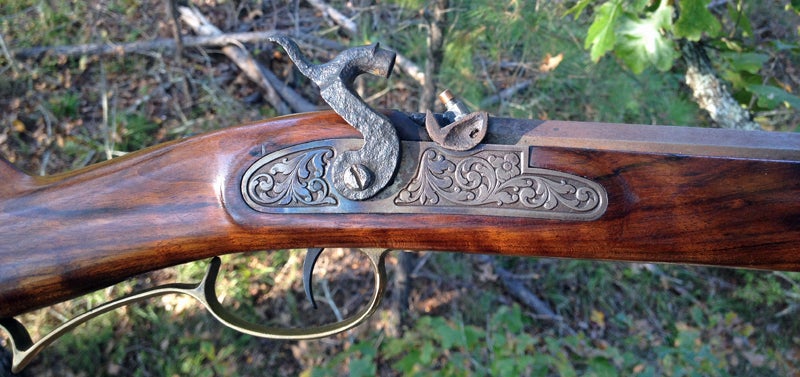 On opening morning, I had a fine opportunity to shoot a doe, but she was on the small side and the hunt was young, so she walked on. As the day wore on through a 5-hour morning and 4-hour evening hunt, I started to wonder whether I'd made the correct decision when I held my fire, especially since I'd always wanted to slay a deer with ol' Phoenix. Ah well.
Sunday produced a grand total of zero deer sightings, but some much-needed rain rolled in that afternoon, which was a real blessing. Monday morning, I enjoyed watching 7 deer and again had a fine opportunity to take a younger doe, but passed. She just didn't measure up, but it sure was nice to watch her happily feeding on greenbriar leaves at a distance of about 30 feet, blissfully unaware of my presence.
On Tuesday morning, I decided a change of venue was in order and I sat on a ladder stand overlooking a grove of acorn-producing oaks. The deer stayed away, and when rain rolled in that afternoon, I headed for a box stand with a roof. After a short initial shower, the rain settled into a Seattle-style misty drizzle for most of the afternoon. Maybe I wouldn't see a thing, but it would sure beat lazing around in camp watching the rain fall.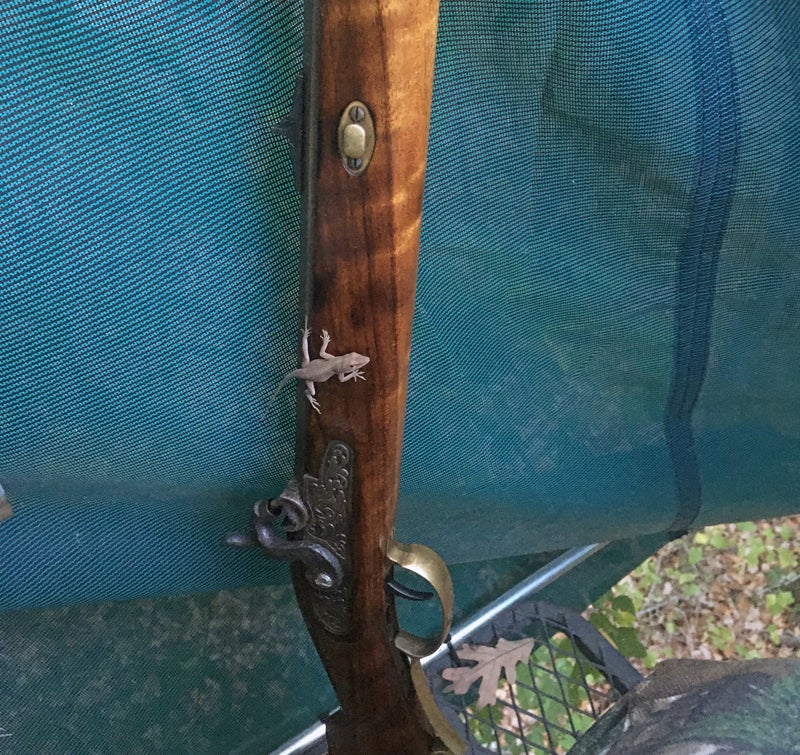 I assuaged my boredom by reviewing my well-worn copy of The Old Man and the Boy, reading a few words in between scanning the woods for action. And after about four and a half hours of that, some deer showed up.
It was a good-sized doe with a couple of large fawns. The old nanny paused and posed and the moment was just right! I quietly cocked Phoenix's rust-pitted hammer and rested it solidly, took careful aim with the crude iron sights, and squeezed the trigger to send the .490″ lead round ball on its way.
The shot produced an instant smoke cloud from the black powder, but it was easy enough to see the deer double back, running the way from which she'd come. The fawns scrambled into the woods that way also, and shortly I heard some movement that way, which I hoped was the sound of the deer crashing.
Spoiler: Nope.
The shot had felt good and I thought it was a good double-lung hit. A dollop of lung blood behind where she'd been standing seemed to agree. But there was no other blood to be found nearby. It was dusky and the rain was beginning to increase. With no blood trail, I searched the woods in the direction from which I'd heard the crashing earlier. No dice.
Long story short, with true darkness closing in I began tracking the deer. Not blood-trailing; tracking. This was not easy in the woods, but I was able to make out her route through the woods for a ways… and then I found blood! It soon became clear that she'd taken a more northeasterly direction than it had seemed.
An hour had passed since I'd pulled the trigger, and the rain fell harder with each passing minute. I began following the blood trail, losing it a few times but finding it again… until finally, it was gone. By now the rain was steady and hard and had already erased blood sign I'd found just minutes before. The thick woods were black dark. I ventured ahead in the direction the trail indicated, searching blindly in the dark and wet. And when I circled back, I had a heck of a time finding my well-marked blood trail again.
With no more blood and no more chance of finding blood due to the rain, it was time to call it. The deer would only be found by searching, and that would be best accomplished in the daylight. Reluctantly, I called off my search and stumbled back to my stand. I slowly packed up my gear and slogged on back to camp, while the rain fell harder throughout the night.
I did not sleep well.
In the morning, I hit the woods with my buddy Richard, feeling confident we would find the deer. With some difficulty, we retraced the blood trail which I had marked by dropping small bits of paper towel. Then we began a methodical search.
Richard soon found the doe, or its carcass anyhow. A pack of coyotes had laid waste to my deer, stripping it down to bare bones and empty hide.
Heavy sigh.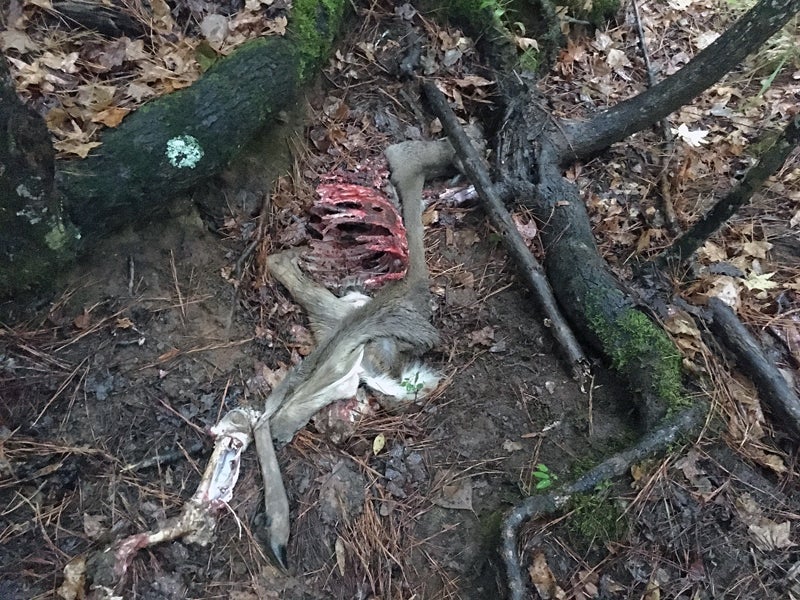 Lesson: I should have aimed a smidge farther forward in order to break one or both of the deer's shoulders.
Should I have gone straight to tracking rather than looking for the deer in the woods? Probably; but in many other similar situations in the past, that had proven counterproductive and I'd found the deer more quickly with a visual search. All situations are different; I'd done all I could have done, and the songdogs got a free meal. Such is life.
That said, I was done toting Phoenix for a while. For the afternoon hunt, I slipped my Savage Model 10ML-II inline muzzleloader out of its case. This is a modern muzzleloader in every sense of the word, and can even be used with certain smokeless powders, and it's topped off by an ugly 3x-9x Zeiss scope, which I'd procured from yet another now-deceased friend.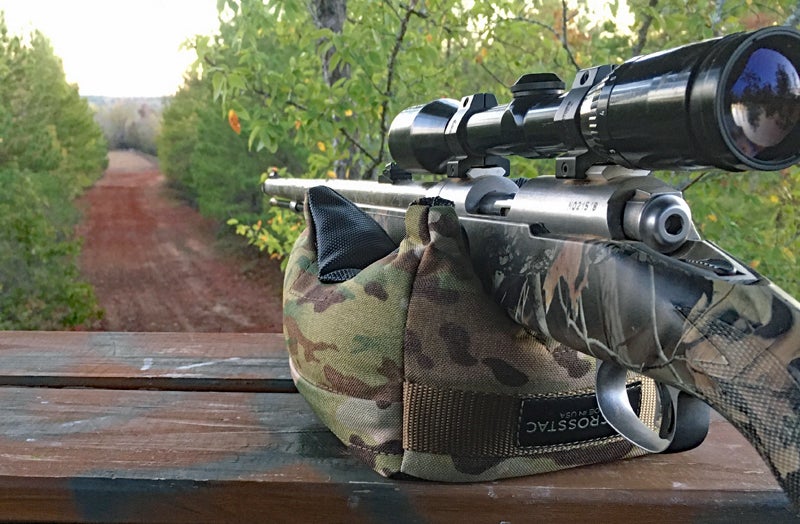 The evening hunt showed me a fine opportunity to harvest a gaunt doe and her clingy buttonhead fawn. She was plenty mature, but her ribs showed clearly and her belly was sunken, and that fawn clearly needed her more than I did.
The next morning was the first actual cool weather we'd had all year, and the 45-degree temperature felt great. The deer seemed to agree, and I observed 4 does and 5 fawns during a 6.5-hour sit. I didn't stay out of the woods long, just hit camp for some lunch before I skedaddled back to the woods. I'd started to wonder just where the heck all the bucks were hiding.
20 minutes after settling in on a ladder stand that hadn't been hunted that year, I spotted a deer nearby; it was a doe fawn, so young that I could still make out the faded remnants of two rows of spots along her spine. Hardly a candidate for filling the freezer.
The afternoon wore along, and three hours later I was watching the same deer or one just like it when I spotted movement about a hundred yards out, and caught a glimpse of light-colored antlers. I eased the scope to my eye and spotted a good-sized buck surveying the scene, with one of the oddest racks I've seen in the woods.
As he moved his head, I counted four points on his right antler, making him legal to take, but his left antler was only a straight spike.
It was decision time.
The last buck I'd shot with a muzzleloader was a quarter-century earlier, way back in the 1900s as it were… and I wasn't fond of the thought of this guy spreading his funky genes by breeding up our does. So: Take him!
That decision made, my heart began to hammer. The buck had turned its rump to me and was working a licking branch, and I talked myself down from taking a neck shot or driving the 300-grain Hornady XTP jacketed hollowpoint bullet through him lengthwise.
I waited and watched through the scope as I looked for a good shot. And yes, I was reminding myself to hit some bone and break him down, as I'd failed to do with that doe.
Finally, he turned broadside, quartering slightly away. His right side was exposed and his head & neck turned toward me as I held on his shoulder and steadily squeezed the AccuTrigger.
At the shot, the sleek buck fell right there, and after a few kicks he lay still.
My heart was anything but still. I sat there shaking, breathing hard, with my blood-pump trying to knock a hole in my ribs.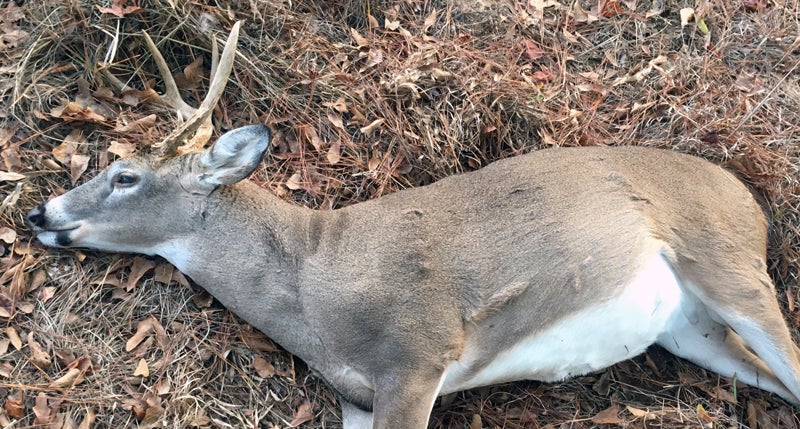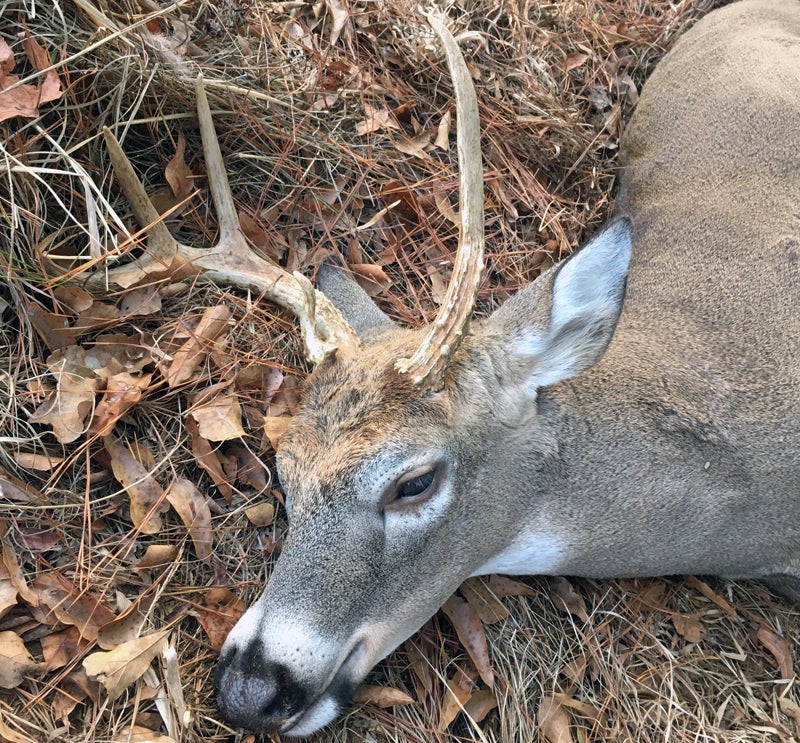 Over the course of 32 years I have slain more than 60 whitetail deer and roughly half of them have been bucks, but the old adrenaline injection still gets me every time.
As my daddy once said as I watched him reload Phoenix with trembling hands after killing a buck, "The day I stop shaking is the day I stop hunting."
I ain't quitting yet.